---
Making a Mark with Metal Garden Obelisks & Rose Obelisks
Even with limited space, you can add a dimension of towering fragrance and colour to your garden by training climbing plants to grow on a garden obelisk metal. Our exquisitely designed Classic Garden Elements' metal rose obelisks – a climbing plant obelisk, a large garden obelisk, an obelisk plant support – not only provide support for plants and especially roses, but also create a striking focal point, an exclamation mark, as it were, to enhance your entire garden. "In the garden as in writing, punctuation is needed to clarify structure and meanings. A garden without punctuation is like prose without full stops or music without a beat." (Tony Lord about Garden Obelisks in his book "Designing with Roses")
Classic Garden Elements has created an impressive range of beautiful supports. They include the round Garden Obelisk I, the tripterous Rose Obelisk II, the classic Malmaison Garden Obelisk, the distinctive Charleston Rose Obelisk, the Eltville Tall Garden Obelisk, the wrought-iron rose umbrellas inspired by Monet's garden in Giverny, the sturdy Beekman Garden Obelisk with its attractive diamond lattice, the Burlington Garden Obelisk with its clever anchoring system, and the delightfully curved Exedra Garden Obelisk. When positioned in the right place, these Metal Garden Obelisks stand out as focal points and complement plants and indeed borders in your garden. Classic Garden Elements' metal plant supports come in great variety. What they have in common is outstanding design and high-quality craftsmanship. Why not use our metal garden obelisks in your garden – and see for yourself how superbly your roses can perform in the third dimension!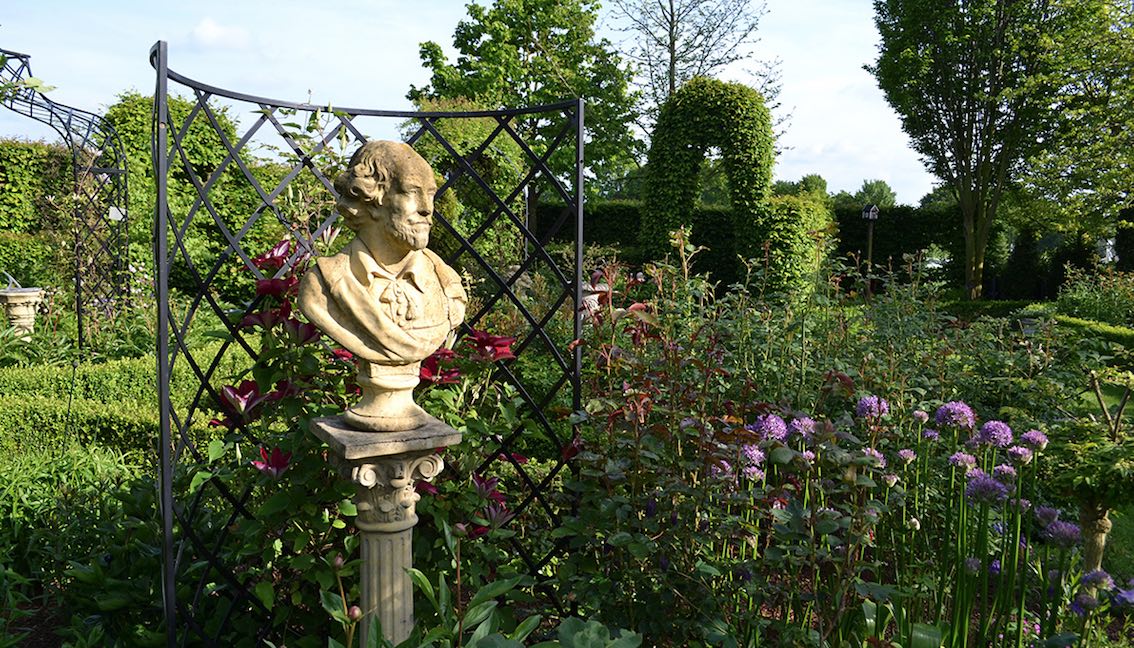 ---
Garden obelisks for sale uk – accessory of choice for landscape gardeners & rose breeders
Among professional landscape gardeners, amateur gardeners and rose lovers, our exclusive garden obelisks in metal are highly prized, not least because they look their best whatever the season. In winter, when the roses have been cut back, the obelisks are an ornament in their own right. Covered in morning frost, they sparkle magically in the sunlight. In summer, when the roses are in full bloom, the stable metal obelisks again score top points as a reliable weatherproof plant support.
The 248-centimetre-high Ravenna Garden Obelisk complements the Ravenna metal trellis of the same name for wall mounting. The design is characterised by the play of geometric shapes. Clematis, climbing roses and ivy are welcome partners for the unusual trellis. The flat Southwalk Garden Obelisk can be used to decorate even very narrow flower borders. At a height of 271 centimetres, it makes the colourful blossoms of roses and clematis dance in the wind. The flat climbing frame made of hot-dip galvanised and powder-coated iron is also suitable for climbing fruit and vegetable plants.
The design of the modern Georgia Rose Obelisk is reminiscent of a sail in the wind. Contrasting flower combinations are shown off to their best advantage on the trellis. But even without planting, this garden obelisk is a feast for the eyes and acts as a work of garden art every season. The one-dimensional Otagon Rose Obelisk has a height of 248 centimetres and a width of 60 centimetres. The repeating trellis design of square and oval gives climbing plants optimal support and is an attractive eye-catcher. Garden designers opt for partial climbing with roses, ivy or clematis. In this way, this metal garden trellis also acts as an exquisite garden decoration.
Seen from a distance, the large Wallfleet iron Rose Obelisk is reminiscent of an antique amphora. With a depth of 16 centimetres and a height of 254 centimetres, it is space-saving yet unmissable. In the small front garden, in a narrow border and also in the middle of the garden, this metal garden trellis is enchanting with and without planting.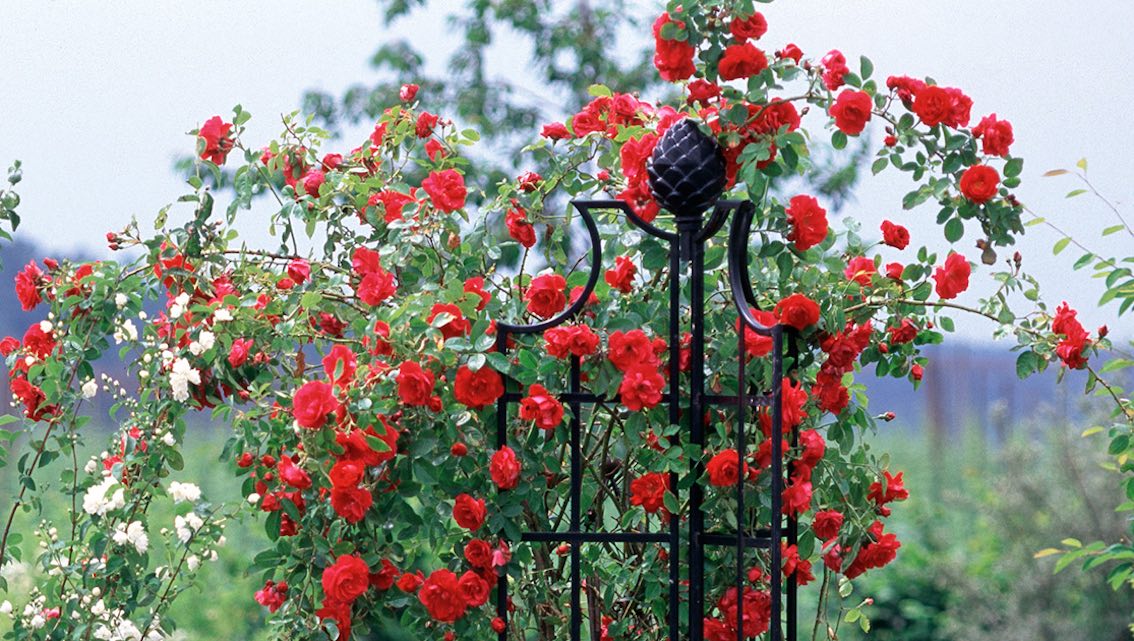 ---
Professionals rely on garden obelisks made of metal – Buy online
For 20 years, Classic Garden Elements has offered an extensive range of metal garden obelisks in a variety of designs, all developed in collaboration with leading rose breeders and landscape gardeners. Our classic metal rose obelisks include the round garden obelisk with a pinecone as the crowning design feature. With its swirling spiral structure, the Charleston Rose Obelisk not only guarantees stability. It is also an object of beauty, even before plants have started to grow on it. The tall, extremely stable Eltville Tall Garden Obelisk is perfect for rambling roses. Whatever your requirements, we offer a garden obelisk which will meet the needs of your roses and of your garden design. On request we will also be happy to manufacture individual obelisks and other plant supports. All Classic Garden Elements obelisks and garden trellises are produced in black. We can also paint them in any other RAL colour you may wish to choose. Our online shop for easy online shopping of our exclusive metal garden obelisks currently offers nine different products:
The Garden Obelisk I is round in shape and painted black. It is easy to anchor directly in the ground and provides climbers with stable and elegant support. This obelisk is available in two sizes: 224 centimetres high with a radius of 40 centimetres and 200 centimetres high with a radius of 44 centimetres.
The Rose Obelisk II is painted black and has three wings. It provides ideal support for shrub roses and clematis. With its Belle Époque charm the Rose Obelisk reaches a height of 210 centimetres and lends a stylish note to any garden.
The impressively large Malmaison Garden Obelisk in black is crafted from a single piece of metal. Covering an area of 60 square centimetres, it rises to a height of 226 centimetres. It is a most attractive garden ornament even before plants grow on it.
Ramblers especially love the metal Charleston Rose Obelisk in black. With its spiral-shaped tubes, the obelisk enhances flower formation and ensures the stability even of heavy stems up to a height of 230 centimetres.
The quadrangular Eltville Tall Garden Obelisk in black is a classic garden ornament suitable for every variety of climber. This free-standing obelisk provides optimal support for roses, clematis, ivy and wild wine. At 230 centimetres high and 40 centimetres wide, the Eltville Tall Garden Obelisk is truly an eye-catcher in any garden.
The metal Giverny Rose Umbrella Support in black stands out for its graceful lines with an umbrella shape that makes it an ideally stable support for cascading roses. The Giverny comes in two versions, one with an opening at the side for older plants, and a closed variety for new plants. The Giverny Rose Umbrella Support is 88 centimetres in diameter and 165 centimetres high.
The metal Beekman Garden Obelisk in black is simple, space-saving and highly versatile. This curved archlike obelisk with its diamond-shaped latticework supports roses and other climbers standing free in gardens, in planters or on balconies. At 198 centimetres tall and 50 centimetres wide, the Beekman Garden Obelisk is stably fixed using a large ground impact sleeve.
The Burlington Garden Obelisk metal in black is a traditional, square colonial-style garden ornament with a rounded top. At 198 centimetres high and 50 centimetres wide it can, like the Beekman Obelisk, stand free in the garden.
The curved metal Exedra Garden Obelisk in black is ideal as a background or frame. The diamond-shaped metal latticework creates a niche in the middle of your garden, a perfect setting for busts and other garden ornaments.
The Hannibal Metal Garden Obelisk brings the flair of the American South to your garden. This obelisk is 220 centimetres high with a diameter of 111 centimetres. Weighing 38 kilograms, it is crafted as a single piece and is a real eyecatcher with exotic wings that stretch out effortlessly in all four directions.
Standing 220 centimetres high with a diameter of 128 centimetres, the free-standing Geneva Garden Obelisk in metal is ideal for roses and other climbers. Weighing 47 kilograms, it is crafted as a single piece. A striking feature of this obelisk is its 28 arrow-like arms which stretch out in all four directions. The Geneva Garden Obelisk is based on an original wooden model designed by a creative wine grower who used its many arms to train his vines. What is good for the grape will surely please the rose. The Boston Tall Garden Obelisk is a massive, free-standing plant support for strong climbers. It is an impressive 264 centimetres high with a width of 48 centimetres. Weighing 30 kilograms, it is crafted in a single piece and with its intricate ornamentation is a true work of art. This free-standing garden obelisk has been named after a wooden original discovered at a mansion in Boston, Massachusett.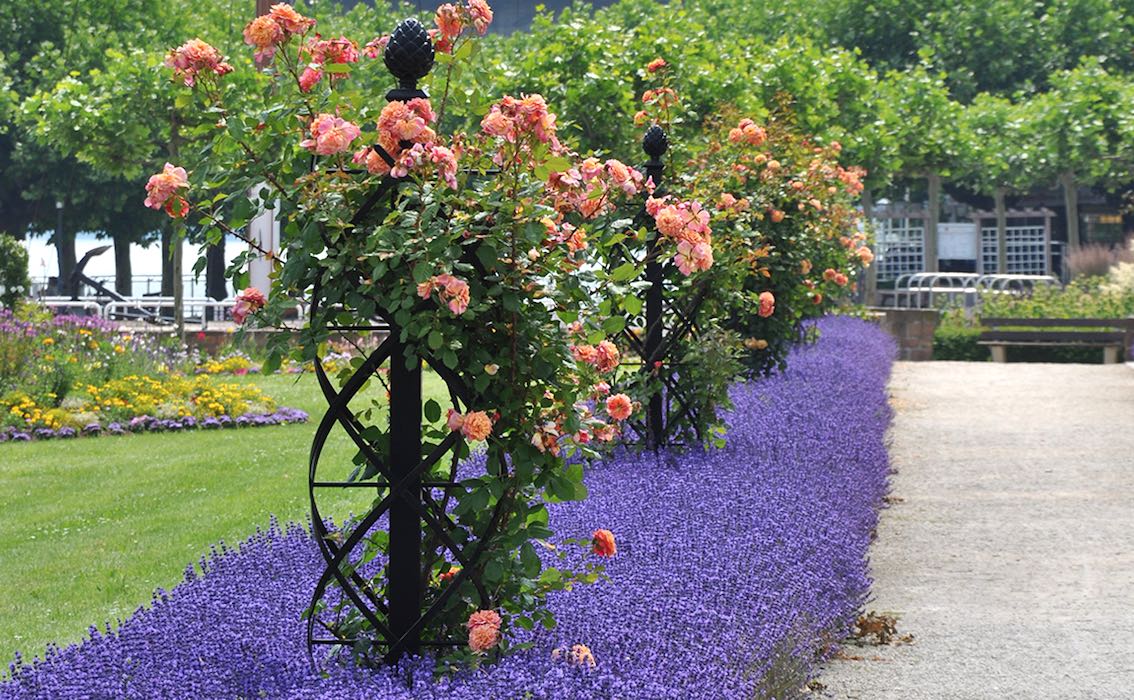 ---
Garden Obelisks for Sale UK
All of our metal garden obelisks are available to buy online, and we offer free delivery within England and Wales (except islands). Order your rose obelisk online with ease, using our user-friendly online shopping facilities. If you would like to buy online but have queestions or require help beforehand, please do let us know. We would be happy to help in any way we can.
Exclusive high-quality garden obelisks crafted from metal
The Classic Garden Elements collection of garden obelisks in metal stands out for high quality and unmistakable design. In contrast to more rustic products made of wood, our weather resistant metal obelisks defy the elements and keep their appearance over many years. All of Classic Garden Elements wrought iron garden obelisks are completely hot-dip-galvanised both inside and outside, with particular attention paid to the welding seams. The powder coating that follows gives the galvanised surface extra protection from bad weather. This is the best way to avoid rust and all of our products come with a 10-year rust-free guarantee. Why not see for yourself? With our historically inspired garden obelisks your roses will rise to the occasion in the third dimension.