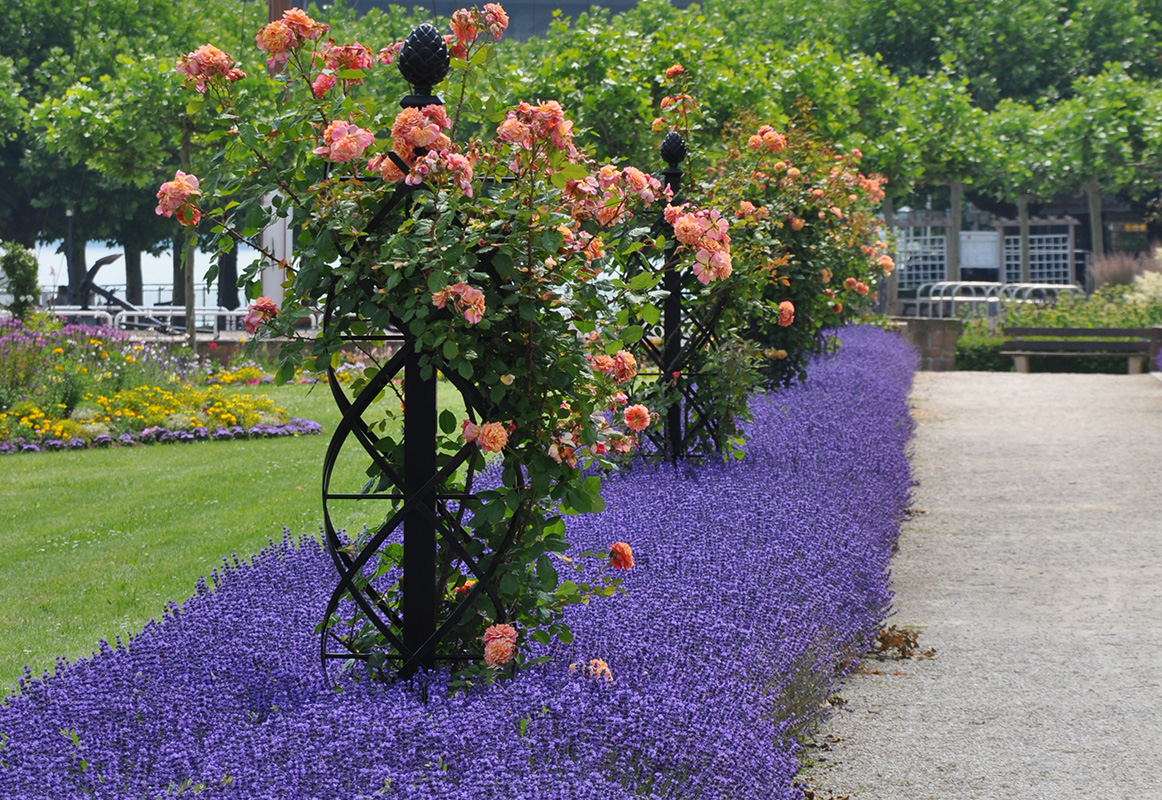 For more than 20 years, Classic Garden Elements has been working successfully with hard landscapers, professional gardeners and landscape gardening companies from all around the world.  Our solid metal wall trellises and metal trellis planters are both timeless and extremely elegant. All of our products are of the highest quality and each piece has a truly unique and exclusive design. Our pergolas, garden obelisks, pavilions, iron railings and other garden structures are all guaranteed to stand out from the crowd and bring a wonderfully individual feel to a garden's design.
Landscape gardening companies and hard landscapers often choose Classic Garden Elements products when designing everything from private gardens to parks and commercial properties. They appreciate the luxurious charm that our garden structures bring to a space. As well as our large range of standard garden items, we also offer a bespoke service. You can order any of our products – from wall trellises and pergolas to garden obelisks and iron railings – in a custom size, colour or design. If desired, we would be very happy to design and produce a bespoke piece for you to fit the parameters of your project. With our decorative garden elements, you will be able to fulfil even the most challenging of customer requirements – and exceed your customers' expectations, every time. We offer special, attractive conditions for landscapers and professional gardeners.
Attractive conditions for gardening and landscaping contractors
When you place an order in our online shop as a professional gardener or landscaper, all you have to do is enter your individual company code and you will be able to enjoy the especially attractive conditions we offer gardening and landscaping contractors. If you would like to receive a special company code for your business, please email Johannes Dietrich at: info@classic-garden-elements.com.
He will then send you details of the special conditions we can offer you for our full product range as well as your individual company code. Once you have this code, you can start using it immediately for all purchases from our online shop. This doesn't just apply to standard products; you can also use your company code to access our special conditions when ordering a bespoke piece.
Bespoke orders: conditions for gardening and landscaping contractors
Do you have a customer that has a very specific wall trellis or pergola in mind? Are you looking to order a bespoke pavilion or trellis planter to match the colour scheme or style of a customer's garden? If so, let us help! We would be very pleased to support you in this. You can find more information about our customisation and design services here.
If you are interested in ordering a customised item – such as an item in a different colour, size or design – then please send us an email outlining your requirements. We would be happy to put together a non-binding quote for you, including – if necessary – technical drawings of our suggested design. With a bespoke Classic Garden Elements piece, you can really bring your customer's dreams to life!

Attract new customers with our exclusive metal garden structures
Working as a hard landscaper or professional gardener means you are always on the lookout for inspiration and new ideas. You are constantly in search of that special, unique element that will wow your customers and convince them that your design for their next garden project – be that relandscaping the entire garden, designing a new pool area or creating a seating area under their favourite tree – is simply perfect. Our decorative metal structures will help you impress customers old and new, and they also fit in beautifully in any style of garden, from a small cottage garden to a large, more modern garden. So whoever your customer is, chances are that a Classic Garden Elements wall trellis, garden obelisk or pavilion would look right at home in their garden!
If you're in need of some inspiration, why not check out our bestselling products from last year? Here you can see our overall top-selling items, as well as our most popular rose arches, pavilions, plant and rose supports, iron railings and wall trellises.
Our catalogue and price list
If you'd like to find out more about our product range and pricing, you can download our catalogue and the current price list here. And don't forget that, as a gardening and landscaping contractor, you will benefit from especially attractive conditions. If you have any questions or require any additional information, please do get in touch. We would be very pleased to support you in designing the best garden possible!