---
Metal Garden Planters and Accessories Available to Buy Online
In the Classic Garden Elements online shop, creative gardeners can have a field day as they plan and design their outdoor spaces. For example, there are countless ways to use and enjoy our exclusive garden planters – whether they end up on your patio, in your garden or alongside a path or drive. However, both our modern and our more traditional styles of metal planters are so much more than just something to grow your container plants in. Each one is also a piece of handcrafted art in and of itself. At the same time, our attractive garden planters have also been carefully designed to boast numerous practical features that make caring for your plants a doddle. Firstly, they are made out of hot-dip galvanised and powder-coated steel, which makes them both robust and durable. They are so stable that they will be able to withstand wind, rain, snow, storms and anything else that Mother Nature might throw at them – even if they're placed in an exposed spot such as a rooftop garden. And whilst wooden or plastic containers will eventually weather and need to be replaced, metal planters will continue to look immaculate season after season after season. Another practical feature of our metal planters is the container-in-container system, which makes planting easier and also allows frost-sensitive plants to be easily brought inside to overwinter whilst the heavy steel planter itself stays outside. But the planter doesn't need to stay empty whilst the plants are holidaying inside – why not decorate it over the festive season with lights, wreathes or whatever else takes your fancy? Each of our models – the Ibiza, Versailles and the Caisse de Versailles – comes as standard with one of these inner containers. However, if desired, you can also buy extra inner containers. Doing so means that you can plant up numerous inner containers and then simply choose which one you want to place into the trellis planter at any given time, exchanging plants that have already bloomed for those that are just about to come into flower. From spring 2020, you will also be able to buy our trough planters complete with integrated watering system, which means plants can safely be left to their own devices whilst you go jet-setting off on a lovely holiday.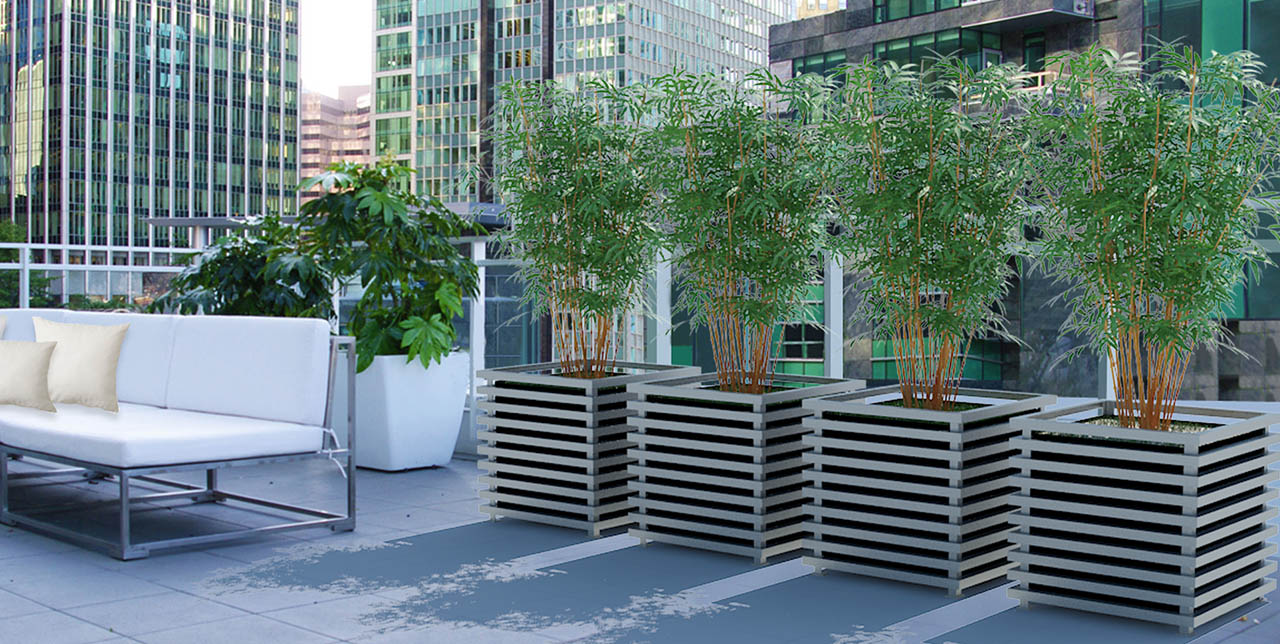 ---
Garden Planters with Trellis, Pyramid Trellis or Bench
Many of our planters can be customised as desired to include trellises, pyramid trellises or benches. This makes them even more flexible and gives gardeners additional options when it comes to creative garden, terrace or rooftop-garden design. Some of the planters can be bought as part of a set that includes a detachable planter trellis. These trellises come in various styles. The exact same models are also available as a single welded unit – that is to say, as a garden planter with a fixed trellis. Alternatively, we can also add a trellis to most of our metal planters for you, if desired.
Photo: Four lime-green modern Ibiza steel planters alongside a swimming pool
---
Three Styles of Large Garden Planters for Outdoor Use
A metal planter brimming with colourful flowers and vibrant foliage is always a sight to behold, no matter what its style or design. A shaped boxwood shrub planted in a large trough planter by your front door. A trellis planter on your balcony that is covered in stunning, elegant climbing roses all summer long. Mediterranean citrus trees that transform your roof terrace into a dreamy summer oasis with their scent and charm. Or a steel planter with a pyramid trellis that stands proud as the centrepiece of a gravel path or driveway. All of this and more is possible with a Classic Garden Elements metal planter. Our powder-coated steel planters come in three main designs: Ibiza, Versailles and Caisse de Versailles. The basic concept of our Ibiza and Versailles planters is the same, but their design and look is quite different.
Modern Ibiza Steel Planters
With their horizontal metal struts, our Ibiza metal planters are simple and modern in design. This, in combination with the high-quality material used, makes these trendy steel planters true outdoor design elements to be proud of. Anything from palms to roses to bamboo can be professionally and stylishly displayed in them.
Versailles Planters
Similar in function but different in style are our Versailles planters. The design of these classically elegant garden planters is based on the planters found in the historic Versailles Orangery. Their modest elegance enables them to fit in seamlessly in any garden, no matter the style.
Both the Ibiza and the Versailles planters are available to buy online in five standard sizes. Customers can choose between our large planters, our park-style planters, our long planters, our room-divider planters and our small planters.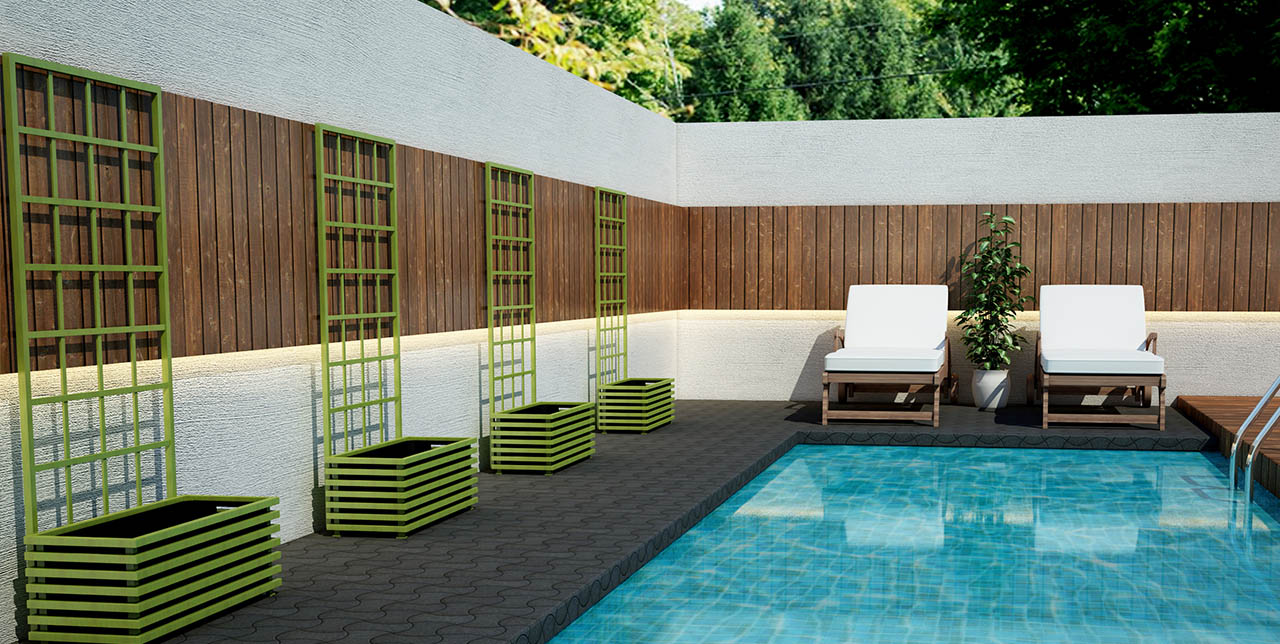 ---
Caisse de Versailles Planters
The Caisse de Versailles planters are – in both design and function – almost exact replicas of the original Versailles planters designed for small trees. There are some differences, though. Our garden planters, for example, are made of metal rather than wood. Also, whilst the general design is the same, the internal design is quite different. In the original Versailles planters, flowers and plants grew directly in the garden planter. In our modern design, however, each individual metal planter has an extremely resilient inner plant container made of inox stainless steel. This means that plants and flowers are planted and grow in this sturdy removable inner container. Just like in the original design, the four sides of the metal planter can be opened to access the plant itself – but in our version, you then take out the plant in its inner container rather than having to grapple with the root ball of the plant. Not only is this more straightforward for you, but it also limits any potential damage to the root system. It also means it is even easier to move large, frost-sensitive plants to their winter quarters on a fork-lift truck. These high-quality Caisse de Versilles metal planters are available in 12 different standard sizes – from planters for middle-sized trees (such as lemon trees) right up to those that can accommodate very large trees (such as palm trees). All models are suitable for year-round, long-term outdoor use – so a Caisse de Versailles trough planter is an investment that will last a lifetime. As replicas of pieces of historic garden art, these powder-coated steel planters are also sure to enhance any space – be it the entranceway to your home, a private rooftop garden or the grounds of a grand stately home.
---
Buy Exclusive Garden Planters Online Direct from Manufacturer
Our Ibiza and Versailles planters – as well as the large Caisse de Versailles planters designed to house trees – would be charming additions to any outside area, from private gardens and terraces to public spaces such as swimming pool and spa grounds, parks, golf courses, and restaurant or café gardens. You can buy all of our garden planters online using our straightforward online shopping facility. As well as our standard range, you can also order a planter in the RAL colour of your choice, as well as in any size. We'd love to help you to find or design your dream garden planter or trellis planter today.