Metal Garden Arches & Archways
When covered in climbing roses, metal garden arches transform front gardens into the most romantic of settings. Gazing through them can give you a tantalising taste of the garden paradise that lies beyond. Like a gateway, a rose arch creates a sense of expectation and promise. Beautifully planted wrought-iron garden arches not only enhance entranceways, though. They also bring a sense of height to our gardens, create romantic vistas and showcase a wonderful array of buds and blooms. They make paths more attractive, offer glimpses of other spaces you've yet to explore and lead you from one part of a garden or space to another. Nothing can beat a metal rose or clematis arch as a way of artistically framing a garden bench or seat. What a wonderful spot to relax in. An elegant garden arch is an alternative to an arbour or pergola and is a fantastic structure upon which to grow many different kinds of roses. In fact, there is perhaps no better way to showcase these queens of the flower world than on a metal arch trellis. These beautiful structures allow foliage and blossoms to flourish side by side whilst the seductive floral scent enthrals the appreciative gardener seated or stood below. When the roses are in bloom, the flowering garden arches become stunning, eye-catching features in both gardens and parks.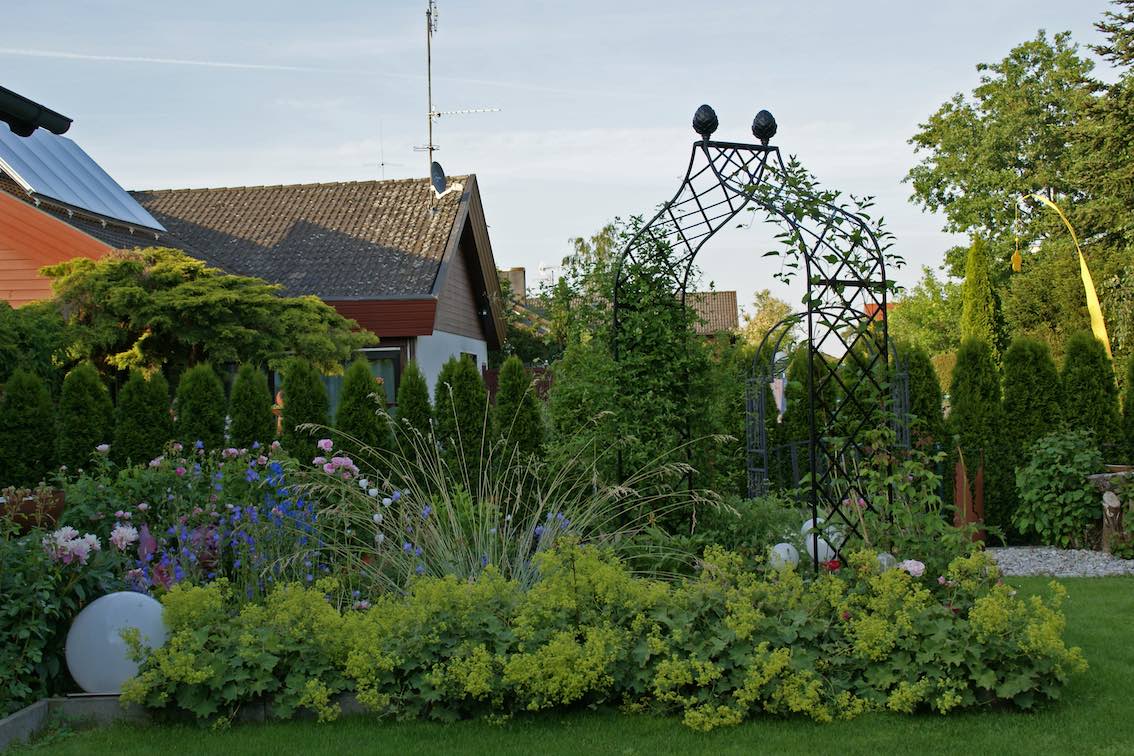 ---
The Ideal Size for a Metal Garden Arch
In order to produce the best possible garden archways for our customers, Classic Garden Elements have worked alongside a number of rose-growers for over twenty years. Amongst this knowledgeable group of rose experts, opinion on the optimal size for a metal rose arch is surprisingly unanimous: it needs to be at least 160 cm wide and 240 cm high. Of course, anyone wanting to make a particularly impressive statement can of course go for a wrought-iron arch that is even bigger than this, but this is the minimum size our rose experts deem necessary. The reason that anything smaller than this is not recommended is quite simple. 'In my experience, smaller rose arches that are covered in flowers can easily become too narrow. No one wants their clothing to get caught on the roses, nor do they want to be constantly chopping back invasive new shoots and stems that are getting in the way,' says Christian Schultheis of Germany's oldest rose school, the Rosenhof Schultheis in Steinfurth. 'When buying a garden arch, I would always recommend only considering products made from strong, well-worked metal. The metal doesn't need to be solid, but the garden arch does need to be able to take the weight of fully grown, flowering roses during a summer storm. You can normally tell just by looking at it whether the metal rose arch is strong and up to the task or flimsy and likely to be unstable. 'I wouldn't recommend a wooden garden arch, as the wood needs to be treated. This is not really possible on a flower-covered arch. The difference between a galvanised and a powder-coated garden archway is really just a matter of taste. Both work well and will look good for decades to come. From the third year onwards, you will most likely only see the actual structure in the winter when the plants have lost their leaves. If you plant the right kind of roses, the metal of the arch will be almost impossible to see in the summer.'
---
Exclusive Metal Rose Arches in Various Designs
Often located above garden gates or at the start of a garden path, rose arches are classically set up to act as portals to green refuges and oases. People with larger front gardens might choose to welcome their guests to their home with a blooming archway of flowers. But the possibilities are endless. No matter where you place it and what function it fulfils, a garden arch is a joy to behold – and a Classic Garden Elements archway is especially durable, so your enjoyment will last that bit longer, too. They are truly exclusive archways and stylish design elements for your garden. In our online shop you will find our standard range of six styles of rose arches, all of which you can easily buy online with our online shopping facility. The six designs are as follows.
---
The Kiftsgate Victorian Rose Arch (black)
The wonderful Kiftsgate rose arch stands at 282 cm and is dainty in design. The diamond-shaped arch trellis curves upwards, culminating in a pointed arch upon which two iconic Classic Garden Elements pine cones stand – they are truly the Victorian arch's crowning glory. The Kiftsgate rose arch is available to buy online in three different standard widths: 160 cm, 180 cm and 200 cm. It can also be bought as part of a set, including either side fencing, a garden gate, a garden gate and high fencing, a garden gate and low fencing, or a locking garden gate. The prices – in pounds – are listed alongside each product. The arch trellises with gate and side fencing are also available to buy online in various widths and colours. We offer free delivery in England and Wales (except islands).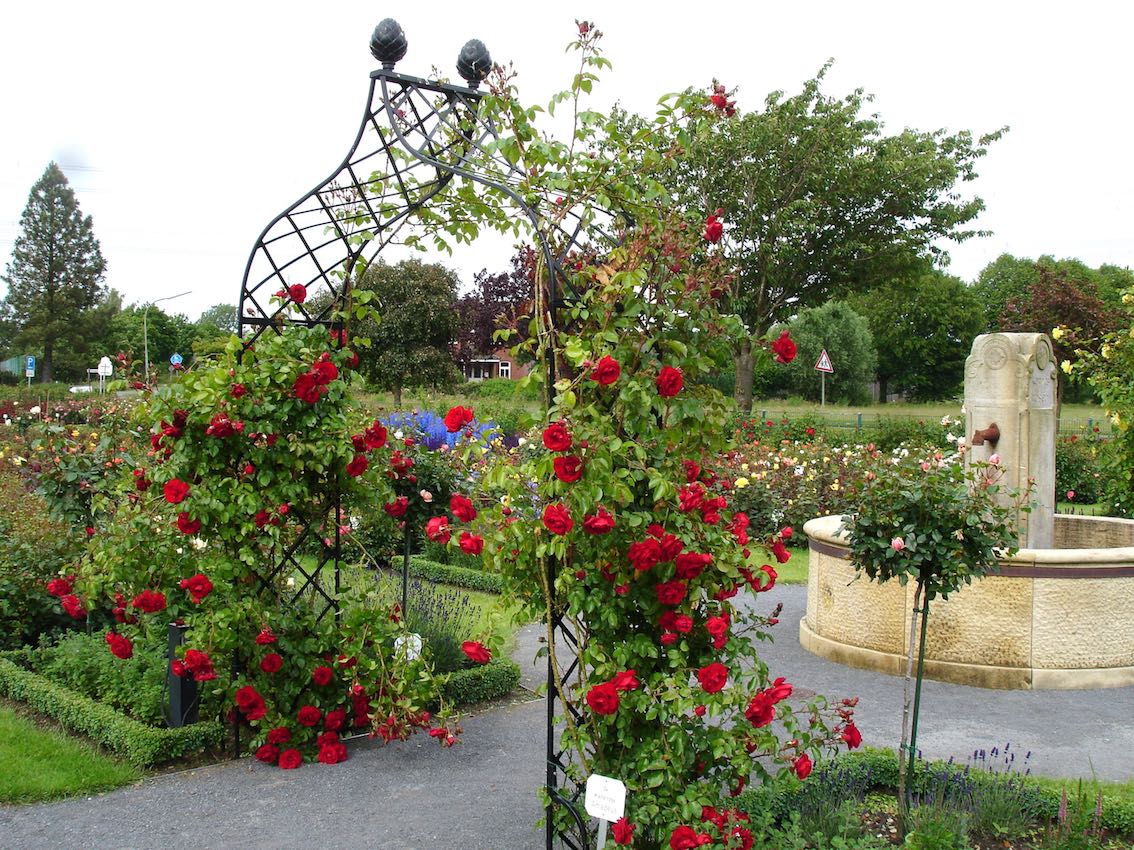 ---
The Brighton Victorian Rose Arch (black)
The Brighton rose arch is one of our most popular arches. It is not quite as delicate as the Kiftsgate rose arch but is just as striking. Whilst the Brighton rose arch is also diamond shaped, it is made of thicker metal tubing. Once again, two distinctive Classic Garden Elements pine cones stand proud at the highest point of the arch. The Victorian-style Brighton garden arch stands at 282 cm and has a depth of 52 cm. The arch is available in three different widths: 152 cm, 172 cm and 192 cm. The Brighton rose arch is, like the Kiftsgate, available in various constellations, such as with garden bench and side fencing, with just low or high side fencing, with just a garden bench, with garden gate and side fencing, and with planters. In total, there are 14 different variants of this arch available, and each comes in the aforementioned three standard widths. Accessories are also available to buy online. We offer free delivery in England and Wales (except islands).
---
Bagatelle Round-Top Arch (black)
The Romanesque Bagatelle arch is a round-top garden arch boasting a very delicate arch trellis. In our online shop, customers can choose from three different heights and widths: 260 cm high and 160 cm wide; 270 cm high and 180 cm wide; or 280 cm high and 200 cm wide. We offer this rose arch in various constellations, such as with side fencing, with garden gate and high fencing, with garden gate and low fencing and with a locking gate. It is also available as a half-round rose arch, which can be mounted directly on a wall. This half-round version is available in three different widths: 120 cm, 150 cm and 180 cm. The height of every half-round metal garden arch designed to be mounted on a wall is 260 cm. We offer free delivery in England and Wales (except islands). For big projects, and for a fee, we can also assemble the arch for you on site, wherever you want it to stand.
---
Half-Round Bagatelle Rose Arch (black)
Our half-round Bagatelle rose arch is identical in design to the round-top Bagatelle arch. The difference is that this half-round model is mounted directly on a wall, creating an attractive arch over paths that run alongside buildings. The half-round metal rose arch is available in three widths, 120 cm, 150 cm and 180 cm, all of which stand 260 cm in height.
---
Portofino Romanesque Garden Arch (black)
The wide arch of the Portofino garden arch makes it both stable and distinctive. This black metal garden archway is a great choice for larger gardens or parks in which plants and flowers are abundant. The Portofino garden arch is available in six different sizes, ranging from 260 to 280 cm in height and with a maximum width of 192 cm. Since 2019, this rose arch has also been available in the following constellations: with low and high side fencing, with garden bench, with garden gate and side fencing, with garden gate, and with planters and garden gate. We offer free delivery in England and Wales (except islands). You can browse matching accessories on the Portofino garden arch product page. The Portofino range can be purchased in various heights, colours and sizes in our online shop.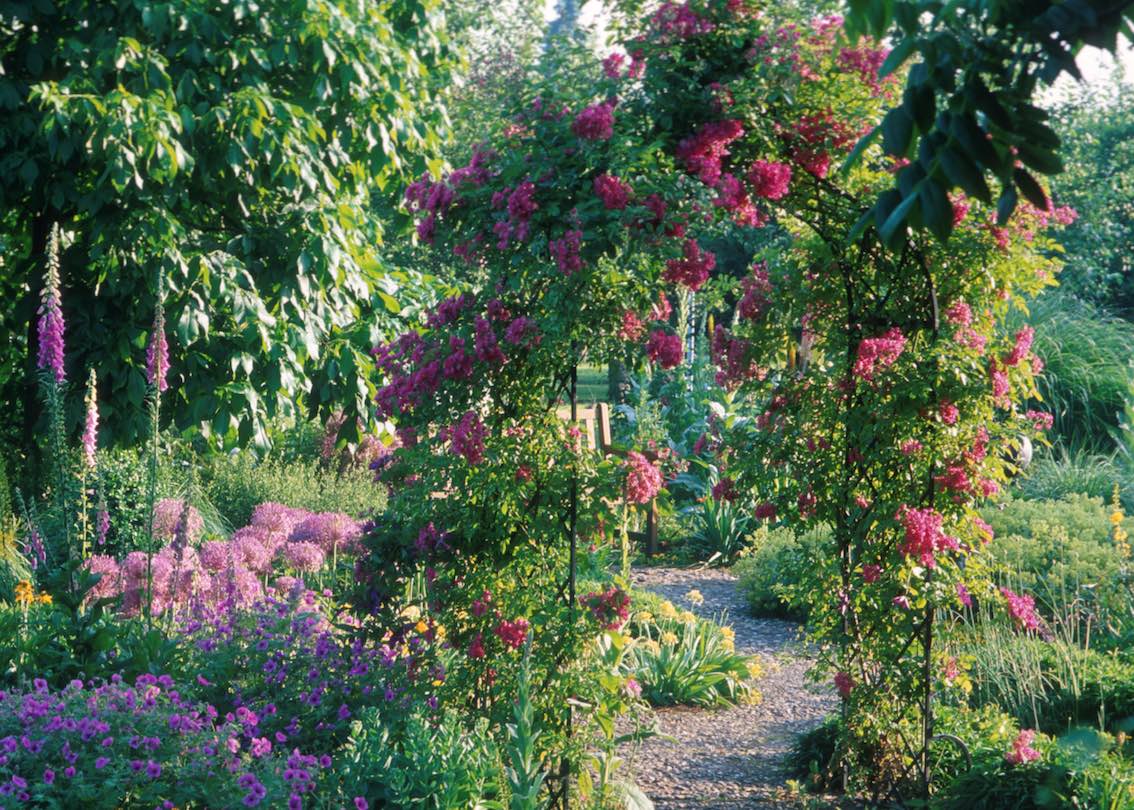 ---
Japanese Gate Torii (red)
This Japanese garden arch adds a traditional Asian touch to any garden or outdoor space. Even before being covered in blooms and foliage, the exclusive Torii arch, offered as standard in a deep rusty red, really is a piece of art in and of itself. This unusual and eye-catching garden ornament is 280 cm in height and can be ordered in three different widths: 152 cm, 172 cm and 192 cm.
---
High-Quality Metal Garden Arches Available to Buy Online Direct from Manufacturer
Over the last twenty years, Classic Garden Elements has firmly established itself as one of the leading manufacturers of exclusive metal wall trellises and rose arches. We are proud that our high-quality, professional steel workmanship, our galvanising and powder-coating processes carried out in our workshop, and the ten-year rust-free guarantee on all products results in happy customers, time and again. Our wide range of products is also a plus point when it comes to customer satisfaction – alongside our various types of metal garden arches, we also offer many different kinds of wall trellises and treillage panels. Before choosing and buying a garden arch, customers often have a number of questions. We've collected the most common ones for you below.
---
Are the metal rose arches only available to buy in black?
Although black has become the standard colour for garden arches and wall trellises, all of our rose arches can be painted and powder coated in the RAL colour of your choice. Why is black so popular? Well, for centuries, it has been the classic colour associated with wrought iron. On top of that, a black wall trellis often contrasts perfectly with the paler colours of building façades and creates a stylish and attractive backdrop for colourful roses. Other popular colours for metal garden archways are dark green, white and anthracite grey. When choosing your rose arch, it is important that you ensure that the size, style and colour of the arch are in keeping with your property or garden.
---
How are the metal rose arches delivered?
Both our larger and smaller garden arches are delivered by our own drivers in our own delivery vehicles. This means you don't have to worry about how to get these sizeable structures to your home – our drivers will take care of it all. All you have to think about is where you want to put your arch and what you'd like to grow up it!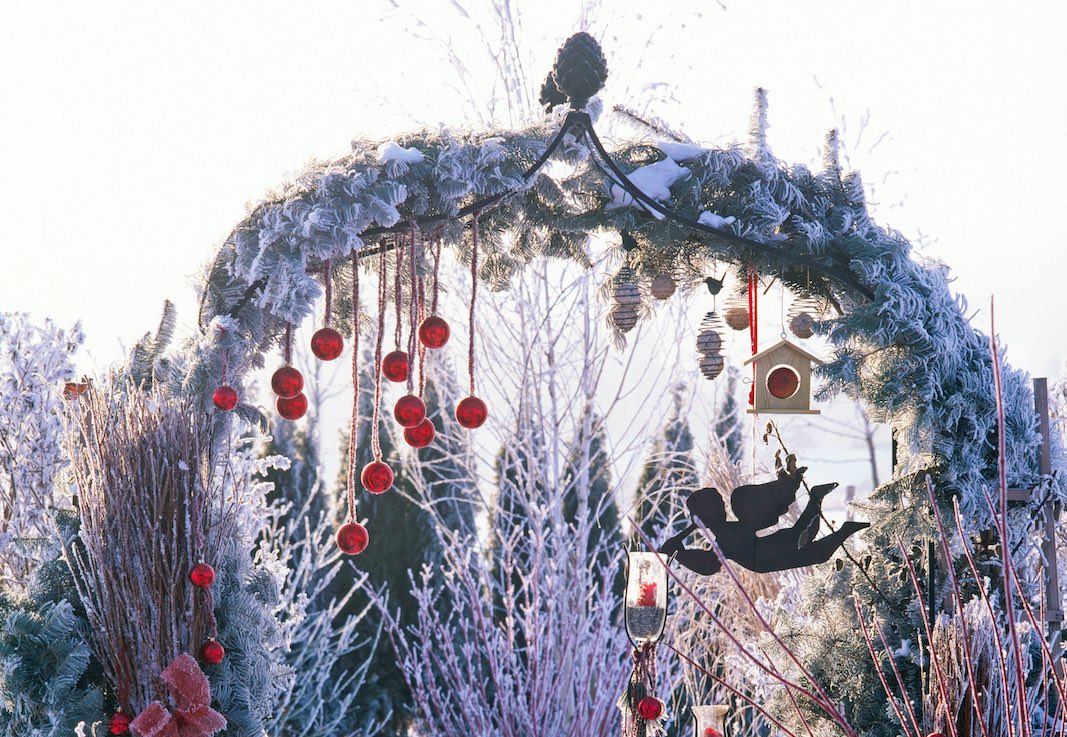 ---
How do you assemble and install a metal rose arch?
Every arch set contains instructions for assembly as well as ground anchors, with which any rose arch can be securely anchored into the ground. We recommend seeking professional assistance in assembling your garden archway, for example by contracting the work out to your local gardening or landscape gardening company. This is because it is extremely important to ensure that the arch is secure and stable so that it can withstand all types of weather as well as the weight of the flowers you are going to adorn it with.
---
How do you plant a metal garden arch?
In choosing the best kind of rose for a garden arch, climbing roses are often at the top of the list. The reason for this is that they don't grow too fast but they do bloom often. They are also healthy, easy to care for and a great choice for beginner rose growers. But the new generation of rambling roses and some fragrant English roses will also do well on a metal garden archway. Whichever roses you choose, you want to train the shoots to grow horizontally or slightly upwards; if you don't, you'll end up with a plethora of blooms at the top of the arch but almost none lower down. This will make the wrought-iron garden arch feel quite unbalanced and the overall effect won't be as appealing as it could be. Alongside roses, other great choices for a garden arch include clematis, sweet peas, honeysuckle, wisteria and any other climbing plant that takes your fancy. These will all scale an arch wonderfully and turn it into a truly magnificent garden feature that you'll be proud to show off. Do you still have questions about the garden arches and wall trellises available to buy online in our online shop? Would you like to know more about a garden arch with gate, a garden arch with seat, a garden arch with planters, a freestanding garden arch or any of our other garden rose arches? If so, please get in touch. We would be happy to help.
---
Delivery of our Rose Arches
We offer free delivery in England and Wales (except islands). We also offer free delivery to some European countries (Germany, Austria, Belgium, Luxembourg, the Netherlands, Slovakia and the Czech Republic). Delivery to other countries is possible but not free. In the USA, the Republic of Ireland, Japan, Sweden and Switzerland you can buy our products from local Classic Garden Elements representatives. When you purchase a product using our online shopping facility, it will be delivered to you within 30 work days. All of our rose arches are delivered by our own drivers in our own delivery vans, and our drivers are happy to carry the arch into your garden for you. Due to traffic and other non-predictable circumstances, small delays cannot always be avoided. In these cases, our drivers will call you or send you a text message or email so that you are kept up to date at all times. Equally, you can also call our drivers if you need to. As we manufacture the rose arches ourselves, we can also offer an assembly service for larger projects. This service is often much appreciated by customers who have purchased large garden gazebos, covered walkways and pergolas.

---
Prices in British Pounds
More than 100 different metal rose arches in different sizes, colours and designs are available to buy online in our online shop. The price of every piece is shown in pounds on the individual product pages. As we offer our garden arches in different sizes and widths as well as in more than 40 RAL colours, our range is extensive. The same goes for pergolas and rose obelisks. Again, the price is given in pounds on each product page and free delivery is offered in England and Wales (except islands). There is a small surcharge for custom colours.
---
Metal Garden Decoration – Garden Arches and So Much More
All of our metal garden arches come in various designs and constellations. From a rose arch with gate to a garden bench with arch, from a freestanding garden arch with planters to a garden arch with side fencing, we have a huge array of arches and accessories for our customers to choose from. With over 40 standard colours available, with rose arches in various sizes and widths, and with more than 100 different arches all of which are available to buy online, we are one of the largest online shops for metal garden arches in both the United Kingdom and Germany. But our product range goes much further than our garden arches. Whether you're looking for a garden obelisk, a wall trellis, a garden arch, a trellis planter, a pergola, lawn edging, wrought-iron railing or a gazebo, we can help! All of our products are made by hand in our workshop and each piece is of the highest quality. We would love to assist you in finding the perfect piece of metal garden decoration today!