---
Metal Arbours and Pergolas for Sale
Are you on the lookout for an attractive new centrepiece for your garden? Do you fancy creating a rose-filled retreat on your patio? If so, then perhaps a pergola or an arbour would be the perfect thing. These impressive structures can be stunning garden features that also add a sense of comfort and privacy to your garden. Surrounded by the beguiling scents of different roses and covered in a colourful array of blooms and buds, they create a floral oasis in the middle of your garden – the perfect spot to relax in. They give rise to some of the most intense of all garden pleasures: the visual contrast of architectural line with twining plant; the satisfaction felt when admiring lush plants either trimly tied and trained or wantonly trailing; fruits and flowers that dangle down enticingly before you, just within reach; the subtle interweaving of interior and exterior. Only something as delicate as a metal garden pergola or arbour can conjure up such a treat for the senses. Imagine that you could have this very experience right in your own garden … Well, with a Classic Garden Elements arbour or pergola, you can. Picture the scene: the Piemont pergola creating a magical ambience on your terrace or patio, or the romantic Villandry rose arbour or the St. Alban's pergola transforming your garden into a mass of flowers and blooms.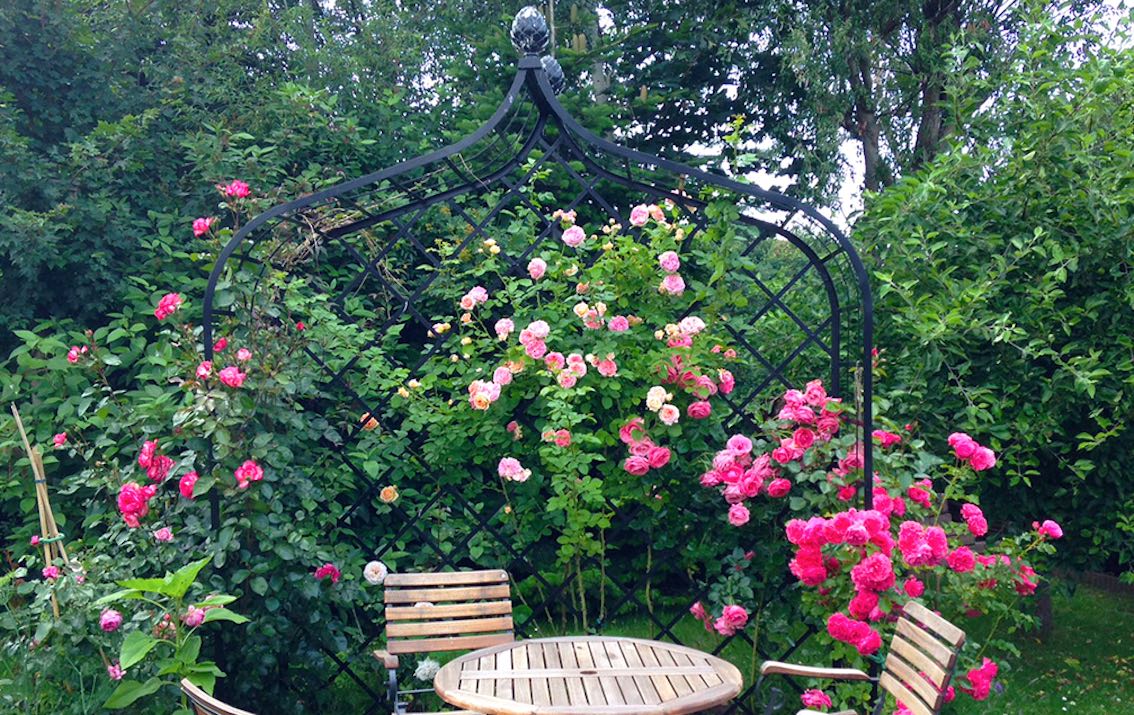 ---
Exclusive Metal Pergolas – Buy Online Direct from Manufacturer
Walking through or sitting below a flower-covered pergola is a completely different experience to being below or between trees. The sense of being at one with nature that one feels under a delicate arbour or garden pergola is almost indescribable. Perhaps that's why these structures are often used in parks and public gardens as spaces to retreat to and relax in. But these larger environments are not the only spaces that are well-suited to a metal pergola or two – it's also easy to erect a garden arbour or pergola in a private garden. This is especially true if you choose a Classic Garden Elements product – with each one, we include a perfectly designed construction kit that includes assembly instructions and all the necessary installation accessories. We recommend hiring a local hard landscaper to construct the metal pergola, garden bower or rose tunnel for you. For larger projects, Classic Garden Elements can also assemble the structure for you. The following four products are all available to buy online from us.
Piemont Pergola
The black metal Piemont pergola is designed to be mounted directly to your house or garage wall. A wall-mounted pergola can be a wonderful way of blending interior and exterior spaces. When placed on a terrace, this attractive contemporary pergola expands your living space by providing a shady roof under which you can eat, chat or simply relax. With its fine steel construction, it can be integrated successfully into properties and spaces of almost any style. The basic element of the Piemont pergola is 600 cm long, 300 cm deep and 300 cm high. The follow-up elements can be adapted as necessary.
Victorian Rose Arbour
The Victorian rose arbour is sure to create a cosy oasis wherever you position it. The combination of its pointed arch and square-shaped arch trellis will bring a playful charm to your garden. Two Classic Garden Elements pine cones are the crowning glory of this romantic Victorian arbour. The arbour is 282 cm high and is available in two widths: 180 cm and 240 cm.
Villandry Rose Arbour
The Villandry rose arbour is a dreamy, magical design element for any green open space. The diamond-shaped arch trellis and back wall are the perfect backdrop for your very own relaxation retreat. The Villandry rose arbour is 280 cm high, 200 cm wide and 70 cm deep – the perfect size to accommodate a garden bench.
St. Alban's Pergola
To really do the St. Alban's pergola justice, you need to give it some space. The basic element is 600 cm long, 250 cm wide and 300 cm high. The rose pergola is supported by eight stable metal columns. This exclusive climbing rose pergola can be extended if desired, thanks to a 200-cm long follow-up segment. This stunning structure offers roses, ivy, climbing plants, and fruit trees and plants a stable climbing support and creates a truly unique atmosphere in your garden.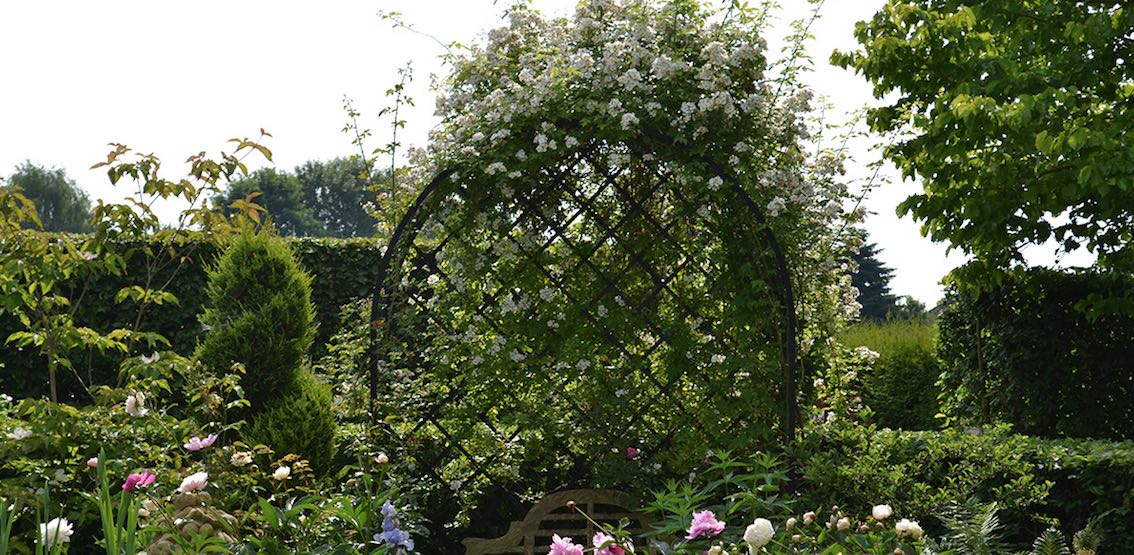 ---
The Best Flowers to Grow up and over Pergolas and Arbours
Roses are a fantastic choice for these structures. They are extremely versatile, and they can keep a pergola or arbour covered in a blaze of colours and an array of blooms all summer long. A rose-covered pergola really is quite an eye-catcher. Roses are one of the most popular of all the non-self-clinging climbers. Once they come into bloom in May or June, climbing roses on garden pergolas and arbours will continue to delight with their blossoms for many months. Repeat-flowering varieties can grow three to five metres up an arbour or garden pergola. However, shoots that grow through the trellis can cause problems when pruning. For this reason, it's best to attach the rose shoots to the outside of the structure, and make sure you don't push them through the trellis. It's not just about roses, though – there are many other kinds of plants that are also suitable for a Mediterranean-style or modern pergola, rose tunnel or arbour. For example, a colourful clematis is also a classic choice for a structure that stands either in partial or full shade. To ensure that the plant doesn't become top heavy, regular pruning back is necessary. The timing and extent of this depends on the pruning group of the clematis. Honeysuckle, a wonderfully strong-scented flower, will also reliably scale a metal pergola and is easy to keep under control. Some varieties are even evergreen, which will ensure your arbour looks vibrant all year round. Finally, let's talk about wisteria. Its impressive ability to grow and spread doesn't give it the best reputation. However, with an extremely stable growing support and regular cutting back, it can be a thing of beauty that showers a garden pergola with fascinating, opulent, grape-like blossoms.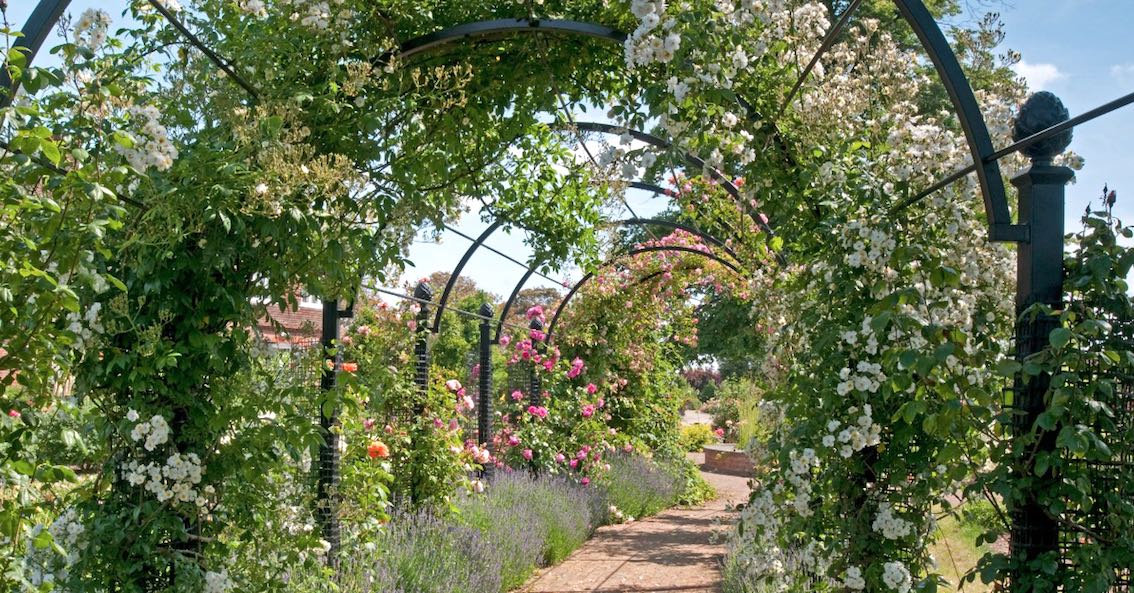 ---
Bespoke Pergolas and Arbours for Every Size of Garden
Garden pergolas create wonderful floral corridors that lead us into magical, faraway worlds where the humdrum of everyday life feels like a blissfully distant memory. Equally special is an arbour, a calm space in which you can seek refuge from the racing pace of modern life. Treat yourself today and take a step towards creating your very own garden retreat with our Villandry rose arbour, the Gothic-style Victorian rose arbour, the sweetly romantic St. Alban's pergola or the classic Piemont pergola. Each one would be a fantastic addition to any garden, whether big or small. In our online shop, all of our metal climbing plant supports are standardly sold in black. However, if desired, we can also paint them in any other RAL colour. But it's not only the colour that's customisable – we can also make these products to your own unique design and in any size you choose. One example of a very successful customised product is the rose gazebo designed by Ian Limmer of Peter Beales Roses. We made this gazebo to be the centrepiece of the Peter Beales Roses stand at the Chelsea Flower Show 2018 in London and that year, their stand won another gold medal at the show!
St. Fagan's Arcade was named after the Fagans National Museum of History in Wales. William Amherst, 1st Earl Amherst and Harriet Windsor-Clive, 13th Baroness Windsor walked in the large grounds of the 16th century Elizabethan mansion. The original garden ambulatory inspired the St. Fagan's pergola, made of hot-dip galvanised and powder-coated metal. With its wide segmental arches and filigree body, it combines antiquity and modernity. The imposing metal pergola does not only fit harmoniously into large parks. It is also suitable for designing a hotel or restaurant garden or for connecting several buildings.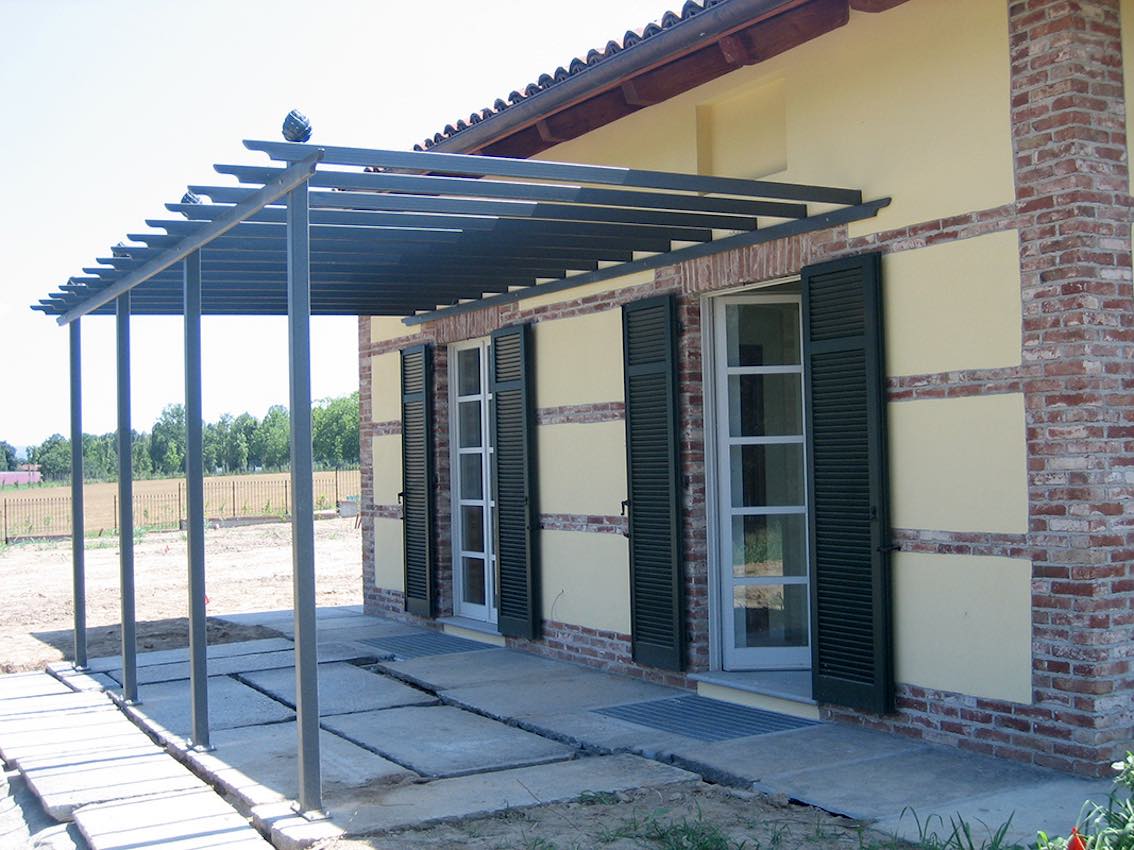 ---
Buy Online from an Experienced Manufacturer
With our 20 years of experience, we would be happy to advise you and share our knowledge as you plan and design your bespoke pergola, arbour or rose tunnel. Whether you're thinking big or simply envisioning a cosy little rose corner, Classic Garden Elements can bring your dreams to life.
All of our products are available to buy online today using our simple online shopping facility. Do you still have questions about our products? Then get in touch and let us know how we can help.