Pergola Piemont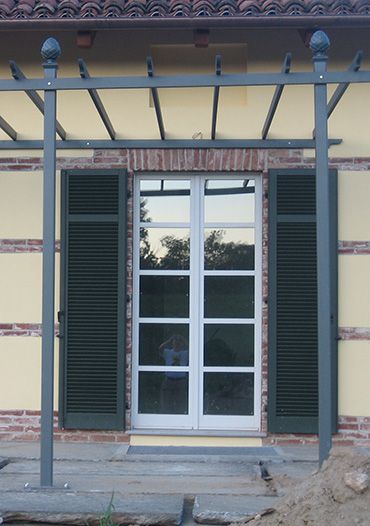 Italian Pergola made of Steel
Pergolas are architectural features bridging the space between house and garden. As the original Latin name, pergula, implies, they do not stand on their own, but are leaning with one side against the wall. Pergolas are excellent for training vines, wisterias and rambling roses on them.
Traditionally Pergolas are made of wood, meaning especially in our northern climes they will not last. The necessary treatment with usually poisonous chemicals is often made impossible once a climber has covered the Pergola. Furthermore the rustic character of wood will not reflect the more urban designs of most of our homes.
One option available are our finely shaped Pergolas made of steel. Heavy, solid, yet with that light appearance and combining extremely well with our homes, whether modern or traditional, urban or country.
Made of steeltubes, hot-dip galvanised and powder-coated in black. Other colours available. 10 years guarantee on rust.
Pergola Piemont / Basic Element (as seen on the picture to the right). Depth 300 cm. Height 300 cm. Length 600 cm. Altogether four Poles made of 8×8 cm steeel tube and featuring a pinecone finial. The distance between each pole is at 160 cm. The altogether 14 supports are made of steeltubes with a width of 4 cm and a height of 8 cm. The distance between these supports is at 42 cm:
£5.450,00 (which includes our technical drawing and delivery to mainland UK).
Pergola Piemont / Follow Up Element:
£710,00 per one metre.
Smaller Pergolas of less than 600cm length:
£1.200,00 per one metre.
Prices mentioned above are for orientation only. Please do send us your requirements and we will come back with a technical drawing and an individual offer.
Piemont:

Item No.:

Length:

Depth:

Height:

Poles:

Distance between each pole:

Technical drawing:

GBP:
Basic Element

PP-1

600 cm

300 cm

300 cm

4

160 cm
Follow Up Element (per meter)

PP-2

100 cm

300 cm

300 cm

1

-

-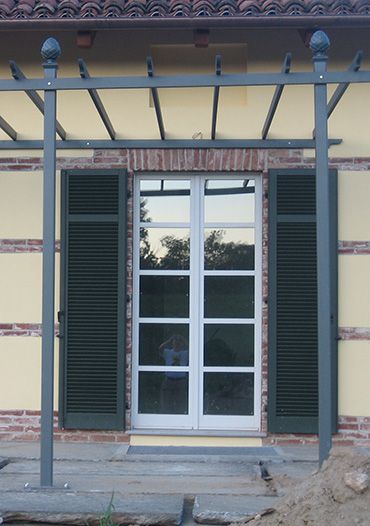 All products of this category
All Product Groups