The Story behind our Trademark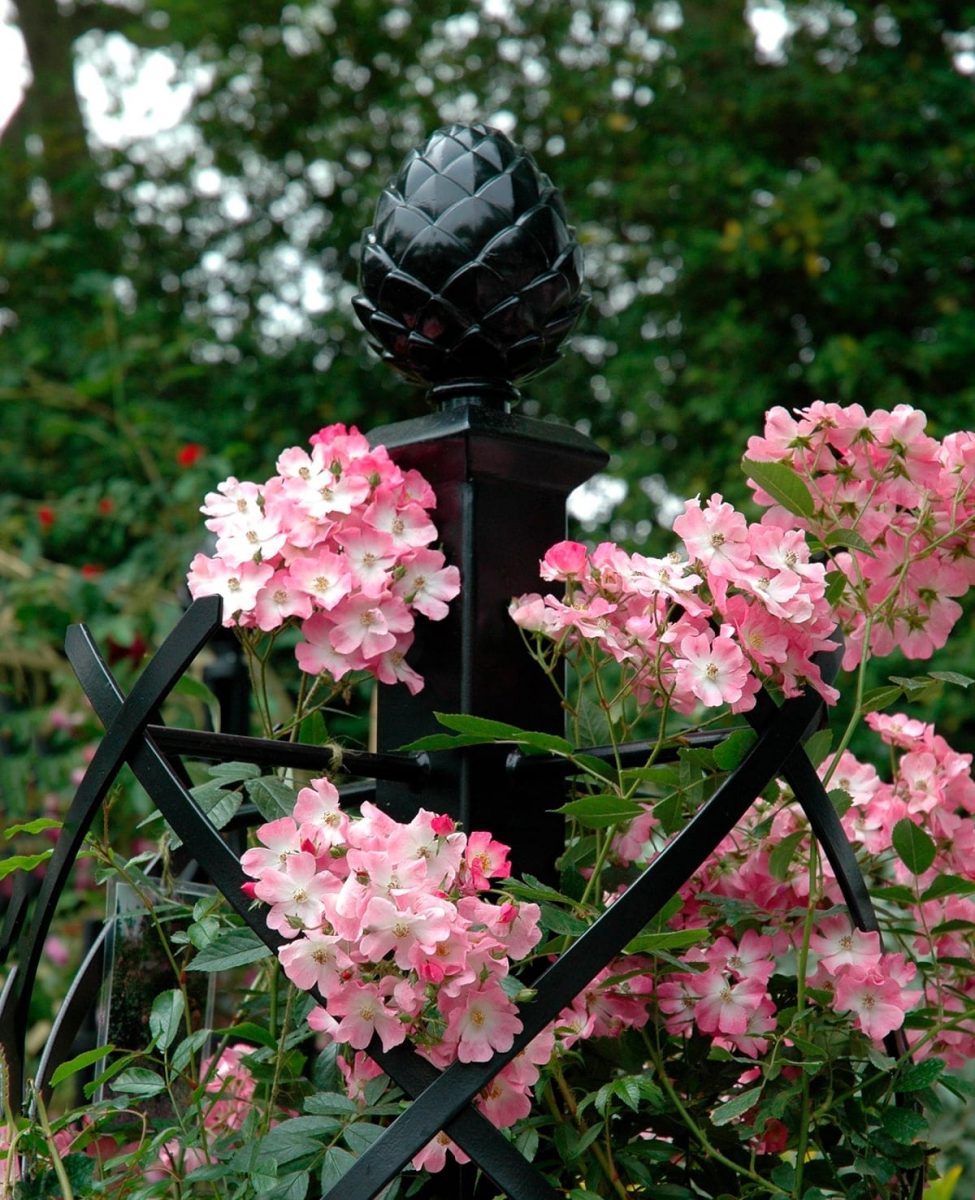 Classic Garden Elements' trade mark was inspired by the ancient Etruscan bronze pine cone on display at the Vatican in Rome. Our first version of the cone was created over 20 years ago. A sculptor from Trnava, not far from Vienna, made the first mould. In a second version, the pine cone's scales were opened up significantly, giving it the marked structure which it has today. The first copies of this version were cast at a bell foundry in Trenčín in Slovakia.
The pine cone is a symbol of fertility, renewal and immortality and expresses nature's harmony and beauty. The cone illustrated here crowns our Charleston rose column, covered in Ballerina roses as exhibited as the Chelsea Flower Show. Many of our other plant supports are also topped with this distinctive emblem: the round Obelisk I, the three-wing Obelisk II, the Gothic-inspired Kiftsgate and Brighton Victorian Rose Arches, the romantic Victorian Rose Arbour, the Kiftsgate Rose Pavilion, the mighty columns of the St. Albans Garden Arcade, the Piemont Pergola and the Paravent and Restaurant Trellises.
In heraldry, it is generally referred to as pine-apple
In archaeology and art history, the term pine cone is used for an ornament made of the stylized fruit of the pine tree. In heraldry, it is generally referred to as pine-apple.
In the Christian tradition, the pine is thought of as the tree of life, while the cones are said to represent resurrection and immortality. Christianity inherited this ancient symbolism from the ancient cults of Isis, Dionysus and Cybele. In the central European provinces of ancient Rome, it was common for tombs to be decorated with pine cones. Visitors to Rome today can admire a giant, 2.5-metre-high bronze pine cone, which is situated at the Cortile della Pigna in the Vatican City. Originally plated in gold, it was probably once the focal point of a monumental fountain in Rome at the ancient Temple of Isis and Serapis at the Campus Martius. It is sometimes said that the pine cone was once used to seal the oculus (or hole) in the Parthenon's dome, but this is surely just a legend. With the spread of Christianity, the pine cone became known all over Europe and was widely used as a decorative element both in religious and secular buildings, particularly in garden architecture.