---
Create A Garden Retreat with a Metal Gazebo
When planted on a wrought-iron gazebo, both clematis and roses will put on quite a show. The fragrance they give off will beguile anyone stood or sat nearby. Could there be a better spot in which to spend a sunny afternoon than a flower-covered iron gazebo like this – perhaps in your own garden? The exclusive Classic Garden Elements iron gazebos create spaces for relaxation and reflection where you can rest, catch your breath and be surrounded by nature. These structures make brilliant additions to all kinds of spaces, such as private gardens, public parks, golf courses and spa gardens. Do you also dream of having your very own magical floral oasis? Would you love to have a space where you can pause for a minute or two, slow down and feel at peace? A place in which you can appreciate the happiness you feel in the moment, focusing only on the here and now? If this sounds like you, then perhaps an iron gazebo would be just the thing.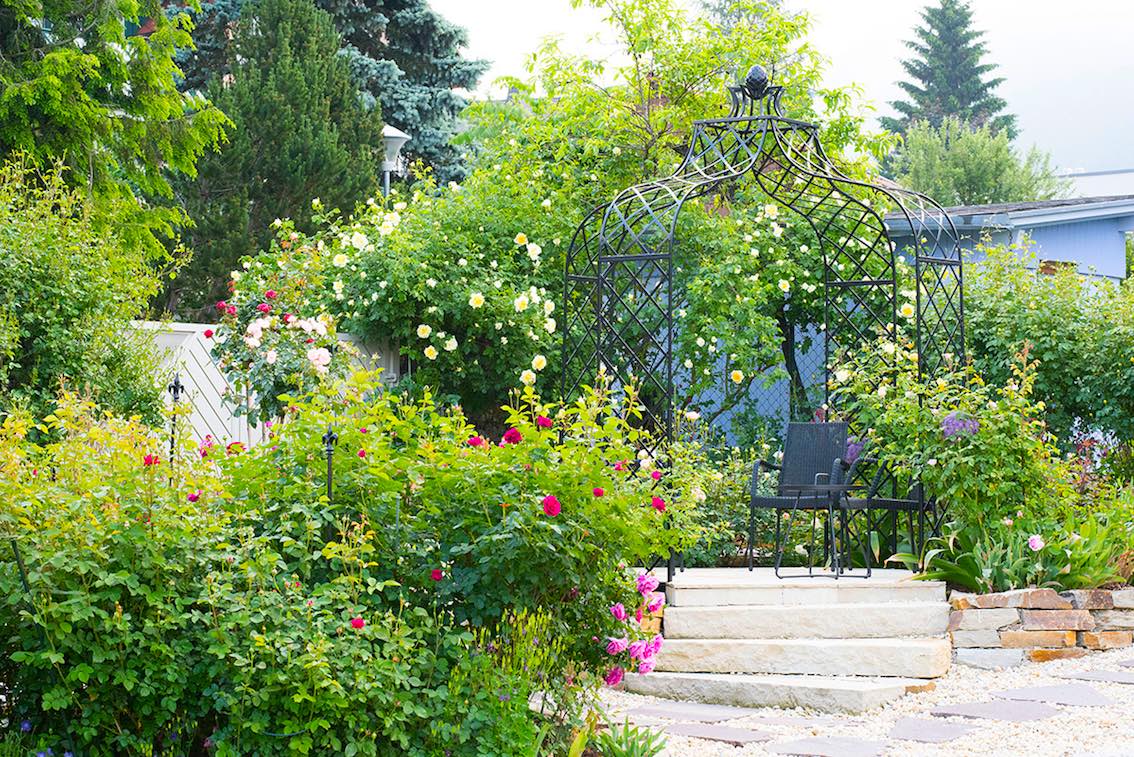 ---
Different Types of Gazebo for Sale UK
You will find many types of gazebo for sale in the UK. There are wooden gazebos and metal gazebos made from wrought iron or aluminium. There are square ones, round-top ones and half-round ones. A highlight amongst gazebos are the wrought-iron gazebos upon which one can grow climbing plants and flowers – a style of gazebo that Classic Garden Elements favours. Once bedecked with buds and blossoms, these delicate metal structures really become part of the garden itself. A flower-covered round metal gazebo in full bloom will provide shade from the summer sun as well as creating both a visual and a sound barrier. In winter, the iron gazebo becomes a graceful piece of artwork in and of itself.
---
Metal Garden Gazebos – Both Historic and Modern
The word 'gazebo' has a wonderful little slice of history and a charming story attached to it. Supposedly, it goes like this. Sometime during the seventeenth or eighteenth century, at a time when all things French were considered highly fashionable, there was a woman in England who had built a tea house. One day she had a party and invited, amongst others, a well-to-do man who was familiar with France, its customs and its fashions. When the woman showed him her tea house, he apparently turned to her and exclaimed, 'Ça c'est beau' ('That is beautiful'). The woman was overjoyed and proudly proceeded to tell all her friends that the French word for her wonderful new tea house was 'gazebo'. The rest, as they say, is history! A gazebo is defined as a light, freestanding structure that stands in an outdoor space. Although gazebos existed in ancient times, they became more popular during the Age of Absolutism. During this time, they were often used in the parks of the nobility as resting places, as viewpoints or simply as design elements. Later, gazebos were seen more and more frequently in the gardens of the wealthy middle classes, too. So it is fitting, given this back story, that Classic Garden Elements offers its customers three historically inspired gazebos: the Sissinghurst pavilion and the Kiftsgate gazebo beautifully reflect England's garden art, whilst the Wallingford gazebo is modelled on an American structure that stands in Wallingford, Vermont. Each of these three cast-iron gazebos has a different purpose and a style all of its own.
---
Three historically inspired types of gazebo for sale UK
The Sissinghurst Pavilion
When it comes to the metal Sissinghurst pavilion, it's fair to say that it's all about the flowers. Its curved, elegant shape creates a stable support for climbing plants of all kinds. Looking at this magnificent structure when it's adorned with blooming roses, it is easy to understand the etymology of the word 'pavilion'. It comes from the Latin 'papilio', meaning 'butterfly' or 'tent', and – with a colourful covering of flowers – this pavilion is certainly reminiscent of the spread wings of a butterfly, whilst the foliage creates a tent-like feeling for those stood or sat below. The Sissinghurst pavilion stands at 350 cm at its highest point, and the structure covers a square area of 500 x 500 cm. This exclusive ornamental wrought-iron gazebo has a unique charm all year round. In the summer, it forms a fragrant, shady floral covering and becomes a wonderful spot in which to enjoy the summer warmth and the blooming flowers, away from direct sunshine. In springtime, the first delicate shoots can be spotted and admired. In autumn, rose lovers and their friends can enjoy the rosehips in the gentle autumnal sunshine. Finally, during the winter months the Sissinghurst pavilion can be transformed into a festive, magical and eye-catching garden centrepiece by bedecking it with strings of white or colourful lights. Based on the pavilion of Sissinghurst Castle in Kent, this metal garden pavilion will bring a touch of English elegance to any garden. The Sissinghurst pavilion comes as standard in either red brown or black.
The Kiftsgate Gazebo
The round metal Kiftsgate gazebo allows you to create an idyllic floral retreat with a diameter of 250 cm. The four elegantly rounded pieces of arch trellis come together at a height of 300 cm and are topped with a Classic Garden Elements pine cone. The four metal trellis panels are far enough apart from one another that you can walk between them and into the gazebo. The Kiftsgate gazebo is a perfect choice if you want to create a wonderfully calm and attractive spot in which to sit – either in the middle of your garden or on a terrace or patio. Even without plants and flowers climbing up it, the wrought-iron gazebo is extremely easy on the eye. Plants that would grow well on an iron gazebo like this are climbing roses, clematis and ivy – or any other plant that likes to climb. The Kiftsgate gazebo is standardly sold in black in our online shop. However, it also looks stunning in white, green or anthracite grey. You could even order the rose gazebo to match the colour scheme of your property. All you'd need to do is give us the RAL colour number you like to use – and then we'll paint your gazebo in that same colour.
The Wallingford Gazebo
The Wallingford gazebo comes in two variations: with a full roof inclusive of rain guttering or with an open, airy, arch-trellis roof, perfect for growing plants up and over. The full, dome-shaped roof offers protection from the elements all year round – creating shade in the summer months and keeping you dry when it rains, no matter the season. The curved metal roof stands like a crown atop the four trellis panels that form the sides of the gazebo, making the structure a visual highlight that can be seen and appreciated both close up and from a distance. In the Ellerhoop Arboretum just north of Hamburg, the Wallingford gazebo stands proud in the middle of the rose garden. This gazebo comes as standard with a square footprint that measures 250 x 250 cm and is 450 cm high. However, like all Classic Garden Elements products, this gazebo can also be produced in the size, design and colour of your choice.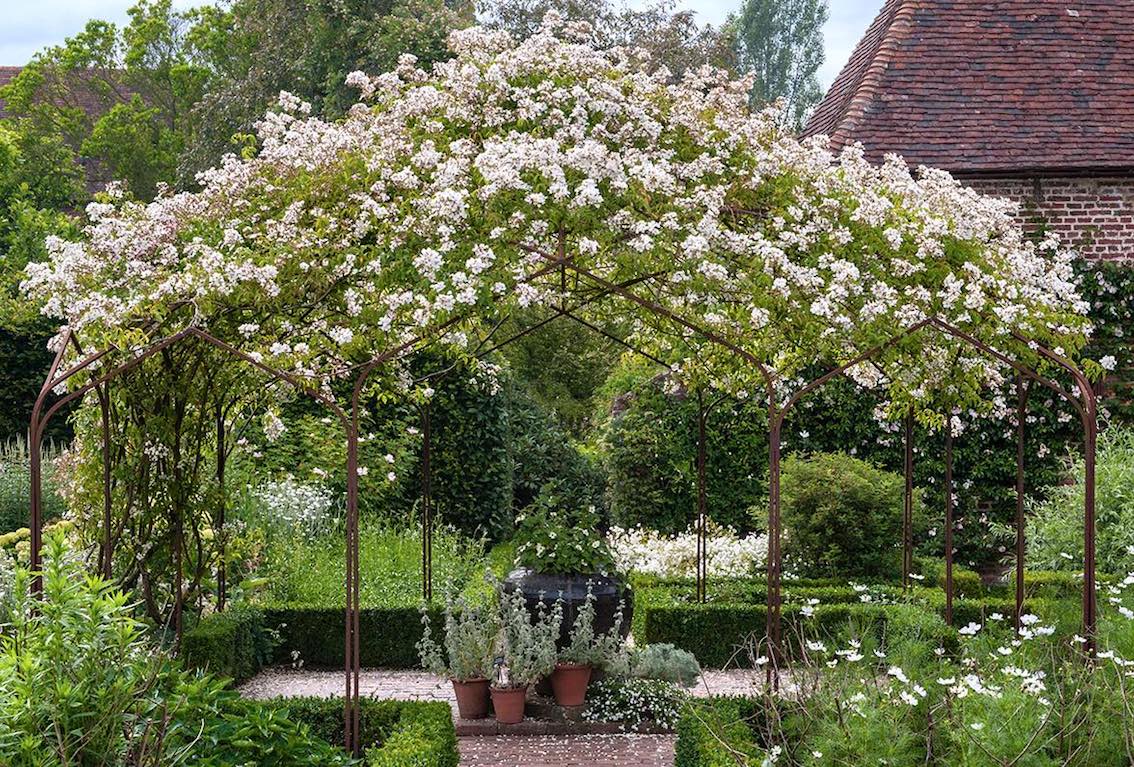 ---
How Are the Gazebos Assembled and Installed?
Every Classic Garden Elements gazebo comes with ground anchors and a steel frame; these pieces serve as anchoring and construction supports for the gazebo but will not be visible once the installation process is complete. Using these accessories ensures that the structure will be stable and capable of withstanding wind and other elements. The gazebo needs to be anchored into concrete, something best carried out by local garden specialists. For larger projects, Classic Garden Elements can carry out the assembly and installation of your iron gazebo for you, if you wish. The design of our metal gazebos means that rain water can simply run out through the structure and plants – and for the full-roofed Wallingford gazebo, the necessary guttering is already part of the design. So, whether you go for a roofed or an open gazebo, you don't need to give any thought to drainage at all.
---
Gazebo for Sale UK – Buy Online from Experts Today
Have you typed 'gazebo for sale UK' into your search bar countless times already, looking everywhere for the ideal wrought-iron gazebo for your garden? Well, you'll be happy to know your search is finally over. You need look no further than our online shop. Classic Garden Elements has built a name for itself both within Germany and internationally over the last 20 years, with a first-class reputation for producing high-quality metal garden ornaments. During that time, and in cooperation with building contractors, rose growers and landscape gardeners, we have produced countless iron gazebos for garden exhibitions, housing complexes, gardens and parks. You can trust our know-how and expertise when it comes to metal garden structures. We would be honoured to build for you an iron gazebo that perfectly fits the space you've earmarked for it. What kind of gazebo do you have in mind? A romantic seating area on your terrace? A modern iron gazebo overlooking your koi pond? Or perhaps you are envisioning a white wedding gazebo for your hotel garden? Tell us what you'd like, and we'll produce your fully customised gazebo in the size, shape and colour of your choice. All of our ornamental wrought-iron gazebos are weatherproof, stable and made from hot-dip galvanised and powder-coated iron. The high-quality design is reflected in the ten-year rust-free guarantee that we offer with each piece.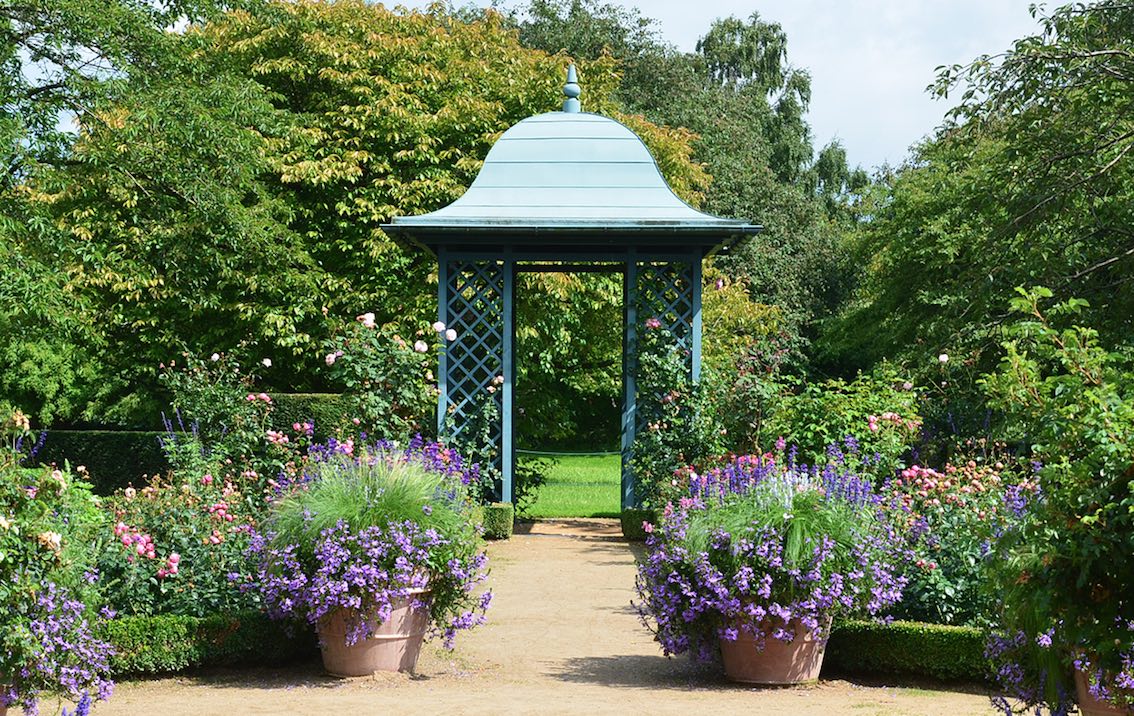 ---
Where Can You View Classic Garden Elements Iron Gazebos?
If you are interested in buying one of our iron gazebos, please get in touch. We would be happy to advise you on where you can find and view Classic Garden Elements gazebos in your area. Many of our gazebos can be found in situ in show gardens, rose gardens and parks.
---
Gazebos for Sale UK
All of our iron gazebos are available to buy online, and we offer free delivery within England and Wales (except islands). You can order your dream rose gazebo online with ease, using our user-friendly online shopping facility. If you would like to buy online but have questions or require help beforehand, please do let us know. We would be happy to help in any way we can.