---
Exclusive Wall-Mounted Metal Trellises
Even an unplanted metal wall trellis transforms a dull façade. When covered in blossoms, it is a joy to the eye that connects your house with your garden. Many plants, such as vigorous climbing roses, will appreciate the stability of a metal wall trellis, the elegant cousin of the more rustic wooden variety. Classic Garden Elements offers you the widest range of exclusive wrought-iron trellises, both in standard measurements and made to order. Our designs include classic wall-mounted trellises, round-top trellises, large and small trompe-l'oeil models, distinctive orangery wall trellises, large, small and narrow modern wall-mounted trellises and espalier metal garden trellises. And what's even better – our online shopping option makes buying one of our trellises a breeze! As experienced experts, we know what's important when it comes to greening a façade with metal wall trellises. All of our wall trellises are produced using the most up-to-date technology. Each one is delivered with the hooks required to attach it safely to the house wall in a way that ensures the façade is protected whilst also encouraging the growth of a beautiful green vertical garden.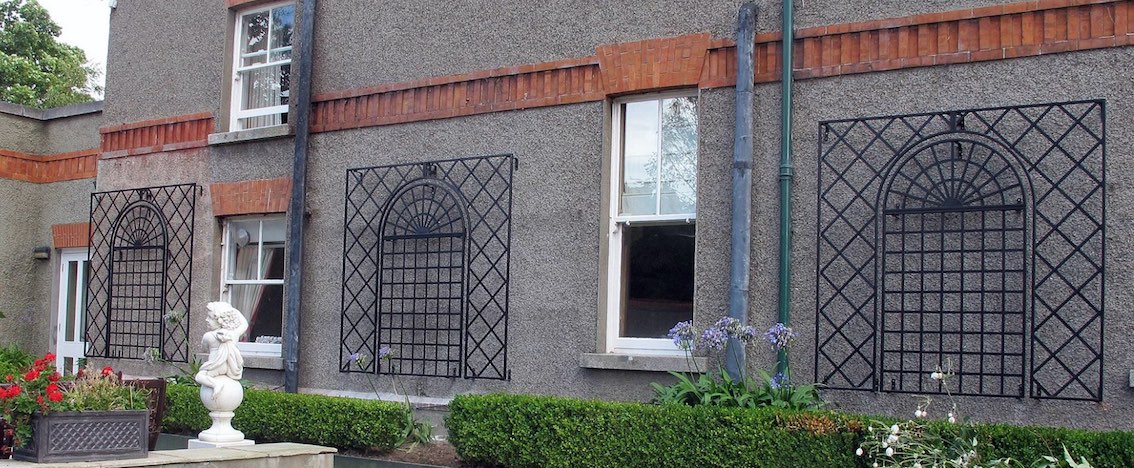 ---
Wooden Frames versus Metal Wall Trellises – Which Kind Should You Buy?
When choosing a wall trellis, your best bet is to go for a truly professional solution, such as a metal wall trellis from Classic Garden Elements. Unlike their wooden counterparts, metal wall trellises do not need to be treated each year with protection agents, some of which can be toxic. This yearly treatment, essential for wooden frames, is almost impossible to carry out on a trellis that is covered in roses or climbing plants. A metal wall trellis, however, is about as low maintenance as it gets. Another advantage of hot-dip galvanised, powder-coated wall trellises is that they do less damage to the façade they're attached to: a 10-centimetre gap is created between our frames and the façade, which allows air to circulate freely and therefore prevents dampness from developing. Roses and other climbing plants can grow up the metal garden trellis to their hearts content, without coming into contact with the plaster of the façade.
---
Modern Vertical Gardens versus Metal Wall Trellises
If you walk through pretty much any large city today, you are likely to see climbing plants growing up the sides of buildings. Why? Because vertical gardens are the latest trend. But although green walls are currently very 'in', the first vertical garden was actually created over thirty years ago, by the French botanist and artist Patrick Blanc. Today we see plants growing up the walls of entire multi-storey buildings, attached to a modular living wall system. The resulting green wall can be extremely impressive. The plants you see on these green walls are not growing from the ground but rather are absorbing water and nutrients from complex containers filled with water and nutrient-rich substrates. Building and maintaining this kind of vertical garden is an expensive undertaking, which is why they are mostly found on multi-storey commercial buildings in urban areas. For private residences and apartment buildings, this kind of greening style is simply too expensive – which is where the classic metal wall trellises come into play. A vertical garden growing on a wall trellis can easily reach a height of 10 metres or more. And these classic metal wall-mounted trellises have another advantage over the green-wall systems, too: whilst their expensive urban counterparts are unsightly structures that are best covered up quickly behind a layer of green, the traditional Classic Garden Elements metal wall trellises are attractive and pleasant on the eye, with or without foliage. This is, of course, especially relevant in winter, when the plants have lost their leaves and the wall trellis itself is visible once more. No matter the size of the space, the combination of an attractive metal wall trellis, the unique architecture of the building and an array of vibrant green plants makes for a stunning piece of vertical gardening art to share and enjoy.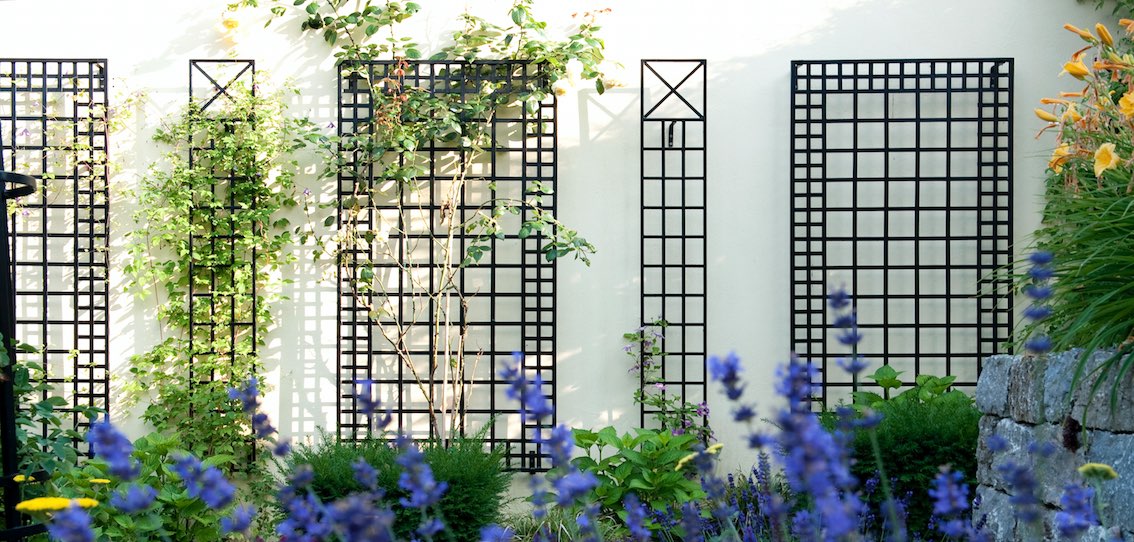 ---
Considerations for Greening a Façade with a Metal Wall Trellis
When planning to green a façade, there are two main decisions you'll need to make: what kind of wall trellis to buy and what plants to grow up it. The first step is to consider the architectural style of the building, as this will greatly influence your choice of metal wall trellis. For example, on a building with arched windows it can work well to echo the shape of the windows with a round-top trellis. As well as the shape of the wall trellis, you also need to consider its size: do you want it to cover just a section of the façade or adorn it in its entirety, like a living painting? For the latter, a treillage metal wall trellis or a combination of modern wall trellises can work well. Once you've browsed our collection, found the perfect wall trellis and purchased it using our extremely straightforward online shopping facility, it's time to choose plants. The biggest consideration here is really the location of the wall-mounted trellis. It is important to ensure you pick plants that suit the spot, so that they grow quickly and bloom in full glory. For example, many David Austin Roses would be a great choice for a semi-shaded wall, as most of them only need four hours of sunlight a day to thrive. Finally, when planning a vertical garden, you also need to consider whether to grow the plants in the ground or in a trough, and whether or not to integrate an automatic watering system.
---
Climbing Plants on House Walls
Opinion on whether climbing plants should be grown on the façades of houses is as varied as the plants themselves. Some of us are thankful for the extra layer of environmentally friendly insulation and take great delight in the visual impact it adds to a building. Others are more sceptical about the value of a living coat of vegetation around a house or concerned about the potential impact on the building. Yet the basic concept of a 'green wall' is nothing new: we know that the ancient Egyptians built arbours covered with vine branches and that, in classical Rome, the cooling effect of climber plants on buildings was gratefully exploited. A coat of green remains a source of fascination today, whether on country homes or – increasingly – on town houses too.
---
Understanding the Difference between Self-Clingers and Leaf-Climbers
The critics do have a point, however. Greening a façade is not without risk of damage. Yet this can be avoided by following some simple rules. It is important to distinguish between self-clingers and leaf-climbers. Self-clingers, such as ivy, woodbine and climbing hydrangea, grow directly on the wall of a building with the help of sticky pads or clinging roots. They should only be grown on well-built, solid masonry walls free of cracks. Their vines should be cut back regularly, once or twice a year, and kept strictly away from the roof and windows and from any gutter pipes, awnings or air vents. Dead vines should always be cut away. Non-clinging leaf climbers, like clematis, wisteria, honeysuckle or climbing roses, must be attached to trellises that are placed close the wall of a building. It is important to choose frames strong enough to support the plant. Shoots will need to be tied regularly to the frames and pruning is equally important. If these rules are followed, the advantages of a living green wall will dwarf any drawbacks.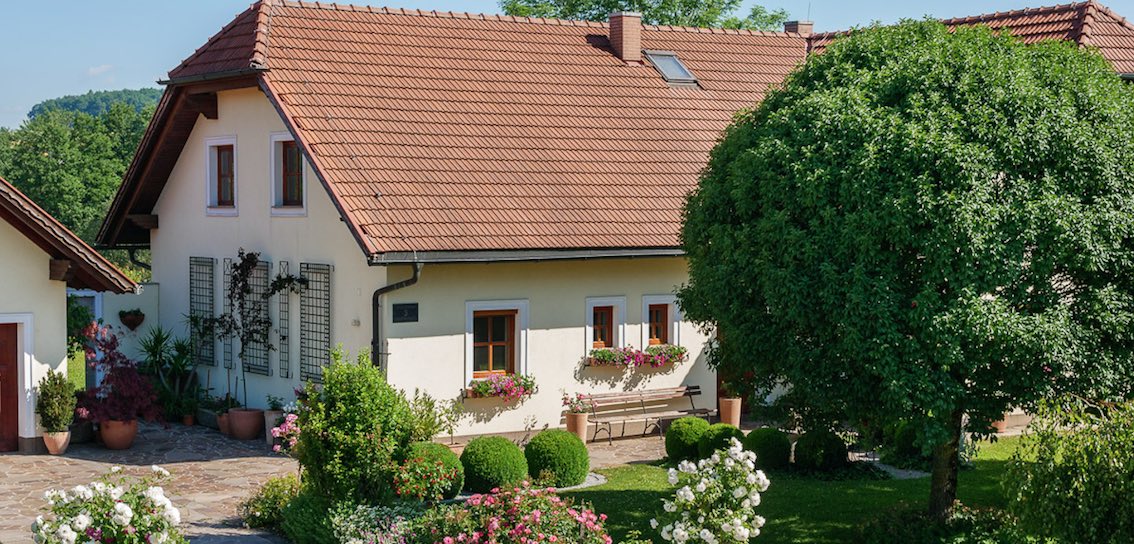 ---
Plants That Are Suitable for Greening House Walls: Clematis, Honeysuckle, Wisteria and Roses
Clematis, with its magnificent colours, is a classic climber to attach to a trellis located in a semi-shaded or shaded area. To ensure that it does not lose its foliage lower down, it is important to know which clematis pruning group it belongs to and to cut it back accordingly. The highly fragrant honeysuckle (Lonicera) can be relied upon to scale a wall trellis quickly and is easy to keep in check. Some varieties of honeysuckle are evergreens – the perfect choice to ensure your green wall is vibrant and attractive all year round. Wisteria doesn't have the best of reputations, as it can be difficult to keep under control. This is why it is essential to attach it to a stable support frame and prune it regularly. If you do, you will be dazzled by the fascinating clusters of opulent flowers it produces. And finally, from early summer on, the climber rose, the most popular of all the non-clinging plants, will display its blooms over a period of many months. Repeat-flowering varieties can grow up to five metres high if attached to a metal trellis. However, beware of allowing the shoots to grow in and out of the meshwork, as this will cause problems with pruning. Always attach shoots to the outer side of the lattice panel, making sure they do not grow inwards.
---
Choosing the Design of a Metal Wall Trellis
All of the stable and elegant metal wall trellises that you can buy online from us are made from hot-dip galvanised and powder-coated steel, and we have many designs available. As well as rectangular and round-top styles, we also offer wall trellises of quite unique and unusual design. You fancy a specific size or colour and can't spot what you want in our online shop? We are happy to manufacture any of the metal wall trellises to your desired measurements and in the RAL colour of your choice.
High-quality metal wall trellises
A metal wall trellis can be a wonderful way of adding interest to a house wall or creating a focal point in your garden. Climbing roses and other climbing plants also appreciate the stability of such a structure, making a wall-mounted trellis the perfect garden structure for rose growers and enthusiasts.
During the production process of our hand-finished wall trellises, the individual pieces of metal – 2 cm or 1.5-cm pieces of steel tubing and 2-cm or 1.5-cm pieces steel bands – are welded together to form one single metal structure. This means that the garden trellis is extremely sturdy and capable of withstanding everything from strong winds to heavy snowfall. All of our wall trellises are  powder coated and hot-dip galvanised, and come with a ten-year rust-free guarantee – so you'll be enjoying them for many years to come!
Attractive wall-mounted trellis perfect for greening a façade
All of our wall trellises that are available to buy online come with the hooks needed to secure the structure safely to your house or garage wall. The only things you'll need to buy yourself are the screws and the fasteners required to attach the hooks. Unless you have the skills to fix the garden trellis to the wall yourself, we recommend seeking professional assistance, such as from a local landscape gardening company.
Metal wall trellises which keep your façade save and your plants healthy
When correctly mounted, there will be a 10-cm gap between the metal garden trellis and the façade. This allows water to drain away easily from behind the wall-mounted trellis and also ensures that air can circulate well, which will prevent dampness from developing. Using one of our metal wall trellises really is the best choice for both the façade and for the climbing plants that will come to make the garden trellis their home.
Metal wall-mounted trellises require no further care or maintenance
All of our metal garden trellises, once you have safely attached the garden trellis to the wall, require no further care or maintenance. The only time you'll need to take our wall trellis down is if you want to paint the wall behind it! Because our garden trellises are hot-dip galvanised and powder coated, they are fully weatherproof and not at risk of developing any unsightly rusty spots. Low maintenance, attractive, and long-lasting – what more could you ask of a garden trellis?
---
Metal Wall Trellises That You Can Buy Online Today
Online Shopping Collection 1: Exclusive Square Metal Wall Trellises
– Modern Wall-Mounted Trellis
– Large Modern Wall Trellis
– Small Modern Wall Trellis
– Special Modern Wall Trellis
– Poundbury Metal Wall Trellis
– De Rigueur Wall Trellis
– Ravenna Metal Garden Trellis
– Espalier Metal Garden Trellis
– Croome Metal Garden Trellis
Online Shopping Collection 2: Round-Top Metal Trellises
– Orangery Wall Trellis
– Osborne House Wall Trellis
– Round-Top Wall Trellis
– Trompe-l'œil Metal Garden Trellis
– Small Trompe-l'œil Wall Trellis
Online Shopping Collection 3: Special Wall Trellises
– Exedra Metal Wall Trellis
– Torii Japanese Wall Trellis
– Hong Kong Wall-Mounted Trellis
– Wollaton Metal Garden Trellis
Online Shopping Collection 4: Treillage Metal Wall Trellises
– Treillage Metal Wall Trellis
– Croome Treillage Garden Trellis
– Knebworth Wall Trellis Set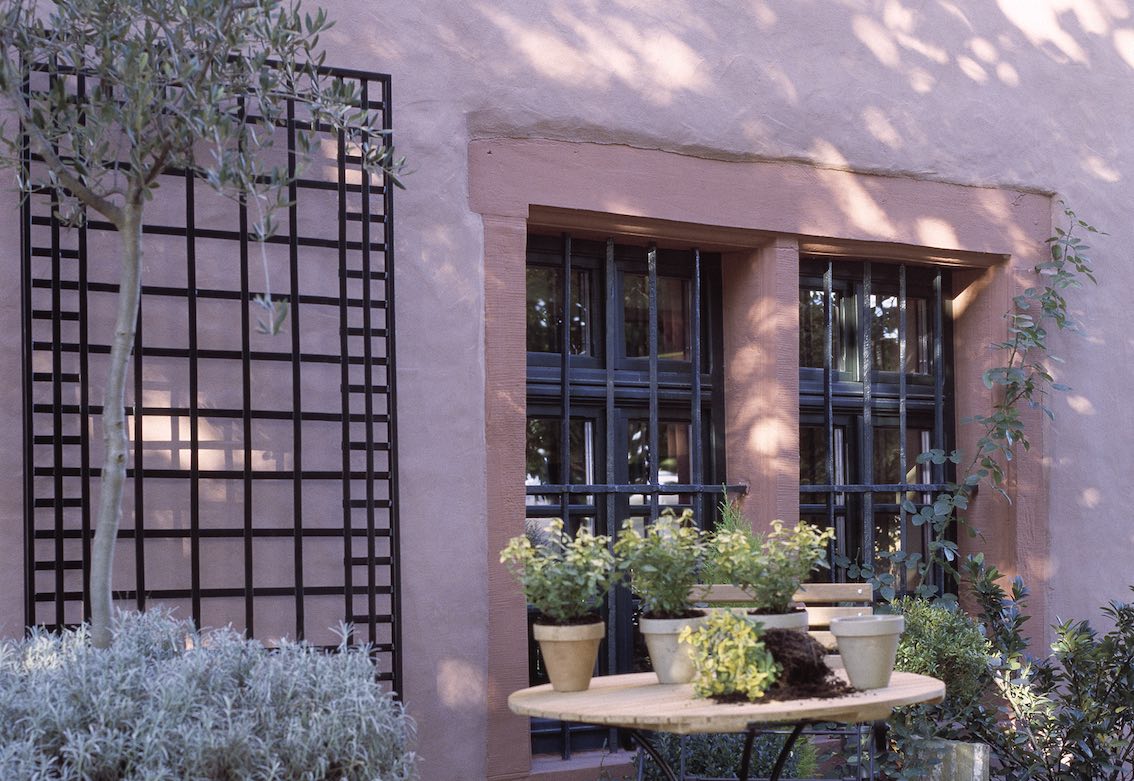 ---
Wall Trellis Delivery
If you buy one of our metal trellises online, your trellis will be delivered to you in one of two ways, depending on its size. If you order a large metal trellis, it will be delivered by one of our drivers in one of our own delivery vans. Smaller trellises are delivered by UPS. Either way, you don't need to spend any time worrying about delivery logistics!
---
How to Attach a Trellis to Any Wall
We recommend seeking professional assistance when fixing the garden trellis to the wall, unless you possess the skills necessary to do it yourself. Every metal wall trellis is delivered in one complete piece and with the hooks needed to hang it. All you need to source yourself are screws and fasteners to attach the hooks. For uninsulated walls, 10-millimetre diameter fasteners are usually appropriate. For insulated walls, special fasteners are required. There are many kinds available, depending on the type and depth of the insulation. We recommend stainless steel screws for both wall types.
---
The perfect wall trellis for you: buy online with Classic Garden Elements
Many customers have already been using their exclusive Classic Garden Elements metal wall trellises for years. If you'd like to join them, our team would be happy to help you find exactly what you're looking for.