---
Iron Railings and Metal Fence Panels Available to Buy Online
At the heart of classical garden design is functional elegance and a clear, symmetrical division of space. Would you like to give your garden some added structure or demarcate specific areas for specific purposes? If so, you'll be pleased to know that there are various ways of achieving this. Some people divide and define their outdoor spaces using specially built walls, gabions or shaped hedging – and while there is nothing wrong with these options, elegant metal fence panels or iron railings can be an ideal alternative. Unlike shaped hedging, which often takes years to grow to the desired size, iron railings and metal fence panels have an immediate visual impact. As a rule, they are also considerably less expensive than specially erected walls and more delicate than gabions. With their clear contours, these space dividers exude an air of timeless perfection. When it comes to metal railings, less is more. As well as protecting privacy, they also serve to structure larger open spaces, to allow or deny access, and to create and accentuate lines of vision. They can be used as superior fencing for private gardens, both modern and classical. At hotels, golf courts or thermal baths, metal fence panels facilitate sophisticated spatial arrangements that impress visitors and employees alike. Classic Garden Elements specialises in exclusive iron railings and metal fence panels, all of which are manufactured in our own workshop and are available to buy online in our online shop. All of our garden structures are of the highest quality and, with their distinctive, classic design, they are a cut above the more conventional types of fencing. Our three most popular designs – Bauhaus, Paravent and Restaurant – are subtle but style-defining choices that would suit any garden or terrace, whether private or public.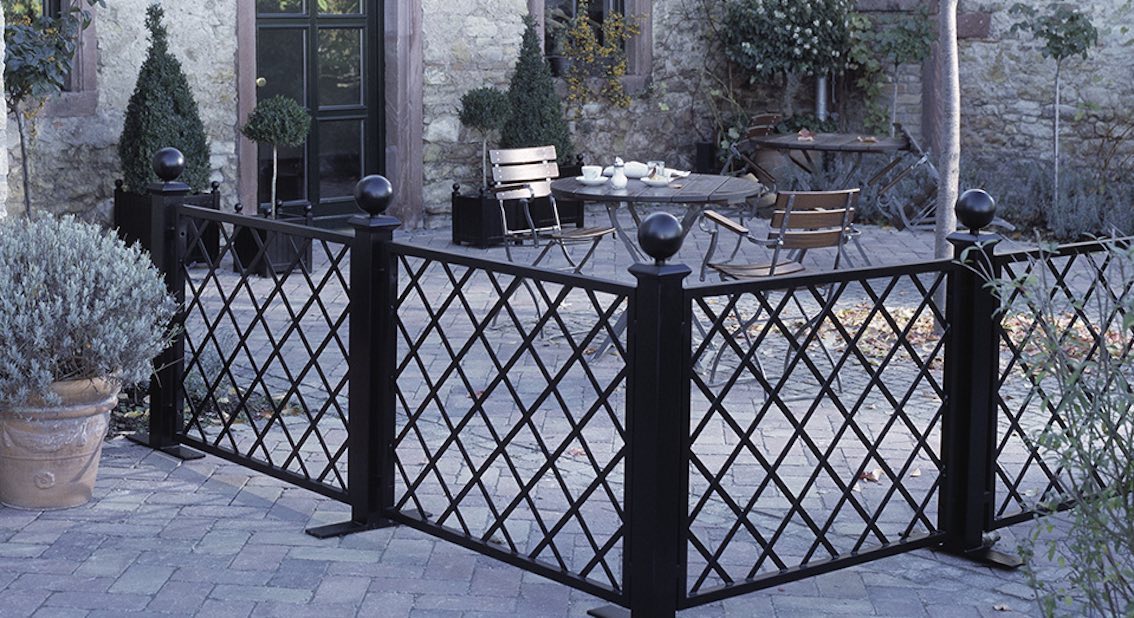 ---
The Advantages and Disadvantages of Metal and Wooden Fence Panels
When looking for ideal railings and fence panels for their gardens, today people are increasingly turning to steel structures. Wood, the more traditional material, is being used less and less. This is partly because its rustic country look simply doesn't suit the urban post-modern style of contemporary buildings. In addition, the wooden models available on the market tend to be somewhat rudimentary, even coarse in shape – mass-manufactured to 'garden-centre standards'. An obviously cheap wooden fence at the entrance to an expensive, high-end property will strike any observer as incongruous. This means that it is crucially important that the type of fencing we choose suits our homes –the stark, clean lines of contemporary homes need to be reflected in modern fence panels and railings. This can be achieved by restricting ornamentation to recurring geometrical forms, which is why the latticework of Classic Garden Elements garden trellises is composed of simple diamond or square patterns. The classic pine-cone or ball finials used to top the garden trellises' eight-centimetre thick posts create their own special effect, although they can also be omitted completely if the intention is to achieve a more austere effect.
---
A Wide Range of Iron Railings and Metal Fence Panels to Choose From
Classic Garden Elements iron railings have been elegantly framing and shaping spaces within private gardens, parks, hotel complexes and restaurants for over twenty years. These exclusive metal garden structures can be used for an array of purposes, from sectioning off a children's playground in a restaurant garden to enclosing an area in a private garden in which our four-legged friends can safely run and play. There are countless examples of situations like these in which metal fence panels have already proven themselves to be a great choice. In the Classic Garden Elements online shop, you will find a wide range of metal railings in a classically modern – that is to say, postmodern – style, all of which are available to buy online.
---
Paravent Metal Railing Panel
If you are looking for a high metal railing to divide or structure an outside space, our Paravent metal railing panel, sold as standard in black, would be a great choice. The Paravent model is delicate and elegant in design, despite its height of 179 cm. Thanks to the combination of diamond-shaped latticework and curved lines, it has a light, graceful feel to it. Square metal posts topped with elegant pine cones finish it all off and make the Paravent metal railing panel a true eye-catcher.
---
Bauhaus Metal Railing Panel
The charm of this Bauhaus-style metal railing panel is its simple and unpretentious design. Sold as standard in black, with this garden structure it's all about clean lines and square forms. The individual fence panels are connected by graceful columns topped with ball finials. The Bauhaus metal railing panel is available in the standard height of 179 cm and with a width of either 84 or 176 cm. The stable metal posts connect and stabilise the iron railing fence whilst also bringing a decorative element that adds interest by breaking up the flow of the trellis panels.
---
Restaurant Trellis Divider
The black Restaurant trellis divider can be used as fencing or to decoratively structure spaces in gardens, on terraces or alongside paths. With its diamond-shaped latticework panel and metal posts topped with either pine-cone or ball finials, each piece of trellis is a design element in itself. The Restaurant trellis divider is sure to enhance any space, whether large or small. It is a stunningly attractive structure in and of itself, but it can also be used to great effect as a climbing support for ivy or climbing roses. At 80 cm high and 112 cm wide, this half-height metal railing offers you the freedom and flexibility to arrange and structure your outside space exactly as you choose.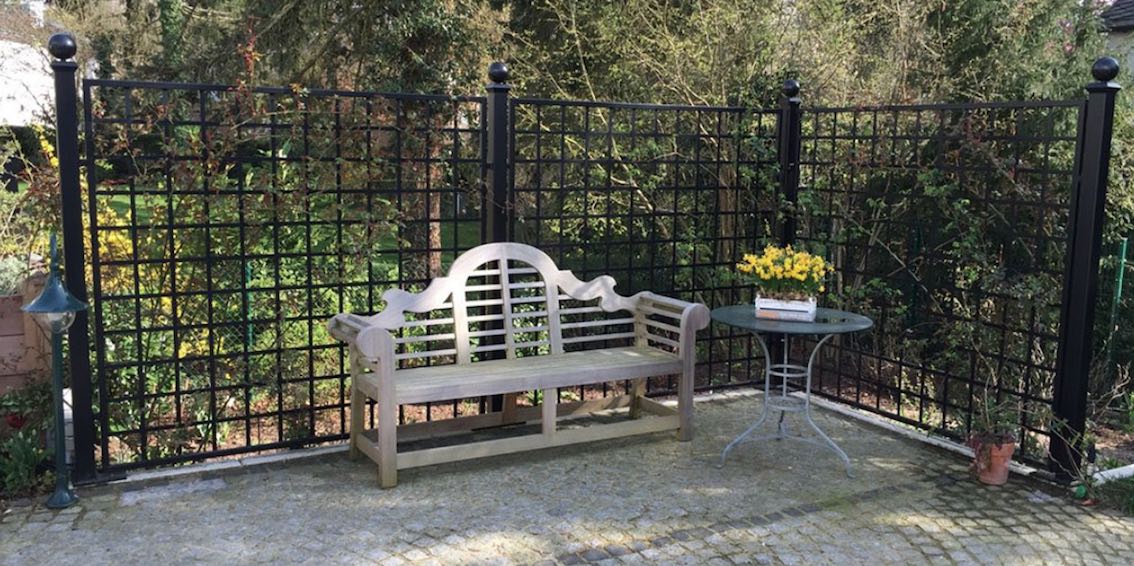 ---
Additional Wrought-Iron Railings Available to Buy Online Today
Alongside the three popular designs described above, our range of iron railings and metal fence panels also boasts an array of trellises that are based – design-wise – on French treillage panels. With its elaborate French treillage form, the elegant wrought-iron Wessling treillage set will bring more than a touch of sophistication to your property. This masterpiece is highly decorative but also strictly geometric in design and would make an impressive addition to any garden space. For larger outdoor areas, such as those belonging to larger properties, golf courses or hotel complexes, the black, wrought-iron Knebworth grand set wrought-iron railing is a fantastic choice. Its simple elegance comes from its strong geometric shapes and the extremely high-quality craftsmanship that goes into making this extraordinarily eye-catching piece. The Lamport grand set wrought-iron railing is a contemporary metal fence panel that is capable of meeting even the highest of expectations. The modern design of this stylish black fence will impress your guests and stop passers-by in their tracks. With this charming piece of garden art, you will be making a clear statement in terms of quality, design and beauty. The Sezincote grand set wrought-iron railing and its little sister, the Sezincote set wrought-iron railing, are black, wrought-iron fence panel sets, each of which boasts a sophisticated trompe-l'œil design. These stunning pieces create an optical illusion by adding a sense of depth and space which, in reality, isn't there. For this reason, the Sezincote grand set is a great choice if you want to optically enlarge a small space, such as a small walled courtyard. The next product was inspired by a customer's specific vision. We created the Trianon rose treillage set for a rose lover in Ireland who was looking for bespoke metal fence panels for his large private park. This almost three-metre-high grand metal railing is inspired by garden structures in the Roseraie de l'Haÿ les Roses rose garden in Paris as well as the wooden treillage panels that the French Empress Josephine had in her rose garden in Trianon, near Paris.
If you are looking to create some privacy on your terrace, by the pool or in a park, perhaps you might consider the highly modern Gropius iron railing privacy screen. Perforated sheets of aluminium combined with the geometric lines of the metal posts give this structure a clean, contemporary feel.
The Orangery set is a black metal fence panel that has a classically modern style all of its own. The inspiration for this stunning garden structure was the window design of the elegant 18th-century orangeries. Looking at the Orangery set, one cannot think of anything but scented lemon trees in Versailles planters protected from the inclement weather of a northern winter. This ornamental metal fencing is sure to bring a touch of the Mediterranean to any garden. The Rushton Hall wrought-iron railing stands out thanks to its simple square latticework design. The only decorative elements in sight are the modest ball finials atop the square posts. It is the epitome of understatement. This strong but minimalistic design is underlined by high-quality craftsmanship and a perfect finish.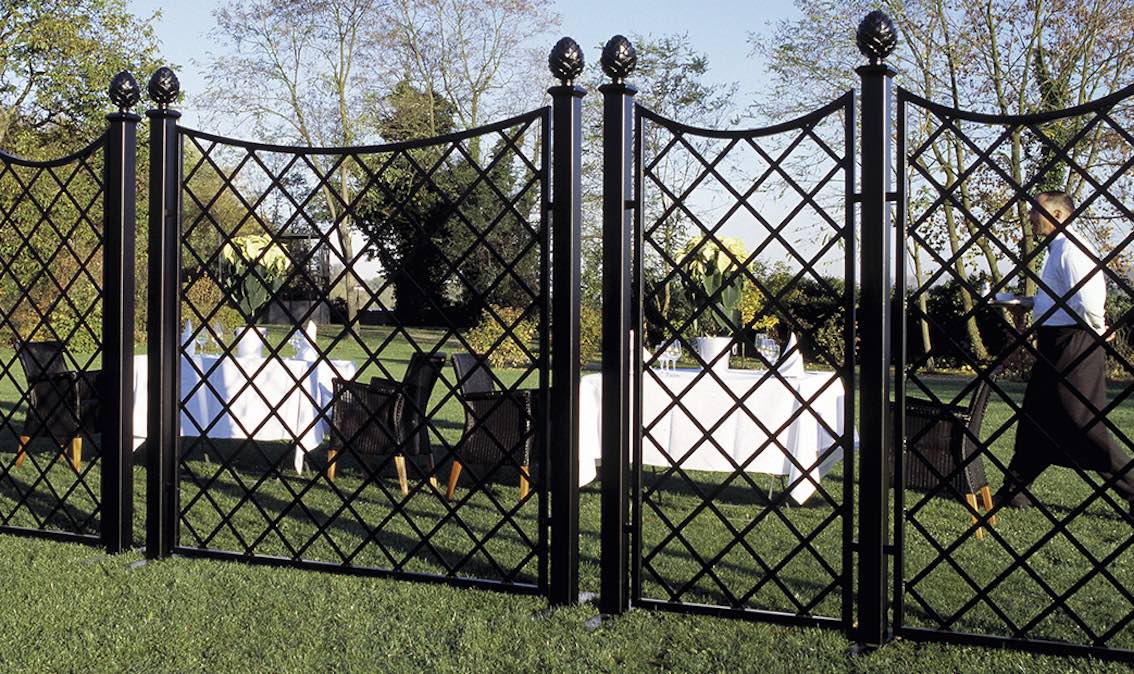 ---
How Are Iron Railings and Metal Fence Panels Assembled and Installed?
It is essential for metal railings and fence panels to be anchored firmly in the ground. For this reason, Classic Garden Elements offers two different installation methods, both well tried and tested. The first option is that a trellis's upright supports are made 50 cm longer than normal, so that they can then be set in concrete. The alternative is that the posts are welded to special base plates, which can in turn be mounted on frost-proof concrete foundations. We would be happy to advise you as to which of these solutions would work better for your property. To ensure that the metal railings or fence panels are installed safely and securely, we recommend hiring a local hard landscaper to carry out the work for you. For larger projects and if desired, Classic Garden Elements can also install the structures.
---
Turn Your Fence Panels into a Vibrant Wall of Green
Fence panels and trellises covered in richly flowering plants create an effective privacy screen around a patio, terrace or garden. The denser the foliage, the better we can spend balmy evenings caressed by green leaves and protected from prying glances. At the height of summer, the iron structure and the show of blossoms fuse to become a lush tapestry of greenery, as climbing roses envelop us with their colour and fragrance. Inside the garden, where privacy is less of a priority, metal fence panels are a charming way of dividing up space. When covered with roses, they are an attractive and easy way of creating two or more distinct sections in your garden – and they don't even need much space to do so! If you'd prefer to grow something other than roses up the railings, there is a wide range of other climbing plants to choose from, which – whether thanks to their colour, their scent or their attractively shaped leaves – would all be equally fantastic choices of plant to grow up an iron railing fence.
---
Exclusive Iron Railings Available to Buy Online Direct from Manufacturer
All of our standard iron railings and fence panels are available to buy online today in our online shop. And ordering them couldn't be simpler, thanks to our user-friendly online shopping facility.
---
Bespoke Ornamental Metal Fencing
Alongside the production and expert installation of our standard range of metal railing panels, Classic Garden Elements also offers help with planning and designing your new garden attraction, including producing one-off bespoke pieces. All of the iron railings for sale in our online shop can be ordered in any size and in any RAL colour. If you would like us to make you a customised metal fence panel, all you need to do is open up to us and tell us what you'd like. We can make your dream garden structure for you based on nothing but a sketch or a photo – so get in touch today and let's set your idea in motion!