---
Metal Plant Supports – Stylish Decoration for Your Garden
The storm has passed, and it's time to survey the damage to your garden. How well have your precious plants and shrubs survived? With the right metal plant supports, you can carry out your inspection with confidence. Classic Garden Elements metal plant and rose supports are built to withstand every kind of weather. Whether used as rose supports or shrubbery holders, our iron plant supports defy the forces of nature. They support and protect roses, hydrangeas and peonies as well as shrubs and bushes of any size. These metal garden supports often prevent plants from being irreparably damaged during bad weather and storms. The Classic Garden Elements metal plant support collection is made up of four different products: plant supports, rose supports, metal garden stakes and lawn edging. All of our supports are exclusive in design and of extremely high quality. Made of hot-dip galvanised and powder-coated iron, they are both garden ornament and stable growing support in one. Of course, you can also make a rose support structure or other metal garden support yourself at home, and in many specialist shops you'll find numerous types of plant supports made of everything from iron to wood. However, if you're looking for stylish garden decoration that will also support your roses and even encourage their growth, then look no further than a Classic Garden Elements metal artisan plant support. In our online shop you'll find metal plant stakes and garden edging that will enhance the visual appeal of your garden and present your plants in their best light. All of our exclusive metal garden borders, metal plant supports, metal garden stakes and rose bush supports are available to buy online.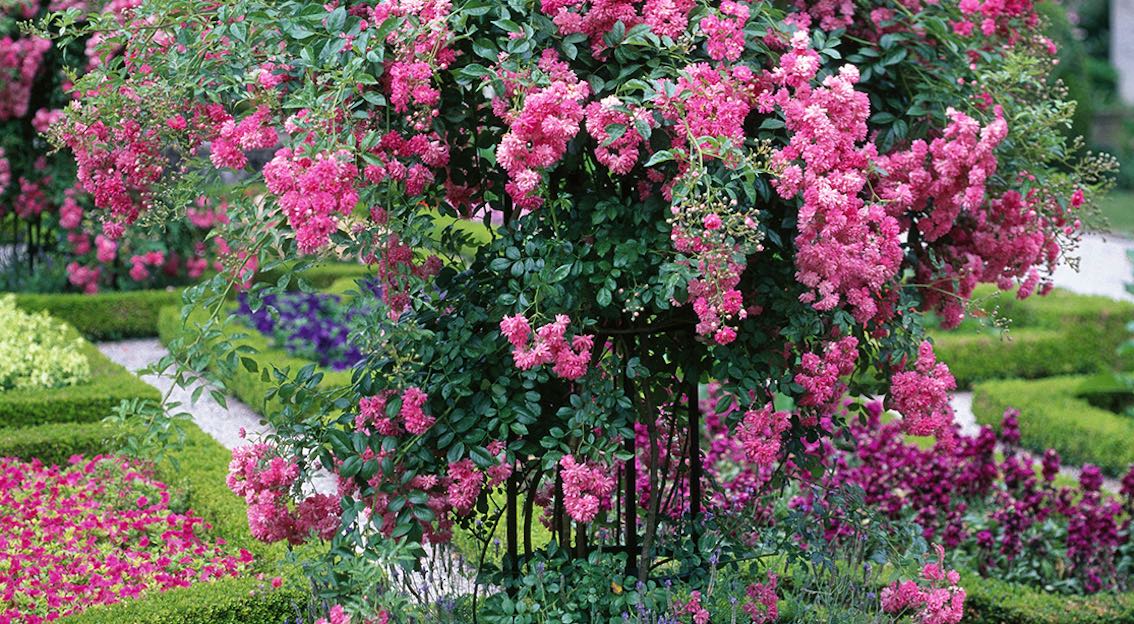 ---
Exclusive Metal Plant Supports to Suit Every Need
The Jean Vibert plant support is a true all-rounder. The fact that you can adjust its height means that it's suitable for various kinds of plants. It can be used as a support for roses, a shrubbery holder or even as a small trellis for climbing plants. The height of the black metal frame can be extended from 60 cm up to 130 cm as desired. There are four horizontal metal rings that can be used as needed – some plants will appreciate all four, whilst others will be more than happy with just one or two.
---
The Rudolf Geschwind Rose Support
The poles and rings of the Rudolf Geschwind rose support are welded together during the production process to form a single piece, which makes this rose support particularly robust. It is the perfect support for sprawling shrub roses, peonies or mophead hydrangeas. The two horizontal metal rings give stability to the 98-cm tall metal plant support as well as ensuring that the plant's shoots are securely held and contained. The poles are crowned with cast-iron tips, which lend this sturdy welded structure an elegant, historic charm.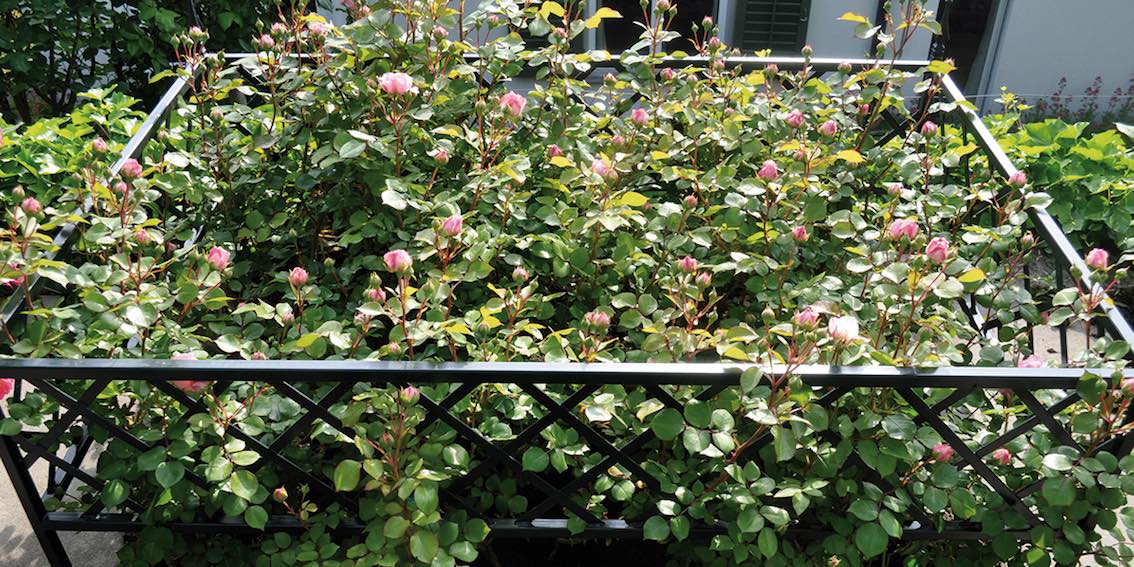 ---
Jules Gravereaux Garden Stakes
Classic Garden Elements offers artisan plant supports for standard roses, too: the metal Jules Gravereaux garden stakes. They are made from solid iron and decoratively topped with either a cast-iron fleur-de-lis or a simple ball finial. These metal plant stakes are available to buy online in two lengths: 120 cm and 150 cm. Every iron garden stake comes with a galvanised ground spike to ensure it can be securely and easily anchored into the ground. The final product in our range of rose and plant supports is the noble metal Zürich lawn edging. With a wonderful diamond latticework design, this garden edging protects plants and structures unusual borders in special gardens. It comes as standard in black and is 80 cm high. In terms of width, we offer two standard options: 100 cm and 200 cm. This border edging is both interesting garden decoration and helpful growing support, and it brings stylish structure to any garden.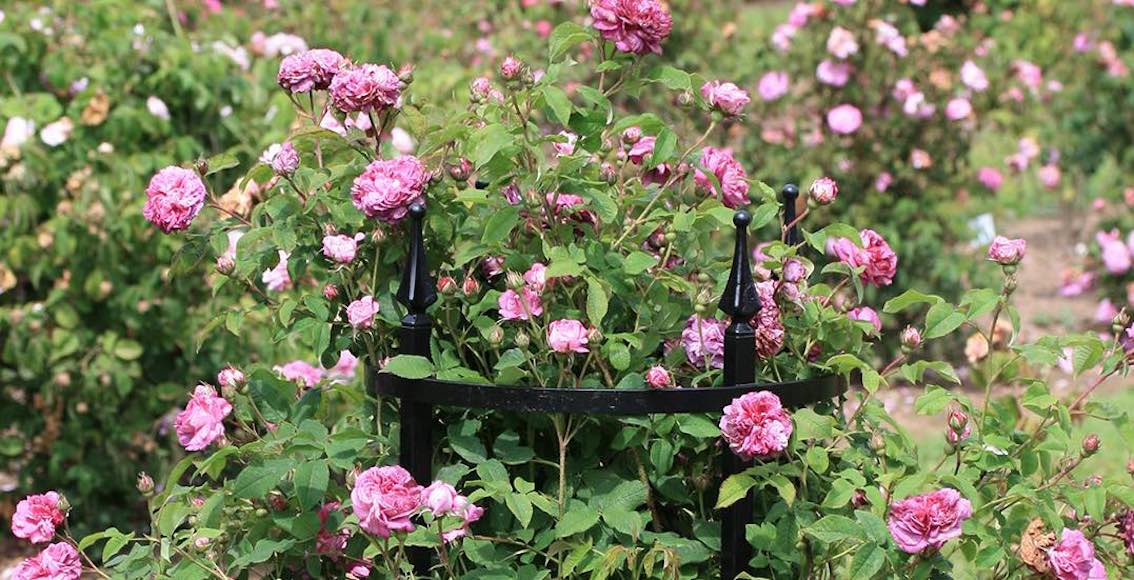 ---
Which Rose and Plant Supports Are Suitable for Which Plants?
For climbing roses, the ideal kind of rose support structure is probably a garden arch or wall trellis. However, rose obelisks and rose columns are also great choices if you want to display your climbing roses in style. When it comes to shrub roses, though, it's a different story: with their thin shoots and large, heavy blooms, they will appreciate – especially in the first few years – a helping hand as they grow. It works particularly well to guide the rose shoots around a metal rose support frame. This means that the young plants will go on to become both broader and more stable and will mature into beautiful round shrubs. The ideal supports for shrub roses would be either our Jean Vibert round metal plant support or the Rudolf Geschwind rose bush supports. Finally, for standard roses and saplings, stable metal garden stakes are the plant support of choice. Staking saplings and small trees – that is to say, attaching them to an upright stake for support – has long been an essential task for gardeners. There are various kinds of wooden or iron supports that can do the job, but they are not all equally optically pleasing. Oftentimes, solid wooden fenceposts are used to give support to standard roses – but their robust, rustic look couldn't be less in keeping with the delicate petals of a rose. In contrast, the style of an elegant wrought-iron garden stake is a much better match for these fine and noble beauties. A metal stake is also just as effective in helping top-heavy standard roses to keep their balance, even when they're in full bloom over the summer. A metal stake is the ideal choice for spots where a light wind can quickly turn into a hefty gust. The Classic Garden Elements standard rose supports are made from solid hot-dip galvanised iron and designed to ensure your staked roses are both well-supported and attractively presented – function and form brought together in perfect harmony.
---
Garden Border Edging – for a Sophisticated, Clean Style
A picture frame, whether made from wood or metal, affects the overall impression of a painting or photograph. In a similar way, metal garden borders change the look and design of a garden. But it's not just about the visual appeal: the borders also divide and define spaces and separate driveways, paths and lawns from borders and beds. The material used for the edging should match the style of both the garden and the vegetation. Our Zürich lawn edging is made from hot-dip galvanised and powder-coated iron and is a particularly good choice for highlighting the exclusivity and sophistication of borders of hybrid tea roses. This made-to-measure flower bed edging prevents roses and other flowers in your borders from spreading and growing into paths and lawns. Thanks to the small, fence-like structure, it is easy to move between rows of plants to either deadhead them or to cut the best ones to assemble into a bouquet. The Zürich lawn edging will unobtrusively but clearly structure your garden by elegantly taming and shaping the vibrant, rampant chaos that is nature.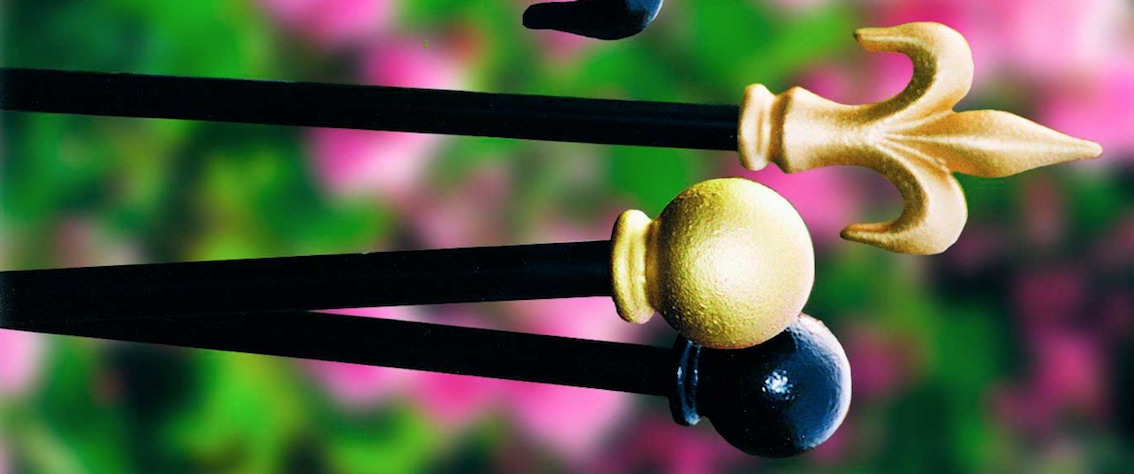 ---
Bespoke Rose and Plant Supports
It is important when choosing your rose or plant support to ensure that it will suit the style of your garden and property. This means carefully considering what colour you want the piece or pieces to be. Black is the traditional choice, but it's certainly not the only option. For example, it is currently popular in modern-style gardens to go for anthracite grey climbing supports. In less contemporary or wilder spaces, the romantic look of a white rose bush support would be a great choice, whilst garden lawn edging or iron plant supports in dark green will add a touch of English cottage-garden style. Part of the Classic Garden Elements service is the customisation of each piece – all of our hot-dip galvanised and powder-coated metal plant supports can be painted in the RAL colour of your choice.
---
Buy Online from Experienced Manufacturer
Classic Garden Elements has twenty years of experience in designing and producing metal garden ornaments. All of our products are available to buy online from our online shop. The standard products can be bought with ease using our online shopping facility. For bespoke or special orders, or if you have any questions about any of our products, please get in touch. We would be happy to advise you and help in any way we can.