Rose Obelisk II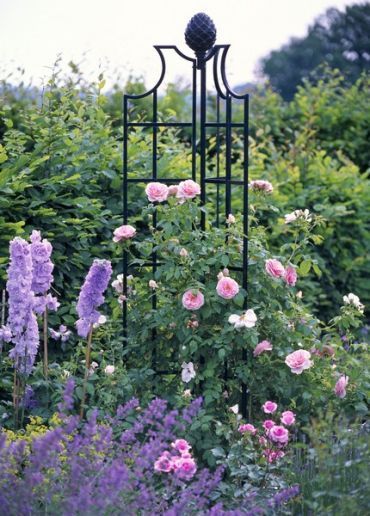 Support Frame for Shrub Roses and Clematis
This beautiful Rose Obelisk radiates a charm that recalls the Belle Époque. With its three elegant metal wings, it complements the tender blooms of historical roses and clematis. Together, frame and flower exude an air of wistful longing, while defining or accentuating a garden's structure. With a lofty show of colour, an obelisk can liven up flowerbeds and lawns, enhance the end or centre point of a vista, or provide an intriguing focus where pathways cross. This is poetry for eyes that have tired of prose. In groups of two, obelisks can be used to frame a garden seat, to flank a pathway, or to mark the point where a path begins.
Rose Obelisks can be a godsend in smaller gardens. Without demanding much space, they accentuate the vertical to create an atmosphere of loftiness. Covered in the honeysuckle so popular in fin de siècle gardens, the Obelisk II can become a pillar of fragrance standing in a circular boxwood bed. Wrapped in clematis hybrids, it can grace a country garden with brilliant splashes of colour.
Most impressive of all is the way in which roses unite with this sturdy frame. The obelisk's three black metal wings harmonise so perfectly with the foliage that they become practically invisible beneath it – a perfect marriage of melody and rhythm! From early summer to late autumn, it is the blossoming roses that catch our attention. At the very most, the obelisk's pinecone top and finely-shaped metal crown emerge above to complete our picture. In winter by contrast, the clear contours of the obelisk come beautifully into play, especially when lined with frost or snow.
Rose Obelisk Product Details:
Three-wing frame made of 1.4 cm steel profile tubing, inner latticework of 1,5 cm steel band, hot-dip galvanized and powder coated in black. Recommended anchorage: directly in the soil without a concrete plug. Other colours on request.
Item No.:

Height:

securing to the ground:

Diameter:

Width per Panel:

Weight:

Technical drawing:

GBP:
R4

6'10'' / 210 cm

plus 14'' / 35 cm

24'' / 60 cm

12'' / 30 cm

40 .lbs / 18 kg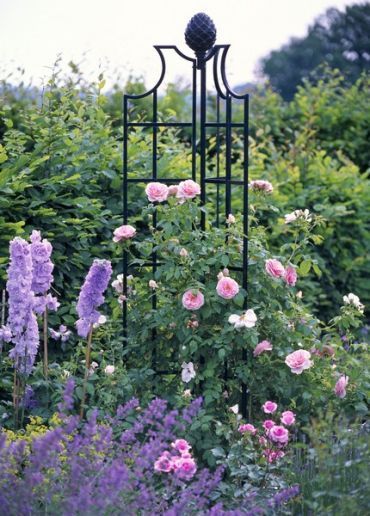 All products of this category
All Product Groups