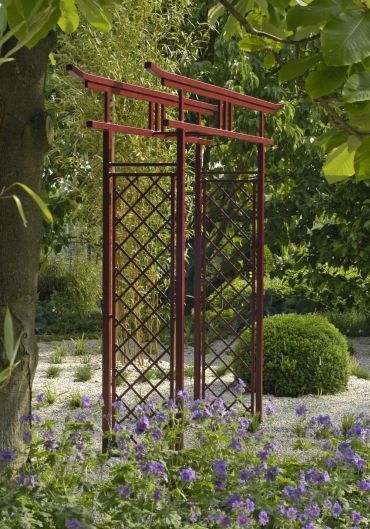 Black is the traditional, widely-accepted colour for wrought iron structures and trellises. That is why all Classic Garden Elements standard structures are powder coated in black-matt. On request, however, we can coat your garden structure in a different colour of your choice.
Our colours, which are made by premier manufacturer TigerDrylac, are based on the RAL colour scheme:
https://en.wikipedia.org/wiki/List_of_RAL_colors
https://de.wikipedia.org/wiki/RAL-Farbe
Our 'black-matt' is RAL 9005
When choosing an alternative colour, you can consult the RAL colour chart. This can be a tricky business, however. The thumb-nail sample colours you see in the chart may seem different when applied to larger objects. They may also look different on metal. Light will also play a role. A colour seen in artificial light indoors may not seem quite the same outdoors. And outdoors, the effect may depend on whether a colour is viewed in a sunny, shady or semi-shady place.
So you may find it easier – and safer – to choose a colour you have already used outside – on a fence or gate, for example, or on windows or shutters.
Once you have chosen a colour, we would ask you to send us its RAL colour number.
If you choose a colour you have used before and the colour number is based on a different system, we would ask you to convert it to RAL. RAL converters can easily be found online. A good DIY store should also be able to help with the conversion to RAL.
As with made-to-size items, it is our policy to request advance payment for the coating of structures in colours other than the standard black-matt. In addition, we charge a supplement of £50 (UK) to cover the costs of cleaning our powder machines before and after use of a non-standard colour. Items coated in special colours cannot be returned or exchanged.
A little advice on colour
With the passing of seasons, a layer of pollen and algae gathers on the surface of our garden structures, forming an attractive patina over the years. Our standard black-matt colour weathers with dignity and this is also true of dark green and similar darker colours. Light, creamy or white colours do not, however, improve with age. They will need to be freshened up regularly if they are to retain their good appearance.
Please do not hesitate to contact us if you have any queries about a colour you are considering:
info@classic-garden-elements.com
The most popular colours for our rose arches, garden arches, trellises for walls, garden obelisks and arbours are Jet black (RAL 9005) our traditional standard colour, then Moss green (RAL 6005), Fir green (RAL 6009), Black green (RAL 6012), Signal white (RAL 9003), Pure white (RAL 9010), Traffic white (RAL 9016), Anthracite grey (RAL 7016), Graphite grey (RAL 7024), Light grey (RAL 7035), DB 703 metallic, White aluminim (RAL 9006) and Grey aluminium (RAL 9007).