Giverny Rose Umbrella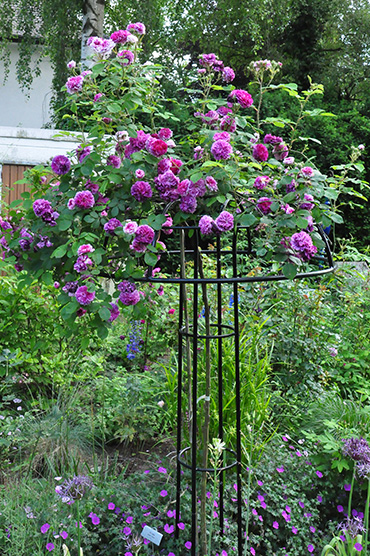 Perfect Support for Weeping Standard Roses
In the garden at Giverny, a rose umbrella-like frame overflows with cascading rose blooms. Designed by the artist Claude Monet, this simple iron structure can transform a weeping standard rose into a beguiling impressionist painting. Weeping standards have long, hanging shoots which can easily break off in the wind. A stable support will help them to achieve their full flowering potential, whatever the weather.
This special metal frame is designed to support stems that have been grafted with climbing roses at a height of 140 cms. The narrow vertical base stabilises the trunk in a central position, while allowing for straightening or adjustment if necessary. The round umbrella-like crown helps to form horizontal arches with the young, supple shoots and above all to train them downwards before they become too hard and woody. Over the years, they grow into a dense umbrella-shaped crown with overhanging blooms reaching to the ground. This is a technique that has stood test of time and, thanks to the Giverny Rose Umbrella, is now making a comeback in gardens everywhere. You can count on it to produce excellent results.
How to use the Giverny Rose Umbrella
Fully grown cascading roses are an ornament in any garden. With their picturesque hanging shoots, however, they require more space than standard roses. It is also important to choose the right variety of rose plant. Mature meandering ramblers, the descendants of the rosa wichuraiana and rosa multiflora, generally form the most beautifully balanced crowns. These historic and robust varieties bloom with extraordinary opulence, albeit only once a year. It is also possible to use modern, repeat-flowering ramblers, although these can produce a tangled mass of shoots unless kept under control.
Tip: Do not prune the roses in the first two years after planting them in the Giverny Umbrella support frame. After that, simply thin them out every spring. Try to ensure that as many of the older shoots as possible are used to form to crown, as it is on these that the young, shorter flowering shoots will grow.
Frame Specifications
1.4 cm steel tube, hot-dip galvanised, powder-coated in black. Other colours on request.
The Giverny Rose Umbrella is available in two versions:
• Giverny for young recently planted or new stems
• Giverny with a lateral opening to facilitate the attachment of older, thicker stems and crowns
Giverny:

Note:

Item No.:

Height:

securing to the ground:

Diameter (Umbrella):

Weight:

Technical drawing:

GBP:
closed

for freshly planted

R8

65'' / 165 cm

plus 1' 7.69'' / 50 cm

35'' / 88 cm

28.6 .lbs / 13 kg
with lateral opening

for an older weeping standard

R8-S

65'' / 165 cm

plus 1' 7.69'' / 50 cm

35'' / 88 cm

28.6 .lbs / 13 kg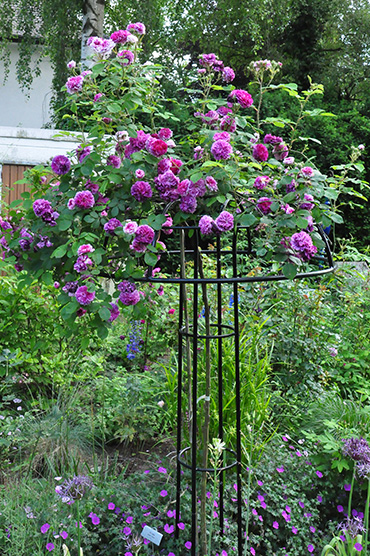 All products of this category
All Product Groups