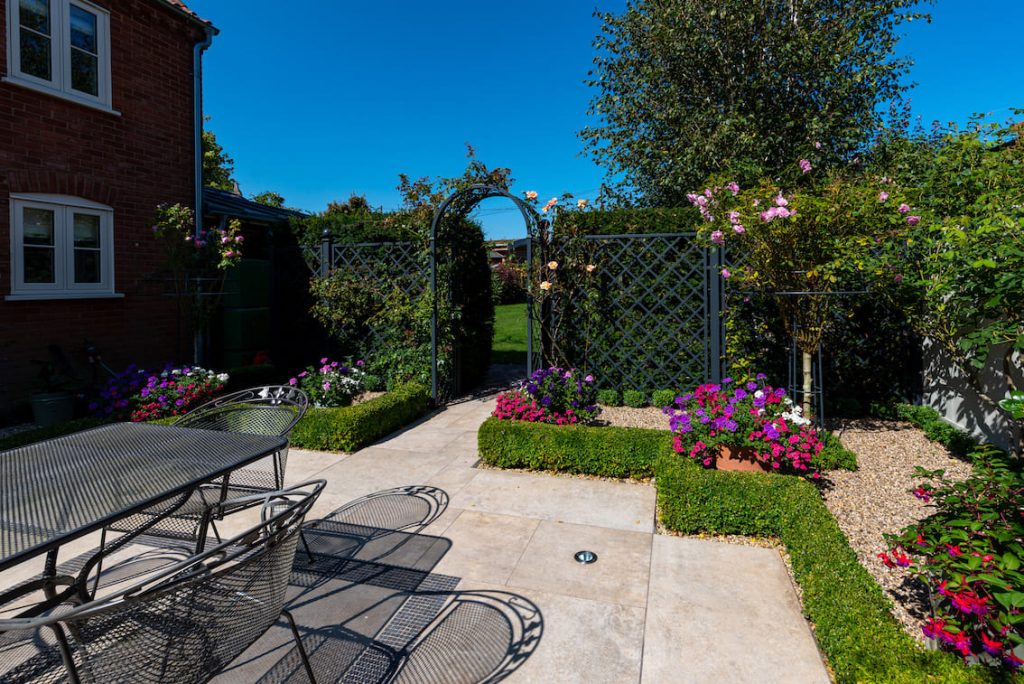 24 Mar

Patio garden building
Would you like a quiet place to sit in the garden?
Whether on the terrace or in a secluded garden space. A quiet seating area invites you to relax and welcome guests. In order to be completely alone, metal privacy screens are used to keep prying eyes at bay. Our high-quality metal dividing grids, rose arches and metal rose screens take on this task and are also a versatile enrichment for the seating area in the garden. Climbing roses and other climbing plants climb the metal poles. They beguile with their colourful play of blossoms and wonderful fragrance at eye level. At the same time, the decorative objects take over the task of privacy protection and the acoustic shielding is also improved. Only recently, a cosy patio was created in a garden with the help of our elegant metal trellis. Let the photos inspire you to create a new seating area in the greenery for your personal garden happiness.
---
How is a patio garden created?
A patio garden is a garden room or courtyard that offers plenty of privacy when screened off from the outside world. Hedges and house walls can dictate the layout. Metal dividers create further boundaries. These do not take up much space, can be made to measure and are quick to install. In our example garden, dividing grids act together with rose arches as room dividers and privacy screens. The black metal grids contrast in colour with the clinker brick façade, the green foliage and the colourful flowers. When designing the patio garden, you should consider a few details in advance: What is the course of the sun? Would you prefer to sit in the shade or in the sun in the afternoon? Is wind protection necessary? Do you want a partial roof? Are passageways to the garden shed or terrace to be kept clear? How can rainwater run off?
---
Design a Garden That Flows and Intrigues
Mastering the art of seamless garden transitions
Different types of paving such as gravel and clay pavers give structure to the patio garden. Metal dividing grids create flowing transitions. As the gardener, you decide where a lush covering of climbing roses and other plants serves as a privacy screen. Where the decorative wickerwork remains visible. Bed borders that emphasise the geometry of the garden with their foliage, as in our photos, act as a soft focus. The metal rose umbrellas Giverny add elegant splashes of colour in the summer months with their blossoms. The romantic-elegant flair of this garden patio is characterised not least by the two rose arches. These elegantly blend in, point the way and invite you to discover the new garden space with all its finesse.
---
What are the advantages of metal trellises for a seating area in the garden?
The metal trellises from Classic Garden Elements are of extremely high quality and always set a noble accent. Each element, whether it is a rose arch, a rose screen or a dividing grid, can be made in the desired colour and in special dimensions. You do not need to make any compromises when designing your garden patio. We produce all metal elements according to your individual ideas so that they blend harmoniously into the surroundings. In a small terraced house garden, you can create just as cosy a garden seating area as on a large estate. Our metal trellises offer solutions for thousands of garden, balcony and terrace design ideas. Many of the objects create a privacy screen. All of them emphasise an exclusive feel-good ambience outdoors.
Which products can be seen in the pictures?
Giverny Rose Umbrella Support
https://www.classic-garden-elements.co.uk/products/rose-umbrella-giverny/
Portofino Romanesque Garden Arch
https://www.classic-garden-elements.co.uk/products/portofino-romanesque-garden-arch/
Paravent Metal Railing Panel
https://www.classic-garden-elements.co.uk/products/trellis-paravent/