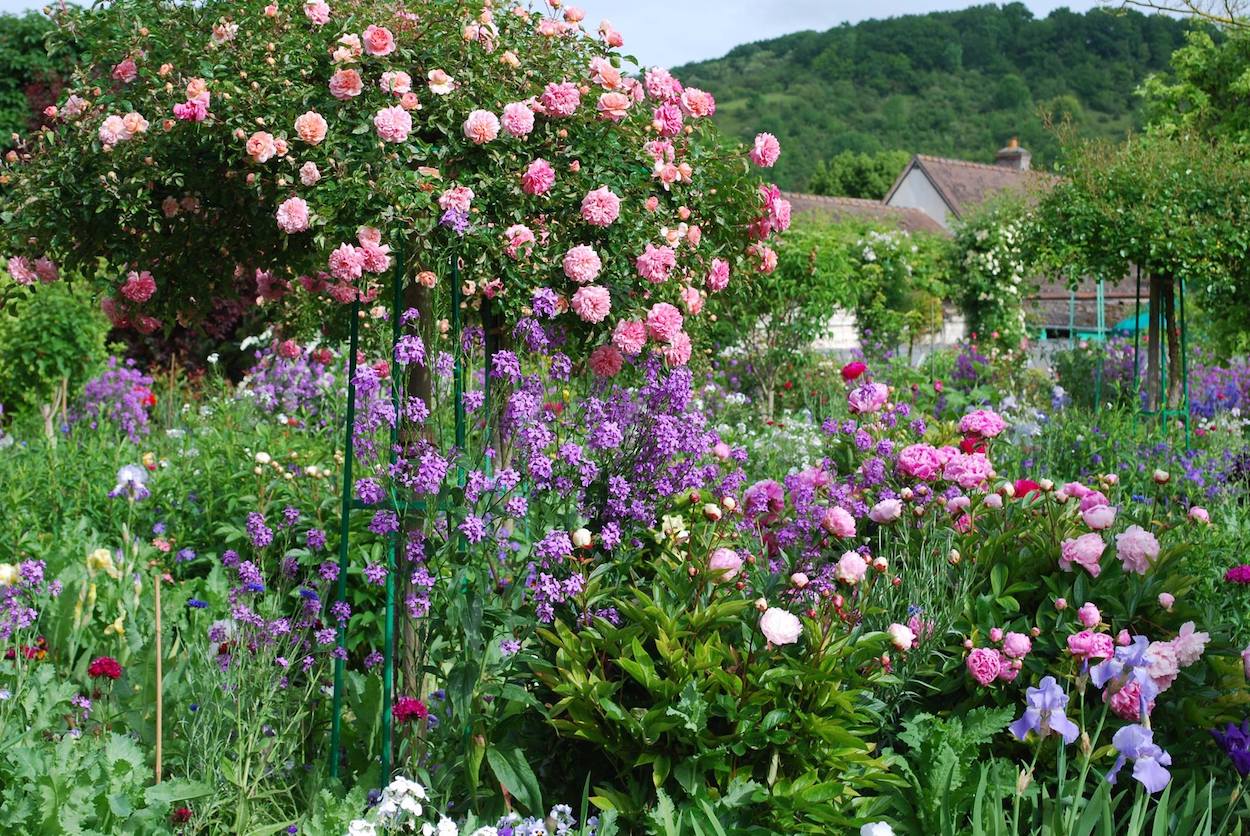 12 Sep

Cascade Roses – Species and Care
Rose Blossom at Eye Level
---
Cascade Roses and Weeping Stems: Varieties of Species and Care Tips
Cascade roses are tall and develop large crowns with long, flexible stems. Here is a selection of different species and tips to care for them.

---
What Exactly Are Cascade Roses or Weeping Trunk Roses?
In the tree rose family, you will find plants of three different heights. The smallest are called half-stems and have 40 to 60-centimetre high stems. This is followed by the tall stems, where the grafting point is 70 to 90 centimetres. The third group, the cascade roses, grow particularly high with 140 centimetre high stems. Some rose growers also refer to cascade roses as mourning stems. Over the years, they develop into imposing "rose trees" and are real eye-catchers in the summer garden when hundreds of flowers open at the same time.
Flower Bed Designs With Cascade Roses
The long-lived rose stems can be paired with spring flowers and summer flowering perennials. This creates permanent herbaceous borders with magnificently blooming roses.
Cascade Trunks Need a Stable Trellis
Most cascade roses develop crowns 1 to 1.5 metres wide. Your shoots grow like a trail, especially in species with flexible shoots such as 'Guirlande d'Amour' and 'Super Dorothy'. It is important to select a stable trellis as a support and place it in the planting hole directly when planting. The framework supports the heavy crown and guides them downwards in an orderly manner. Without a climbing aid, a fully blooming cascade rose can easily break in strong winds. It is simple to build the supports yourself, but there are also well-thought-out models such as the 'Giverny rose umbrella' from Classic Garden Elements. This rose umbrella is also available in a version (with a lateral opening) that can be built around older trunks at a later date.
Claude Monet and the 'Giverny Rose Umbrella'
Long-stemmed cascade roses are real showpieces in the garden. They were first used in great abundance by Claude Monet in his garden in Giverny. Monet captured this garden in his paintings again and again. These garden impressions are some of the most beautiful paintings by the world-famous impressionist. So that these tall trunks with their filigree and yet lusciously heavy crowns stand stable and do not fall victim to the next storm, Claude Monet created an umbrella-like, stable iron structure to support the 'Giverny Rose Umbrella'. In order to shine in full abundance and opulence, cascade roses need the metal rose umbrella 'Giverny' invented by the impressionist and immortalized in his paintings.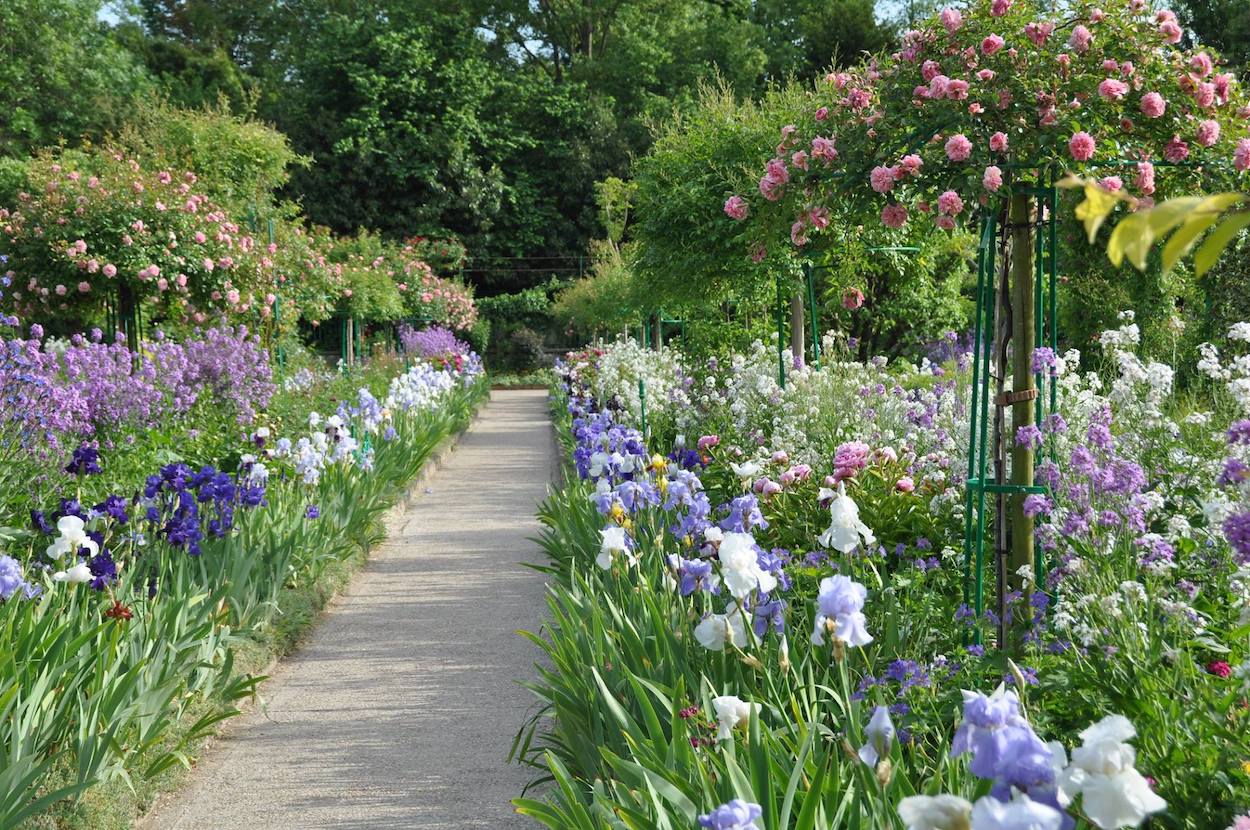 ---
Plant Weeping Stems by March
Such high weeping stems are best planted as bare-rooted plants in the winter months up to March. You can still plant potted roses from April, however, bare-root planting material has many advantages: it is cheaper, easier to ship and more convenient to plant. Since roses prefer a calcareous, clay soil, it is almost always advisable to fill the 60-centimetre deep planting hole with about 20 litres of rotted compost and bentonite flour. Alternatively, the planting pit can also be filled with rose soil.
Species of Cascade Roses
In the family of cascade roses, there is a choice of single-flowering varieties such as 'Raubritter' or more frequent-flowering varieties such as 'Apple blossom'. The overview in this article lists other recommended species. The selection criteria should include plant health and frost resistance. Unfortunately, fungus-prone varieties such as 'Snow White' are still on offer. There are also species on the market with sparse, upright growth such as 'Westerland', which are not so well suited as a cascade rose because the most beautiful cascade stems develop from rose varieties with flexible shoots. Most of these species develop smaller flowers. One exception is the pink 'Laguna' with 8-centimetre large flowers. The 'Jasmina' species has 5 to 6-centimetre large flowers that have a deliciously strong, fruity scent.

---
Tall Stem – Abundant Flowering
Selection of recommended cascade roses (variety, characteristics, breeder and year of breeding):
White apple blossom, unfilled, blooms often, Noack, 1990
Ghislaine de Feligonde, apricot-pink, double, fragrant, frequent flowering, Turbat, 1916
Guirlande d'Amour white, semi-double, fragrant, blooms often, Luis Lens, 1993
Hella white, semi-double, oblooms often, Kordes, 2009
Hermann Schmidt, crimson red, half-filled, fragrant, blooms often, Hetzel, 1986
Jasmina, violet-pink, double, strongly fragrant, oblooms often, Kordes, 2005
Laguna pink, double, blooms frequently, Kordes, 2004
Mozart, pink, unfilled, blooms often, Lambert, 1937
Perennial Blue, violet-purple, semi-double, flowers often, Mehring, 2003
Robber barons, silky pink, spherical, single-flowered, Kordes 1936
Super Excelsa, carmine-pink, double, blooms often, Hetzel, 1986
Super Dorothy, pink, double, blooms often, Hetzel, 1986

---
Tips for Cutting Cascade Roses
Uncut cascade roses are prone to wind breakage and bloom less. Pruning and regular care is important.
Pruning of Frequently Blooming Cascade Roses
In March and in summer after flowering, the more frequently blooming cascade roses need to be cut. In the case of young rose stems, only a little pruning is needed in the first two to three years; only sick and frozen shoots should be completely removed during spring pruning. In addition, withered and thin twigs should be cut in March. From the fourth year onwards, they will also be exposed. The crown volume can be cut back to a third. Individual, old shoots can be removed up to the grafting point so that the basic structure of the rose crown consists of strong, younger branches.
The thin side shoots are in turn shortened to two to three eyes. Uncut cascade roses quickly suffer wind breakage and the older rosewood will not bloom as easily. All remaining shoots should be tied back to the frame of the rose umbrella after the pruning work. In addition, shoots, which often grow in all directions, can be tied back down in a nice arrangement. Horizontal tying will allow for growth. Sometimes a young branch can be tied in a way to fill an optical gap. Plastic hollow cord is suitable for tying it up, as it does not cut into it and, thanks to its great elasticity, will last for many years.
Cut of Single-flowering Cascade Roses
Single-flowering cascade roses are cut immediately after flowering in July to early August. The pruning method is very similar to the pruning of the more frequent flowering species. The shoots are only tied up after the leaves have fallen in winter.