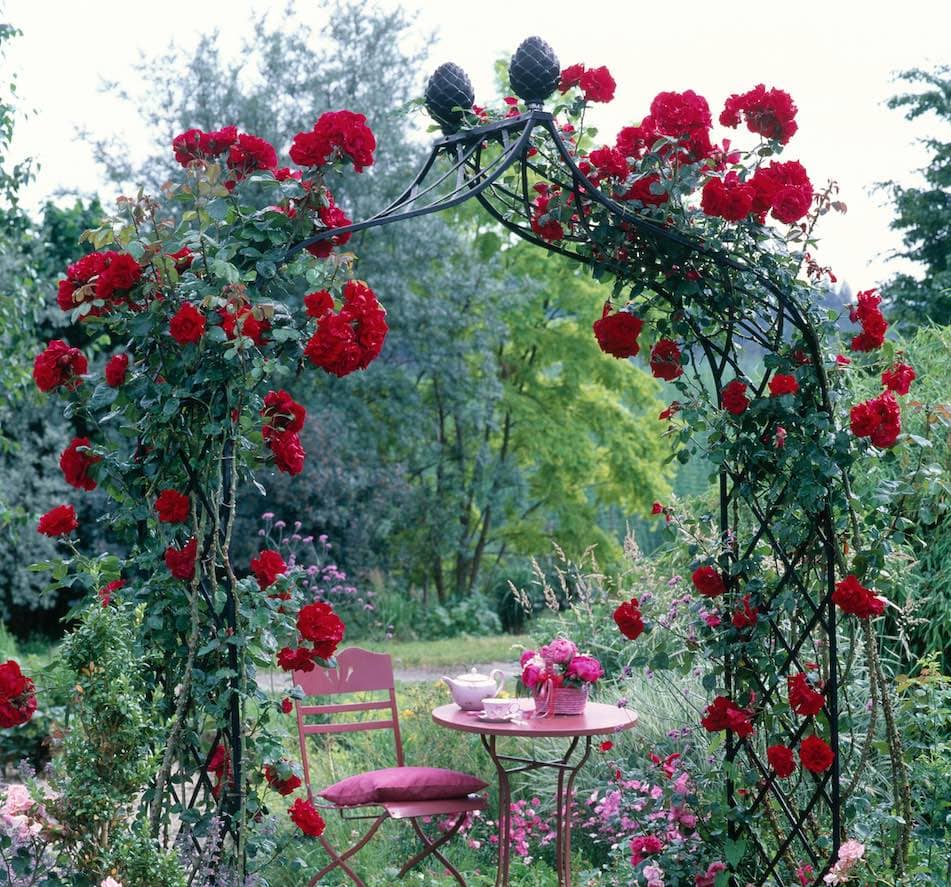 03 Nov

Rose Arches Made From Wrought Iron
Rose Arches Made From Wrought Iron
The massive wrought-iron rose arch is one of the most reliable options out there. Even strong-growing rambler roses in their full bloom can rely on the arches' carrying capacity. Made of wrought iron and anchored securely in the ground, it defies wind and weather. The wrought iron craft creates a solid and robust design. Hot-dip galvanized and powder-coated, the rose arch is a garden decoration that can be admired and enjoyed for decades. Once installed, the rose arch has its permanent place in the garden. Like a tree, it delights garden owners and their guests at any time of the year.
The art of blacksmiths and locksmiths has left an impressive mark on buildings, gardens and parks. It has a leading role in the history of the industry and handicrafts, and has a firm place in the history of art and culture. It is easy to see how wrought-iron gates, fences, balconies and rose arches add that magical touch to any property. With their elaborate designs, they ensure elegance. Forging iron has continued to develop since the Iron Age. In the 19th century, halls, bridges and towers were made of wrought iron. At that time it was still called the puddling process. Today, forgeable iron is produced using the LD process or the electrical process. It is known as steel and differs significantly from forgeable cast iron, with higher impact resistance as one example.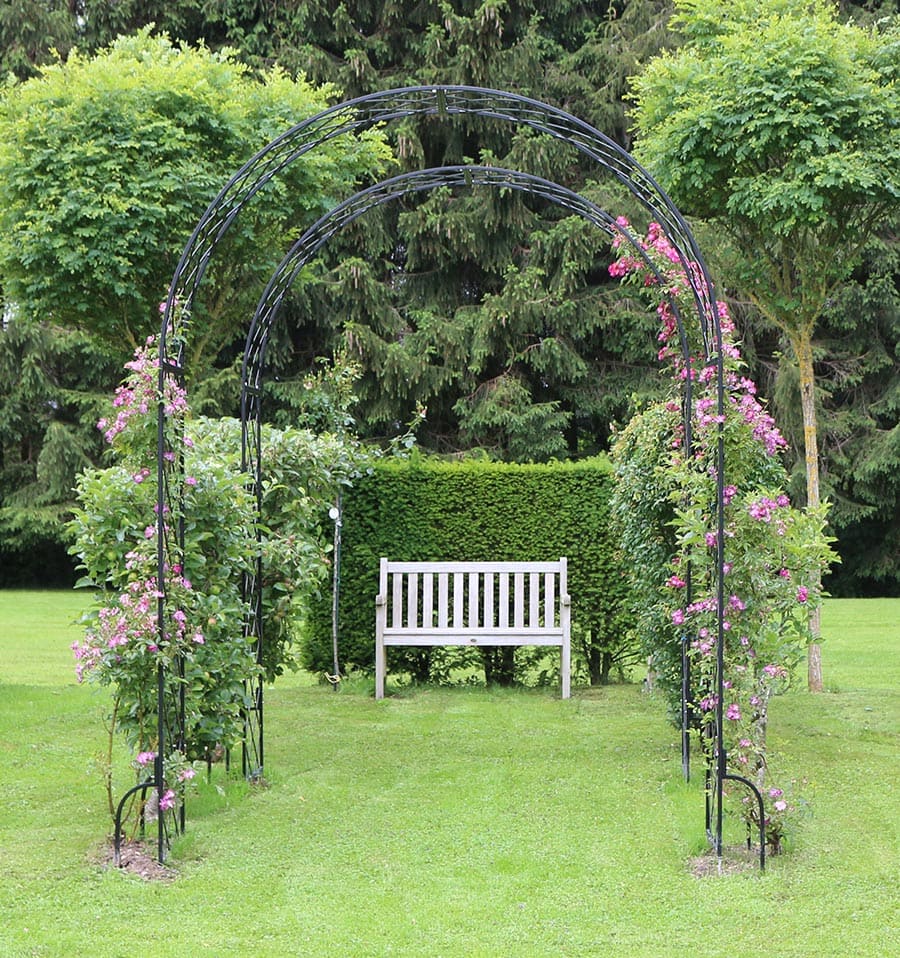 ---
Handcrafted Wrought Iron Rose Arches
The rose arches from Classic Garden Elements are products of the highest quality. Each rose arch is welded by hand from steel profiles and steel strips. Every element of the rose arch is hot-dip galvanized at 460 degrees Celsius. Special attention is paid to the weld seams and inner walls of the pipes so that the rose arch is fully protected from corrosion. This is a permanent method of surface protection against rust that was adapted from bridge construction. All components of the rose arch are then sand-brushed and powder-coated at 200 degrees Celsius. The extremely weather-resistant surface of the rose arch is backed by a 10-year rust-free guarantee. At first glance, the hand-forged rose arches can be visually differentiated from industrially manufactured models, and have a really elegant feel. The massive rose arches can be produced not only in wrought iron black, but in any RAL colour
Solid Rose Arches Made of Wrought Iron: High-Quality Garden Decorations
With a rose arch, stability is the absolute top priority. Only if it can reliably withstand the weight of the plants will it be able to do its job. A huge rose arch made of wrought iron carries the plant easily, even heavy rambler roses and wisteria. Its trellis offers ideal conditions for tying up young shoots and ensures an attractive arch shape. For the rose arch to securely stay in its place in any weather conditions, windproof anchoring in the ground is important. A high-quality rose arch always comes with a tried and tested assembly set. If the ground anchors are concreted in a frost-proof foundation, the arch will do its job reliably and for a long time throughout every season.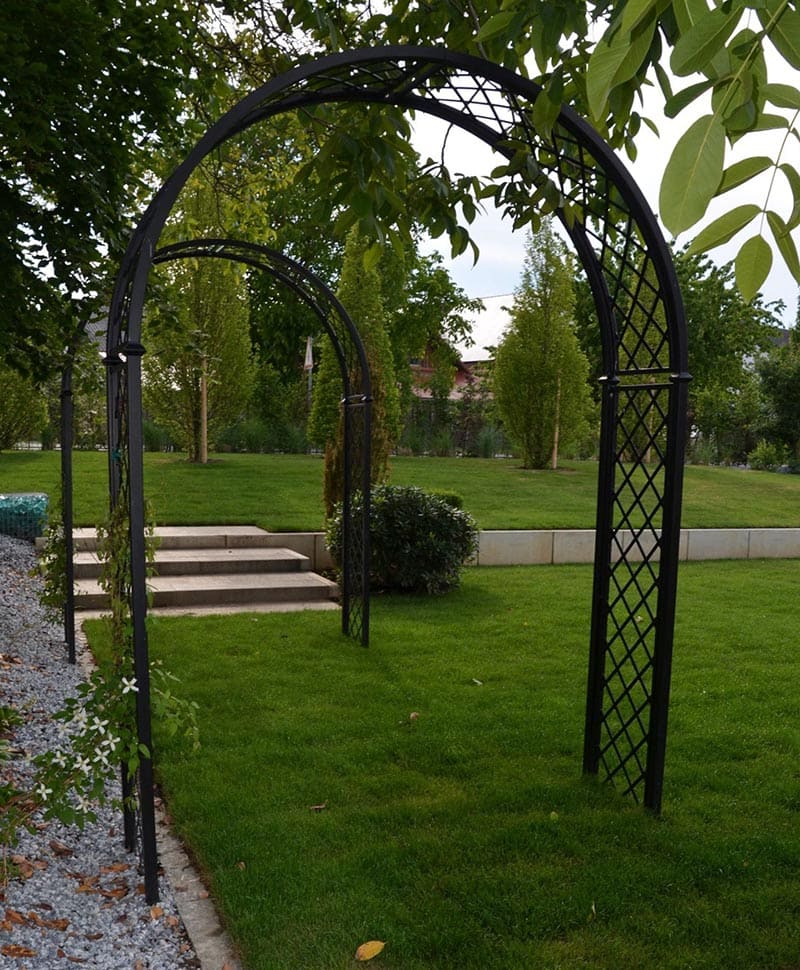 ---
Design Ideas for the Massive Wrought Iron Rose Arches
If you want roses and/or other plants to cover your arch quickly, choose perennial, fast-growing climbing plants. Golden hops and knotweed grow very quickly but the beautiful blooms of the Clematis are less dominant.
Would you like to vary the plants for the rose arch every year? Then choose annual, fast-growing climbing plants. This includes strongly-scented sweet peas, which are available in many colours, morning glory, which blooms from summer to early autumn, and the beautiful tendril, with fern-like leaves and orange flowers. Evergreen climbing plants offer year-round enjoyment (depending on their location). The evergreen Clematis armandii with cream-coloured flowers thrives beautifully on the rose arch. It is frost-resistant but still needs winter protection so that the flowers bloom from March to May every year. At Classic Garden Elements, there is a large selection of solid rose arches and half arches made from wrought iron to buy in the online shop. Do you have a special request? Then please contact us.