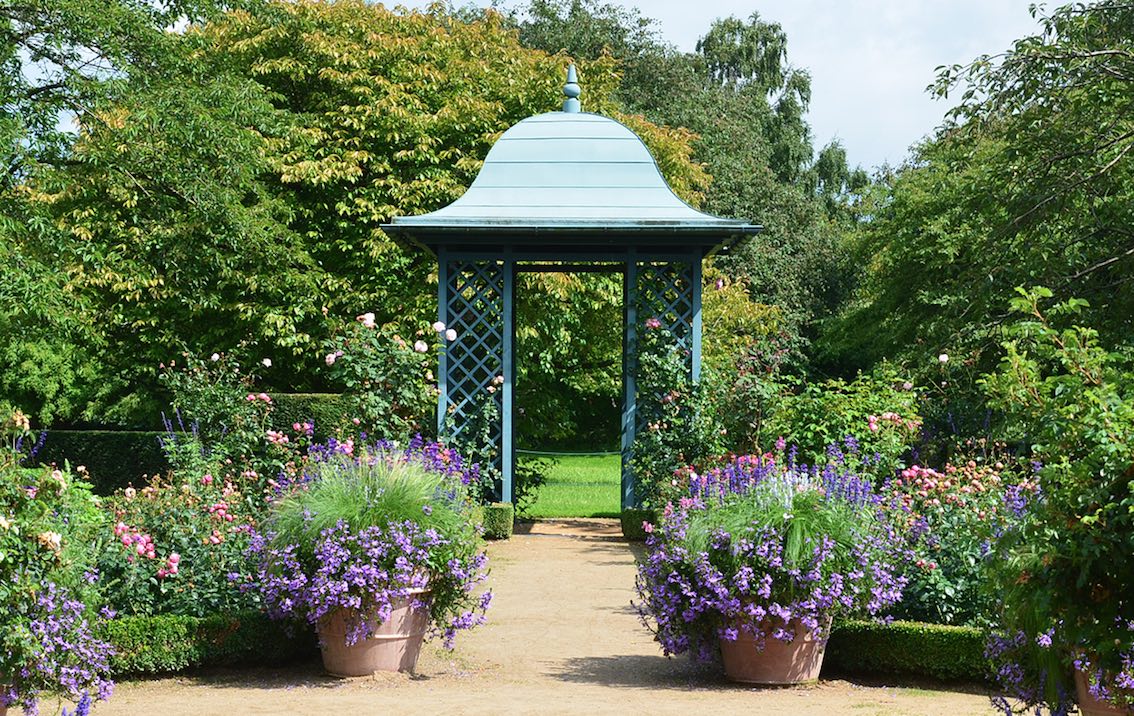 12 Nov

Metal Pavilions for the Garden – Buyers Guide

When it comes to purchasing a garden pavilion, those made of metal are usually the most stable and high-quality options available on the market. At Classic Garden Elements our models are both robust and durable. They're suitable for many uses such as climbing pavilions or furnished gazebos. The delicate design of our pavilions ensures they're the epitome of elegance. You can find a special selection of high-quality metal pavilions available for purchase in our online shop.
Buyer's Guide for Metal Pavilions for the Garden
With so many pavilions available on the market, it can be difficult to know which is the right one for you. Researching is a great way to ensure you find a design that's a perfect fit for both you and your garden. Finding your dream pavilion might seem like an arduous task but we assure you it's worth the effort. To make it easier we've put together a guide to help you decide which metal pavilion is right for you. We've included the most important points to take into consideration before buying. In no time at all, you'll be relaxing in a perfect garden pavilion.
In today's market, there are many variations of metal garden pavilions available. They differ in design, purpose, size, materials, and durability. The first factor you'll want to consider is your budget. Metal pavilions are available for a wide range of prices. Knowing how much you want to spend can significantly help to narrow down your options. This can be quite useful considering the number of pavilions there are to choose from! Pavilion designs range from modern to classic. Popular classic designs include Art Nouveau and antique wrought iron. Before making a purchase you'll need to choose:
• A shape.
• The size and height.
• The type of metal.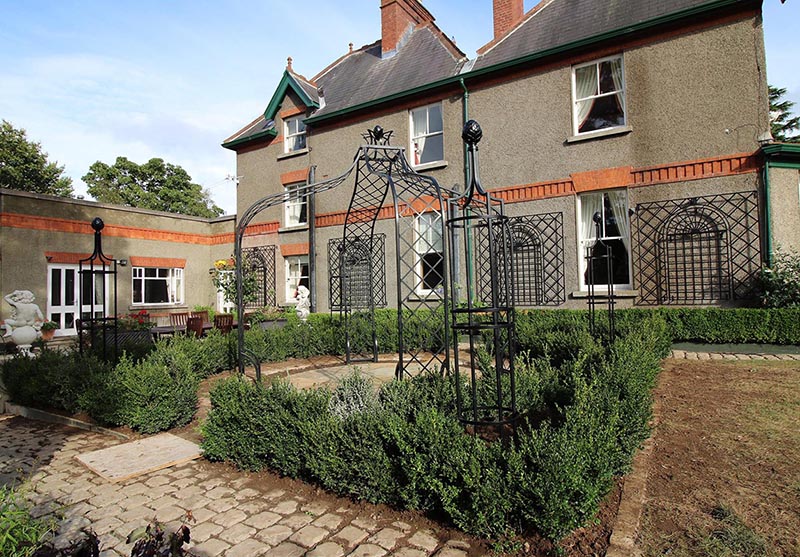 ---
Shape
Metal pavilions for the garden are most commonly produced in round or oval designs. However, it's possible to find angular pavilions with a square, rectangular, hexagonal, or octagonal floor plan. Whether you opt for round or angular depends on your taste and the design of your garden. Regardless of the shape, a pavilion will usually ensure there's enough space for your garden furniture. It's still a good idea to double-check this though before you commit to buying.
Size
Not every garden has enough space for a rose pavilion or a large metal gazebo that can accommodate the whole family. Therefore manufacturers offer metal pavilions in a variety of different sizes to suit every requirement. Whether you're looking for a modest pavilion or a spacious luxury pavilion, anything is possible.
Metal
All metals have the stability and durability that's needed for the production of a strong garden pavilion. However, it's important to note that strong winds can only be sustained by a pavilion made from solid metal. Hollow tubes and pipes are weaker than solid ones and less able to withstand nature's forces. There are also significant variations between different metals regarding the processing and coating options.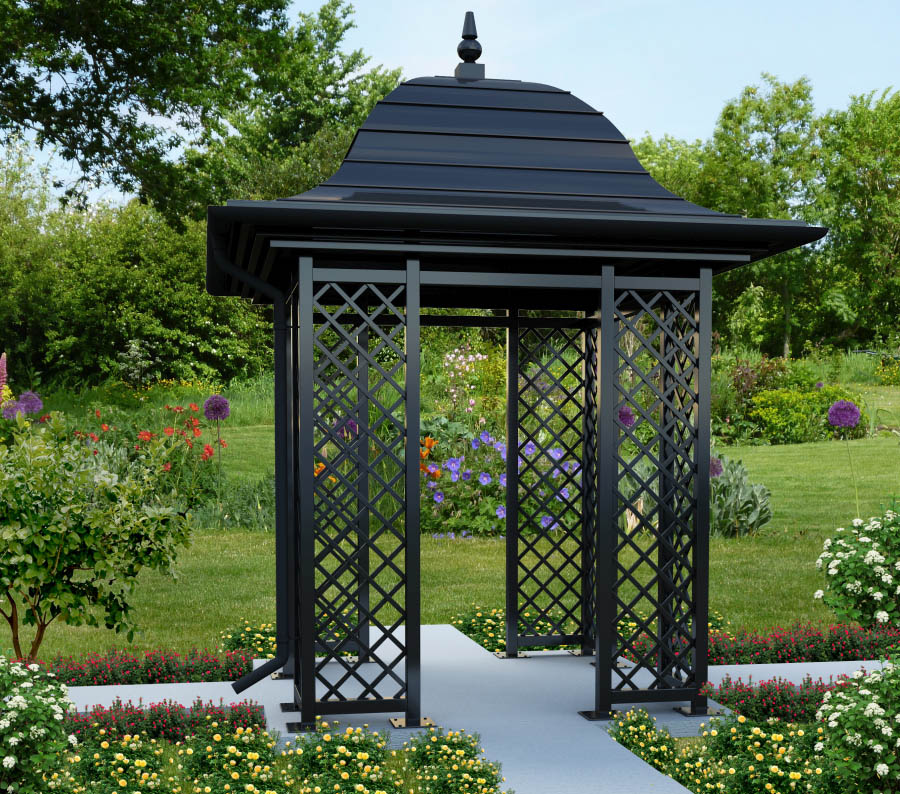 ---
Aluminum
Although aluminum is very light, this isn't always advantageous for a gazebo. This is because less weight usually means less stability. Since aluminum is expensive, it's rarely used as a solid material for a metal pavilion. There are also restrictions on the coating that can be applied. To ensure aluminum is durable enough for outdoor use it must be anodized. Unfortunately, this method is expensive and any damage to it can't be repaired.
Stainless Steel
Stainless steel is significantly heavier than aluminum and gives the pavilion a high-quality and elegant look. However, it's also quite costly, both in terms of procurement and processing because special welding wires and polishing agents are required. On the plus side though, it's very resistant to corrosion, similar to iron or conventional steel that has been surface coated.
Conventional Steel, Iron, and Wrought Iron
For a strong, durable, and stylish metal pavilion, we recommend conventional steel, iron, or wrought iron. These are equally as stable and resilient as stainless steel, but cost significantly less and can be processed using conventional means. Furthermore, these metals can be coated to ensure optimum resistance to corrosion. For an exquisite iron pavilion consider our Zweibrueck Wrought Iron Gazebo.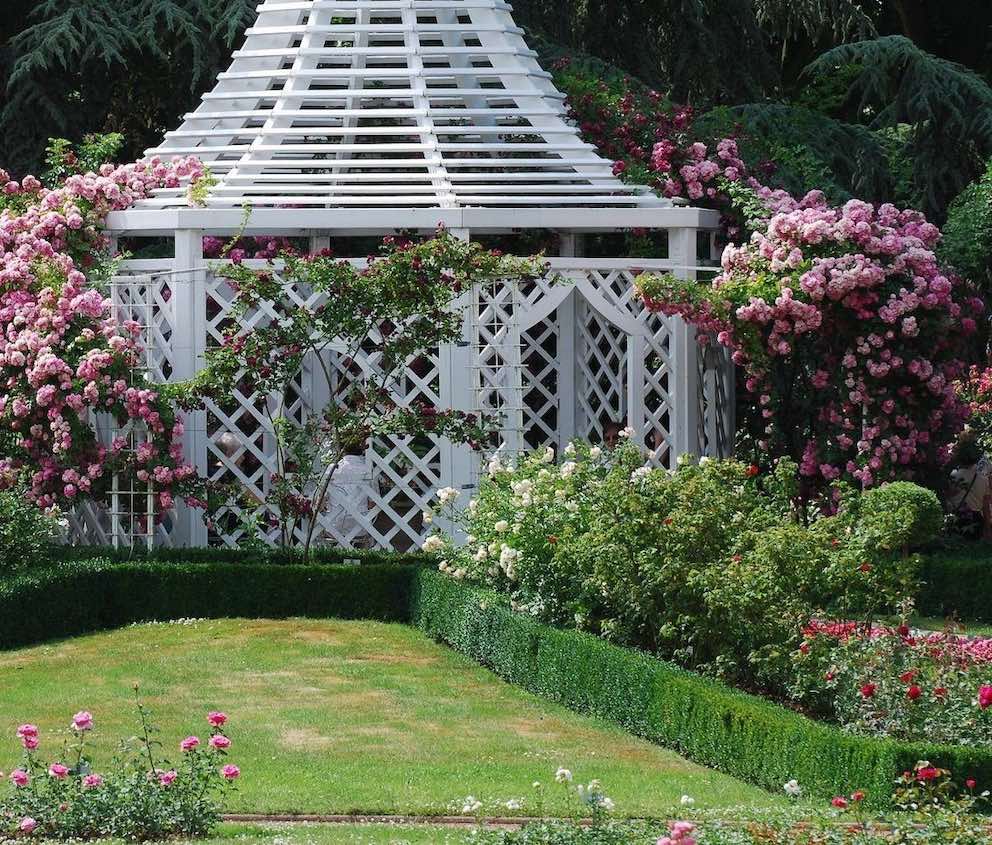 ---
Which Coating Is Best?
For metal pavilions made of wrought iron, there are a wide variety of coating methods available. The simplest method is to leave it in its raw state, so that after a while an oxide layer, known as rust, forms. This protects the underlying material from further corrosion. A metal pavilion can also easily be coated with paint. However, it has the disadvantage that dents and scratches can cause moisture to get under the paint layer. This can lead to corrosion that's difficult to notice before it's damaged beyond repair. A common surface coating for iron or wrought iron is galvanizing. It offers excellent protection against any sort of corrosion. However, the initially silver and later gray surface due to oxidation may not be to everyone's liking. Combined coatings of galvanizing and color are becoming increasingly popular for metal pavilions. They combine individuality in the choice of color with great protection against the weather.
Roof Designs Metal Pavilions
Knowing how you want to use your pavilion will help you choose between different roof designs. For a climbing pavilion or rose pavilion, no roof is required. However, if you want to relax under your pavilion, regardless of the weather, you'll need a roof. Different manufacturers offer the following variations:
• A roof made of canvas or with an awning.
• A closed roof made of shingles, tiles, or metal.
• A translucent roof made of glass or plastic.
If you don't want a pavilion with a roof but still require protection from the sun, consider cultivating climbing plants. These plants will grow around the top of a pavilion creating a natural roof during the summer. For inspiration, take a look at The Sissinghurst Pavilion.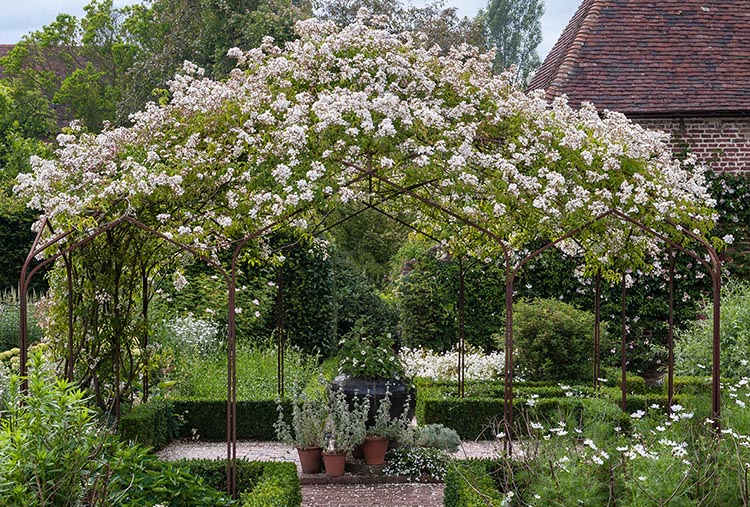 ---
Metal Pavilions at Classic Garden Elements
Here at Classic Garden Elements, we produce high-quality metal pavilions for use in the garden, on a terrace, in a park, and outside areas. All of our pavilions are made from wrought iron. For durability, the metal is hot-dip galvanized and powder coated black. For increased resistance to strong winds, each pavilion is supplied with a strong anchoring structure. Our metal pavilions are a stunning addition to any outdoor area. They can be utilized as either a climbing pavilion for roses and other climbing plants, a gazebo for cozy get-togethers, or as a meeting point in hotel gardens and parks.
Functional and Classic
• Metal pavilions have always been an eye-catcher for every garden. They combine robustness and durability with an attractive yet functional design suitable for a wide range of uses. If you're looking for a truly striking addition to your garden, the Wallingford Gazebo ticks all the right boxes. Its stylish design creates instant grandeur in any garden.
Shapes and Sizes
Our metal pavilions are available in a variety of shapes and sizes. For a classic round design, consider our Schoenbrunn Wrought Iron Gazebo. If you're looking for something particularly unique, our Buscot Park Wedding Gazebo is perfect for outdoor celebrations and ceremonies. The trellis design of our pavilions makes them ideal for cultivating climbing plants such as roses or jasmine.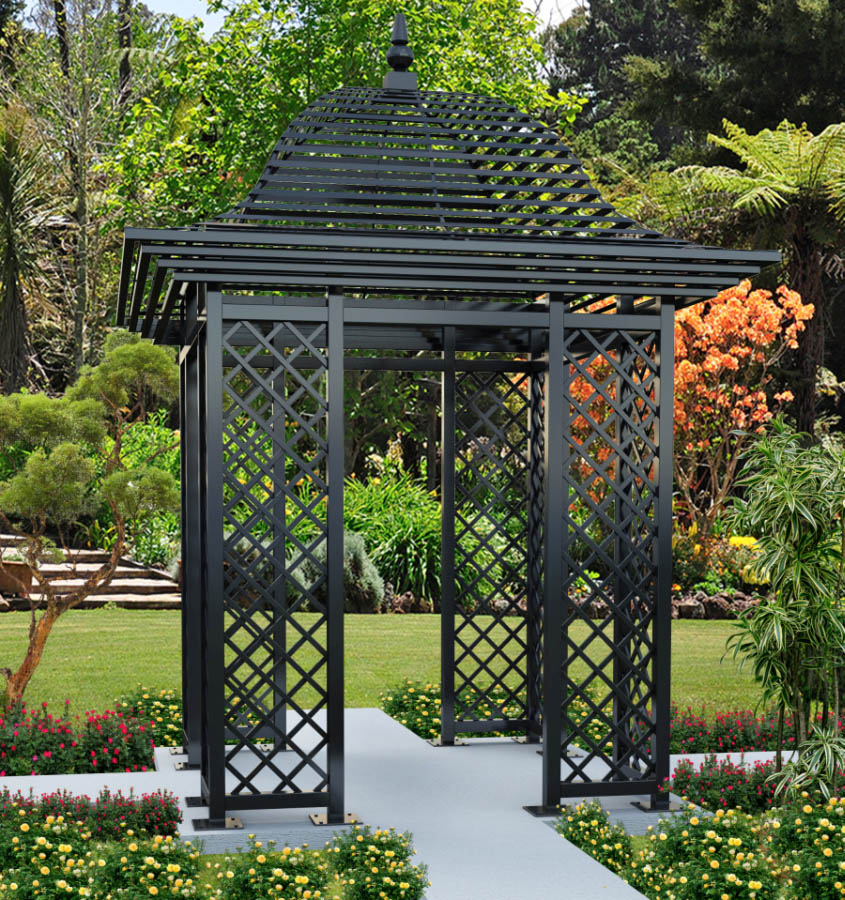 ---
Expressing Your Individuality
Our metal garden pavilions are a reflection of your individuality. The standard color of our pavilions is black but don't worry if this isn't to your taste. For an extra cost, you have the option to choose another color. We also offer a made to measure service if you require a more personal touch. For more information please don't hesitate to contact us. If comfort is a priority, we recommend adding lounge furniture. Furnishings made of poly rattan are specifically suitable for outdoor use. Alternatively, consider a classic garden furniture set made of teak, larch, or douglas fir to transform your pavilion into a popular place for the whole family to relax. Consider attaching hanging baskets to the top to add a touch of nature to the interior of your pavilion. Our trellis designs offer you the benefits of beautiful flowering plants for you to look at and a natural green privacy screen, to ensure privacy while you relax.
Increased Durability
Our metal pavilions are extremely durable for outdoor use. Each metal component is hot-dip galvanized, making it resistant to all weather conditions. We also offer a 10-year guarantee against rust on all of our metal pavilions.
No Extensive Maintenance Required
The high-quality wrought iron material combined with our surface coating means there's usually no need for regular maintenance. Even without these measures, our gazebos can withstand many years of outdoor use.
Delivery and Installation of Our Metal Pavilions
We offer free delivery of our products to England and Wales. For more information on delivery to other destinations and answers to other FAQs please visit the delivery section on our website. Alternatively, if you still have questions please feel free to contact us at info@classic-garden-elements.com. We recommend that your pavilion be assembled by a professional landscaper. For your ease and comfort, we offer an assembly and installation service. For more information on this service please contact us.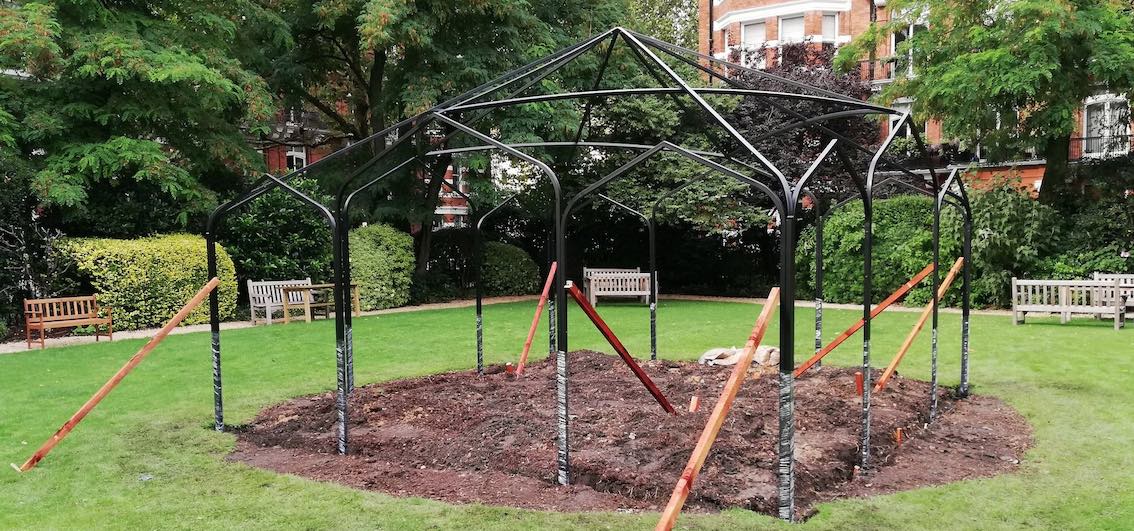 ---
Still Have Questions?
Please don't hesitate to contact us by phone or email if you have further questions regarding our metal pavilions and other products available from Classic Garden Elements. We're always happy to hear from you!