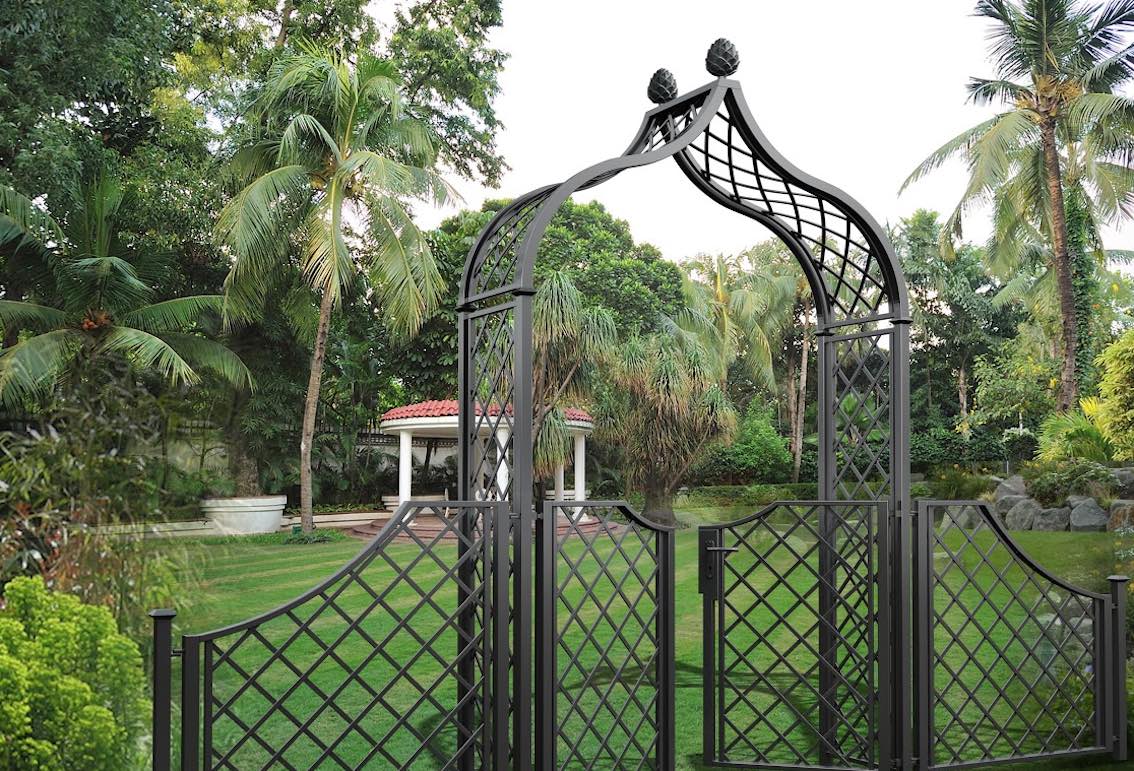 14 Jan

Choosing the Perfect Garden Arch

When it comes to searching for the best and most attractive garden arch, good advice is often also expensive advice. You can count yourself lucky if you quickly and easily find the rose arch of your dreams based on a recommendation from a friend or specialist. For most people, the process takes much, much longer. Many turn to the internet in the hope of finding reliable and trustworthy answers. Would-be arch owners trawl through page after page of garden arch tests and product reviews, carefully reading up on the pros and cons of each model, a process that perhaps culminates in a comparison of various top-ten lists – or even in compiling one of their own. Keen for a change of a scenery after all this work, they then take their search elsewhere: to garden exhibitions and specialist shops. It can take weeks or even months to get a sense of the market and decide which companies or models to trust – and to finally choose the perfect garden arch to suit their personal taste and specific needs. But it doesn't have to be like this.
Which Garden Arch Is the Best?
Classic Garden Elements has, over the past twenty years, become a specialist in the production of metal garden structures and rose arches. Time and again we have customers tell us that the garden arch they purchased from us meets – and even exceeds – all of their requirements and expectations. And their satisfaction continues to grow as, year after year, their garden arch again becomes covered in a mass of blooming, beautifully scented roses. These are truly satisfied customers. If you too would like to find your dream garden arch and join the ranks of our happy customers, read on and be sure to bear the following points in mind as you search for the perfect product.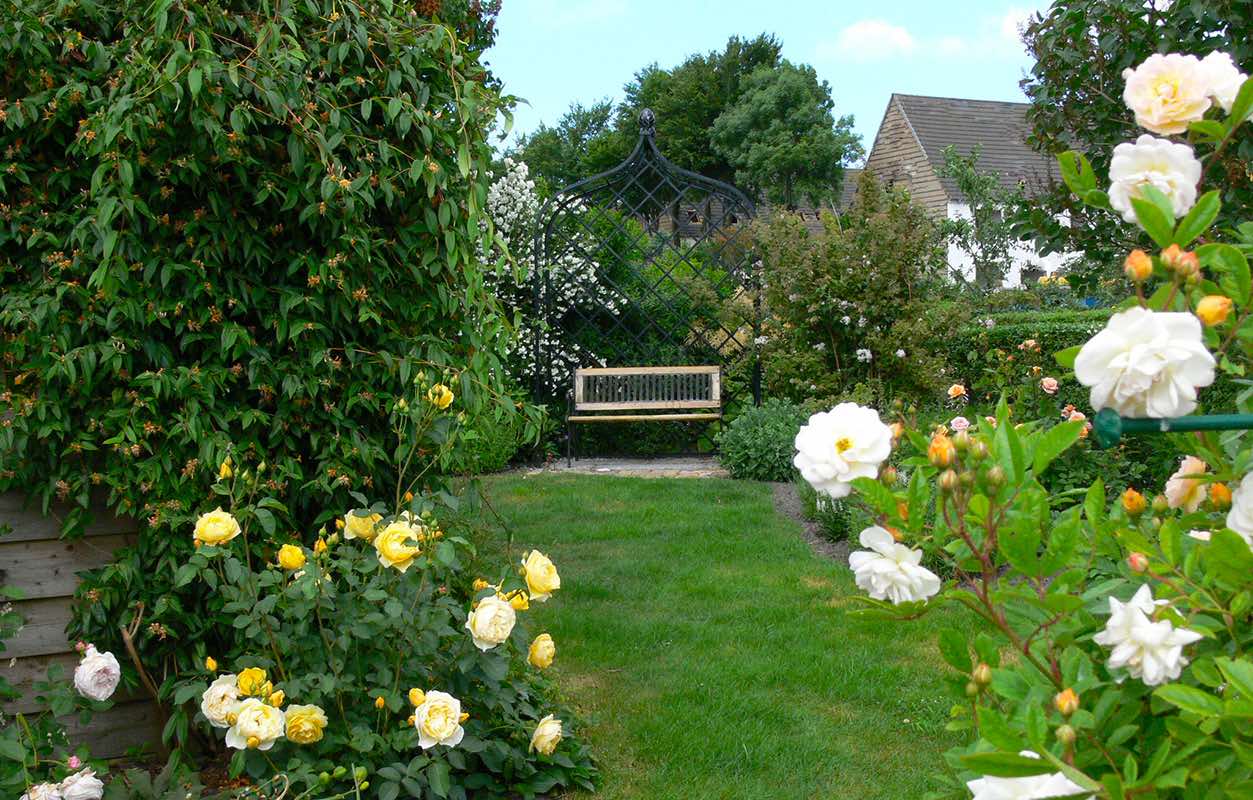 ---
What Makes a Garden Arch a Top Product?
In order for a garden arch to be considered a top product, it needs to fulfil the following six criteria.
• It must offer stable support, even for heavy plants and flowers in full bloom.
• The delivery of the arch must be uncomplicated.
• Once installed, the garden arch should be able to withstand wind and be gentle on the garden.
• The structure must be weather resistant and come with a guarantee.
• Maintaining the garden arch should be easy.
• The design of the trellis arch needs to encourage growth and flowering.
The Most Attractive Garden Arches
Beauty is in the eye of the beholder, as the saying goes. And it's true – but when it comes to buying a beautiful rose arch, it's not just the arch itself that you'll need to weigh up in terms of attractiveness. The keyword here is harmony. You must always keep the bigger picture in mind, rather than viewing the structure in isolation. What is the style of your property and garden? What function do you want the garden arch to fulfil? What size of structure would best fit your garden or terrace? All of these factors must be considered when reflecting upon the potential visual appeal of any garden arch. We would be happy to advise you and help in any way we can as you search for the ideal arch. Over the years, we have worked closely with many garden and construction experts from various countries. Roses and climbing plants have become our passion. We know exactly what is important when it comes to garden arches and what you need to be aware of when buying one. With our help, your arch will be the most beautiful in town. Here at Classic Garden Elements, we take our customers' wishes and desires very seriously – so as well as our standard range of garden arches available to buy in our online shop, we also offer customisation and design services. If you have a specific idea in mind, feel free to tell us what you're thinking, and we will plan and build a garden arch for you that fits your own personal design.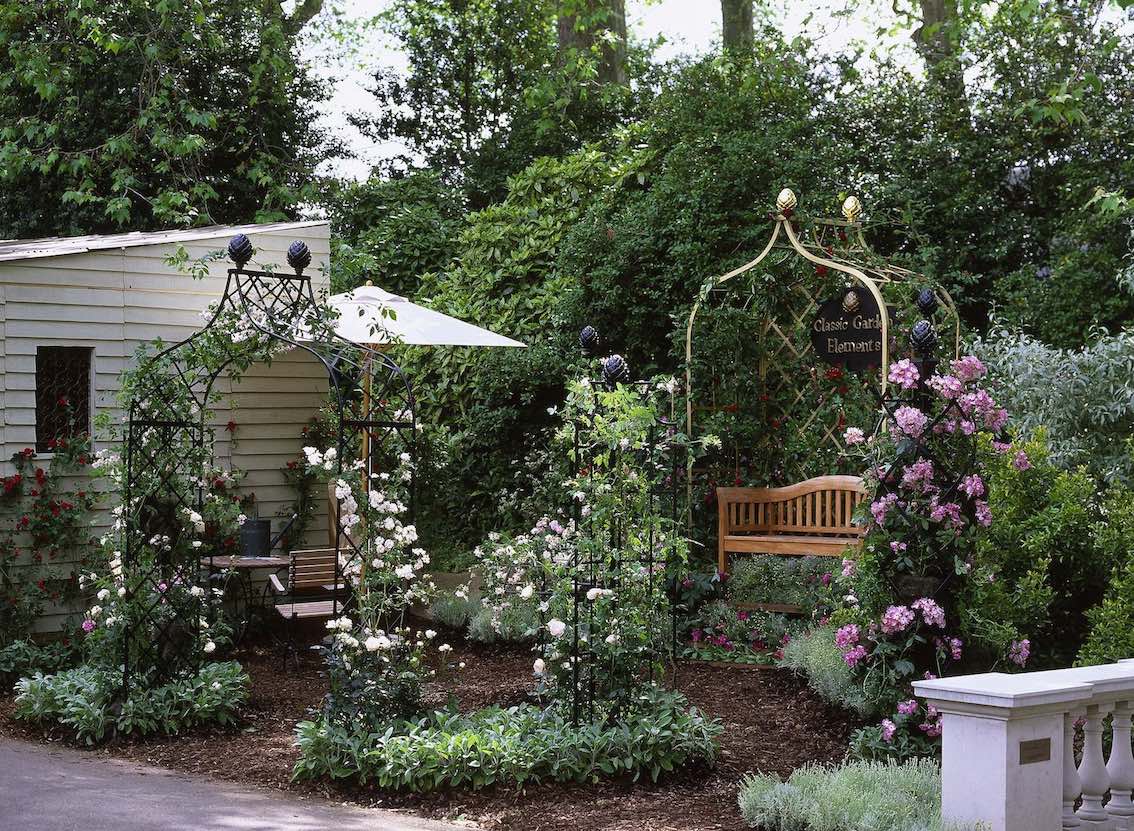 ---
Comparing Different Garden Arches
When comparing different garden archways as you try to decide which one to buy, we recommend basing your evaluation on the following four points:
• material
• stability
• design
• price
The Most Common Materials for Rose Arches
The two most common materials for garden arches are metal and wood – but the latter does not pass the test, as far as experts are concerned. One reason for this is that wood needs to be regularly treated with chemicals in order to continue to look good and be weather resistant. This means more work for an already busy gardener or rose grower. What's more, it isn't possible to secure a wooden garden arch directly into the ground or concrete foundations, as the wood will begin to rot. Instead, the wooden posts need to be put into drive-in ground sleeves so that the wood is at least 20 cm above the ground. The drive-in ground sleeves are then secured into concrete foundations. The industrial design of these drive-in ground sleeves means that they are something of an eyesore for your garden and an especially unsightly addition to your otherwise beautiful rose arch. Metal garden arches, on the other hand, have proven themselves time and again. When hot-dip galvanised and powder coated, they are fully weatherproof. Each year, without any treatment or maintenance, they will withstand whatever Mother Nature throws at them with ease – be it rain, snow, sun or frost. Also, unlike wooden models, metal garden arches can be secured directly into the ground, without using metal post supports. There are two ways of doing this: either you order a garden arch with extra long uprights (around 80 cm longer than usual) or you use ground anchors. Unlike the drive-in ground sleeves necessary for wooden arches, these ground anchors are completely buried in the ground or concrete, so that no trace of them remains on the surface once installation is complete.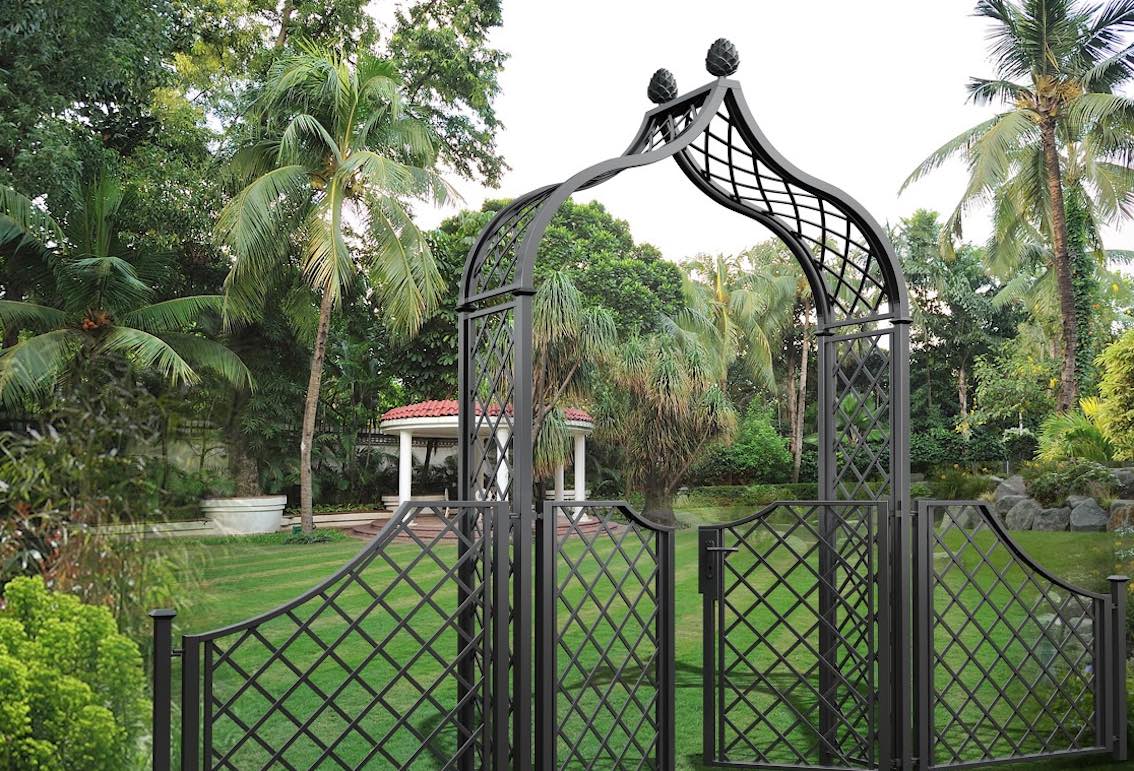 ---
Comparing Stability, Price and Design
When it comes to comparing both stability and price, the choice of metal makes a difference. How strong are the structure's posts and struts? Are the large load-bearing parts of the garden arch made from one single welded piece of metal? Is the metal only powder coated or also hot-dip galvanised? Quality comes at a price. When you compare the prices and designs of various models, you'll notice that the most attractively designed and stable garden arches aren't the cheapest on the market. Although it might be tempting to go for a lower-priced product, since you don't buy a rose arch every day – and since you would probably like to be pleased with your choice every time you catch sight of it – it's worth splashing out a little and buying something that will stand the test of time.
Classic Garden Elements Garden Arches Pass the Test
If you choose to buy a Classic Garden Elements garden arch, you can do so safe in the knowledge that it will fulfil all of the aforementioned criteria and then some. As you shop around and compare products, you'll soon see that we aren't exaggerating. The load-bearing parts of all of our rose arches are single welded pieces that are hot-dip galvanised and powder coated. Each piece is made in our workshop by our experienced and dedicated team, and the design of every model is created in collaboration with experienced rose growers. This means you can be sure that both roses and other climbing plants will thrive on our garden arches and half-round arches. How do we know this? Well, our arches have already proved themselves by standing proud in various private gardens, parks and public gardens, year upon year. In fact, some of our arches have already celebrated their 20th anniversaries – and they still look as stunning as they did the day they were installed. This is because they are fully weatherproof, even without regular treatments and maintenance. We are so sure of the quality and longevity of our garden arches that we offer a 10-year rust-free guarantee on each one. We promise that you will enjoy your rose arch for many years to come. Another of the important criteria that our garden arches fulfil is that the delivery process is simple and straightforward. We can deliver our products to more than 220 different countries around the world thanks to our distribution network. Within the United Kingdom we deliver both larger and smaller models to you with our own delivery vans. Each rose arch comes with the appropriate anchors to secure it into the ground as well as instructions for assembly, ensuring that the installation process is straightforward and that, once in place, the arch is nice and stable. For larger projects we can also install the arch for you, if desired.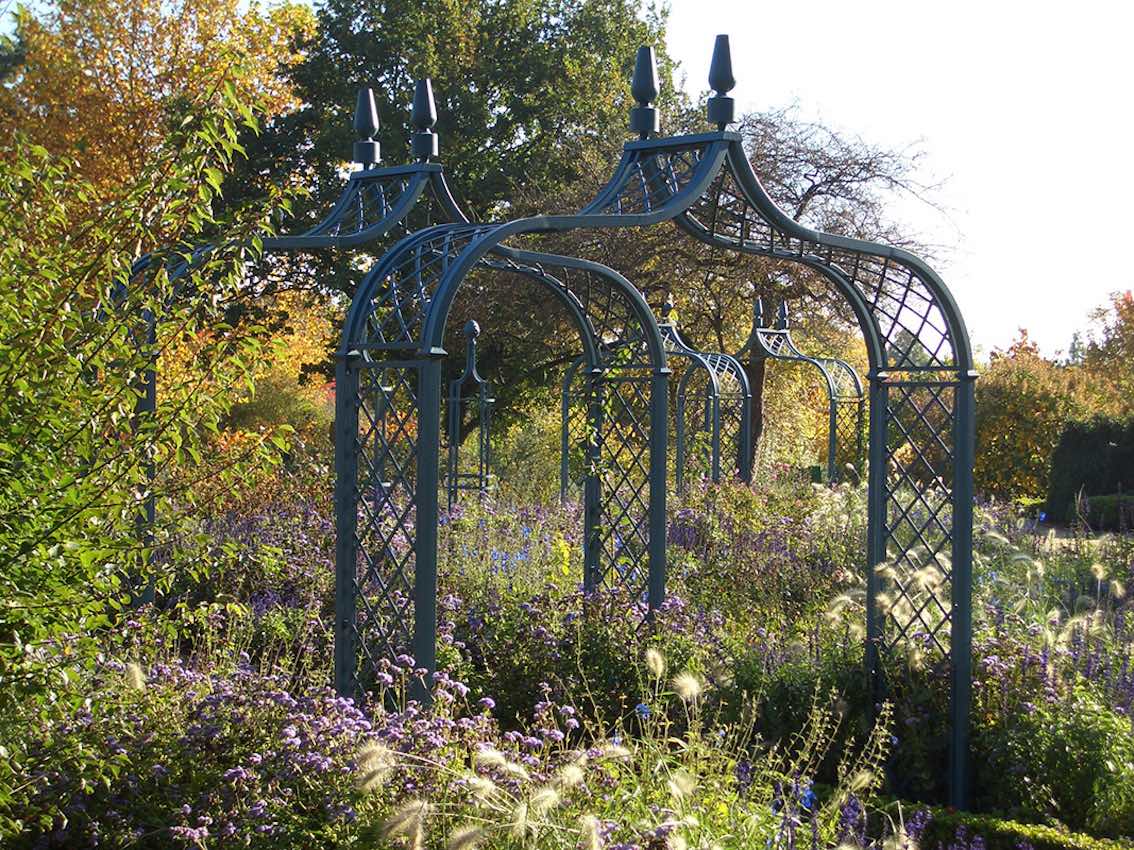 ---
Top Garden Archways
We can't prove that Classic Garden Elements garden arches are the best on the market. What we can confidently say, though, is that we are probably one of the top suppliers of high-quality metal garden arches in Europe, Japan and the USA. Make your own top-ten list before you decide on a garden arch and, in doing so, consider using the advice outlined above to help you evaluate the products in line with your own requirements and specifications. Don't just blindly trust the numerous reviews and test results that you find online – do your own research, too. As you do so, follow us on Facebook so that you can see how our garden arches and other gardens structures look once they're in situ and bedecked with blooms. Perhaps once you've concluded your research and considered all possibilities, a Classic Garden Elements arch will be among your top ten – or even your number one! If so, please get in touch and tell us how we can help. We would be happy to advise you on our range of garden arches or even help you to design a customised structure. All of our products are available to buy online using our simple online shopping facility – but if you need any advice on how to place an order or on anything else, just let us know. We look forward to hearing from you!