Charleston Garden Trellis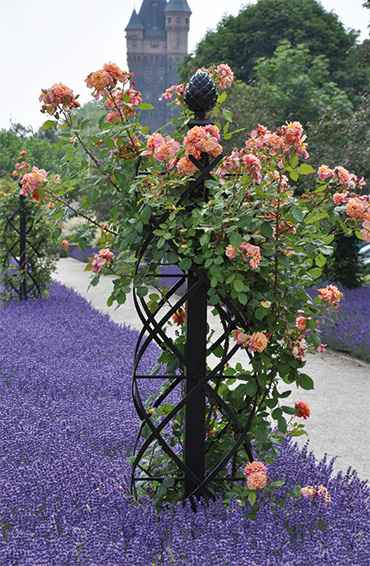 660,00

£

Incl. of VAT
Charleston: Garden
Item No.: R32
Height: 7'7'' / 230 cm
securing to the ground: plus 24'' / 60 cm
Diameter: 20'' / 50 cm
Weight: 77 .lbs / 35 kg
Click here for a technical drawing
1.100,00

£

Incl. of VAT
Charleston: Park
Item No.: R32-S
Height: 9'10'' / 300 cm
securing to the ground: plus 24'' / 60 cm
Diameter: 26'' / 65 cm
Weight: 110 .lbs / 50 kg
Click here for a technical drawing
Product details Charleston Garden Trellis
The Charleston Garden Trellis is made from 3.15" (8 cm) steel tubing and 0.79" (2 cm) steel-bands. Hot-dip galvanized and powder coated black. Pinecone finial cast in aluminium. The Charleston Garden Trellis must be firmly secured to the ground using a large steel anchor (provided) to be put into concrete. Made in one single piece. Other colours on request. 10 years guarantee against rust.
Description
Stately Rose Pillar for Climbers & Ramblers
Romantic old roses will often grow impetuously in different directions and before long can start to look wild and unkempt. With the help of Classic Garden Elements' distinctive Charleston Garden Trellis, however, heavy shoots will retain their compact shape even when weighed down by numerous blooms. The diagonal steel bands of our sturdiest rose column will train the main shoots to grow slowly in an upward spiral, encouraging the growth of new, richly-budded side shoots. This rose-training technique was perfected in Charleston South Carolina at the beginning of the 19th century. At that time, the specially designed pillar was made of wood.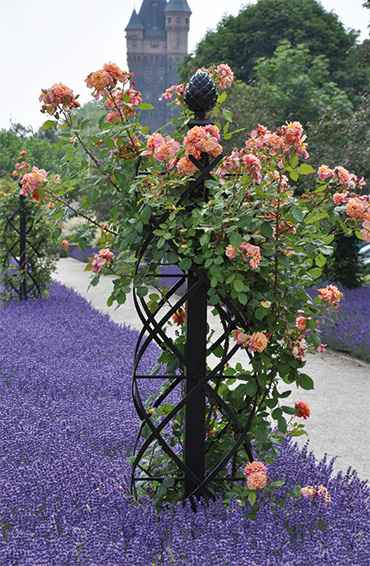 Product Search