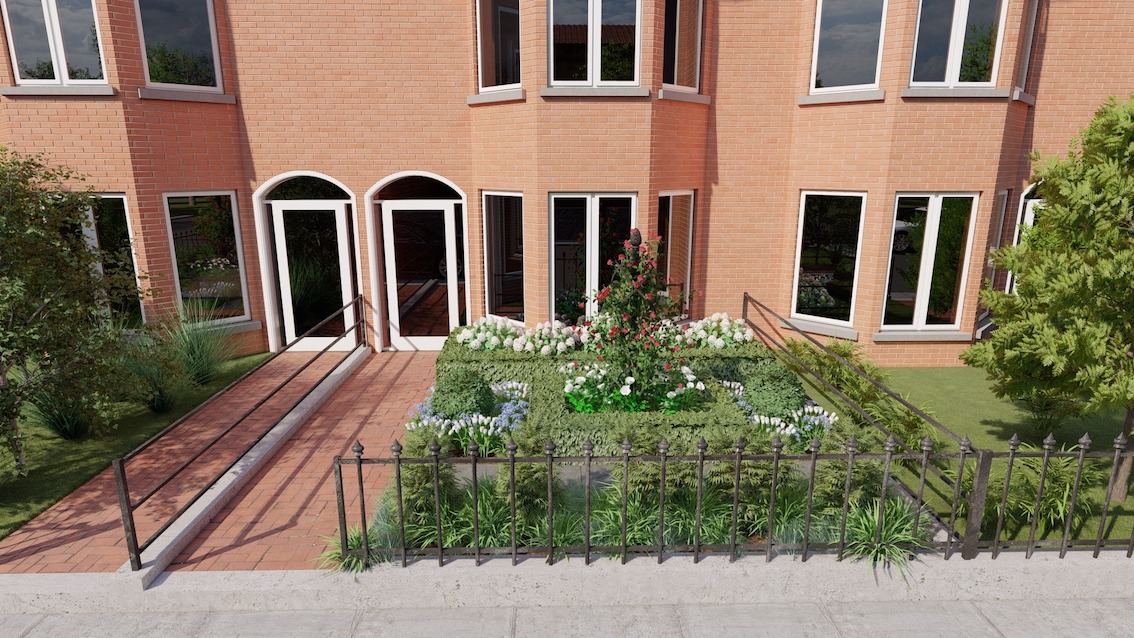 12 Feb

Metal garden obelisk for a front garden
Attractive and low-maintenance front garden with rose obelisk
Even if you have just a small front garden, you can still turn it into a truly eye-catching space – and you need neither a lawn, standard roses nor flower troughs to do so! Our Irish partner, Owen Chubb Landscaping in Dublin, designed the exclusive garden you see in the photos by combining high-quality materials with various structures, leaf shapes, shades of green, flowers and colours. The resulting space is not just a front garden with a garden obelisk at the centre of it: it's a piece of artwork that is sure to be admired by anyone who passes by. Perhaps the best thing about this gorgeous garden is that you don't need a lawnmower to make sure it stays in tip-top condition. All you need are some secateurs to keep the occasional wayward stem in check!
---
The perfect front-garden centrepiece: an exclusive metal obelisk or a tree?
Any landscape gardener worth their salt knows that flower beds only come to life if you add an element of height to them. If everything is on one level, things get dull pretty fast. However, shrubs and small trees can be time intensive to maintain. Each autumn, you'll need to continuously sweep up the fallen leaves if you want your garden to look spick and span. Of course, you'll also need to prune your tree or shrub each year to rein it in and shape it nicely. And don't forget that even a small tree can cast quite some shade on the poor plants growing below it, robbing them of some of the sunshine they need to grow.
A much more practical but equally decorative solution is to go for a plant obelisk instead. From springtime right through to autumn, a metal obelisk will display roses, clematis and other climbers in all their glory, creating a wonderfully vibrant and attractive centrepiece for front gardens of all sizes. In winter, the rose obelisk is more clearly visible and becomes a stylish piece of garden decoration in its own right. Yet a garden obelisk never fully steals the limelight; it leaves enough room – and enough light – for the other plants in the flower bed too, so that they too can thrive.
The perfect duo: a black rose obelisk and a black metal fence
In this elegant front garden, the two black metal elements – the metal fence panels and the garden obelisk – work in perfect harmony with each other and play a central role in structuring the space. The low iron railings elegantly frame the garden, whilst the plant obelisk is the cherry on top that gives the design an especially exclusive feel. Its curved and twisted shapes are purposefully at odds with the straighter and stricter lines of a formal garden. The red roses growing up the metal obelisk add the finishing touch, drawing the eye towards this glorious focal point at the centre of the garden. The colour of both the metal fence and the rose obelisk – wrought-iron black – also accentuates the house's status and elegance in a way that no other colour can.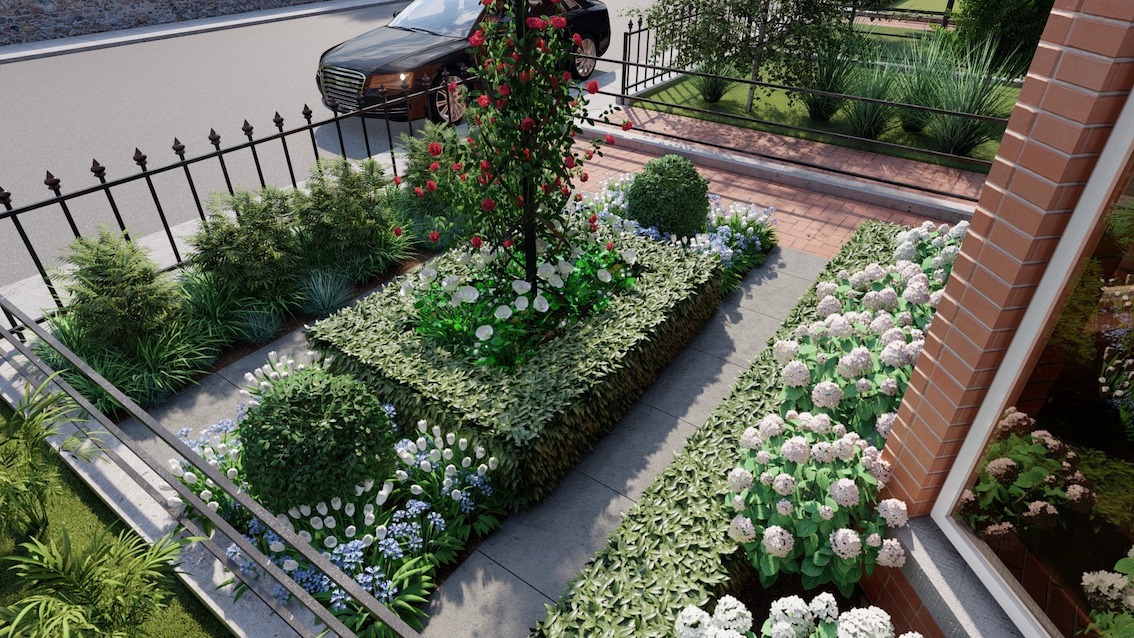 ---
The Classic Garden Elements Charleston Rose Obelisk – perfect for front gardens
The hand-finished Charleston Rose Obelisk's selling points are not just its high-quality design and impressive load-bearing capacity – though these should not be overlooked. But what really fascinates professional and hobby gardeners alike are the diagonal, curved steel bands that give the metal obelisk its unique shape. It is to these steel bands that you will tie the main stems of your rose so that they spiral upwards as they grow. This also encourages ramblers to put out new side shoots. This technique was first used at the start of the nineteenth century in Charleston, South Carolina, a city known for its roses and steeped in tradition. The wooden trellises that were used back then inspired us to create our mesmerizingly beautiful Charleston Rose Obelisk.
If you've set your heart on having the Charleston Rose Obelisk in your front garden, then you'll be pleased to know that you have two sizes to choose from: the Charleston Rose Obelisk Garden and the Charleston Rose Obelisk Park. The Charleston Rose Obelisk Garden is the smaller of the two, measuring 50 cm in diameter and 230 in height. At 64 cm in diameter and 300 cm in height, the Charleston Rose Obelisk Park is a little bigger – perfect for a larger garden. However, you can also order the Charleston Rose Obelisk in a different size or even a different colour, if you'd like. When it comes to choosing the perfect rose, it's important to consider where you plan to position the garden obelisk and how tall the rose will get. This exclusive garden, the front garden of a terraced house, was designed by our partner Owen Chubb Landscaping, based in Dublin. They have been incorporating Classic Garden Elements growing supports and metal planters in their designs for many years. We hope that their stunning garden design inspires you! If you want to bring your own front garden to life, get in touch and we'll be happy to advise you.