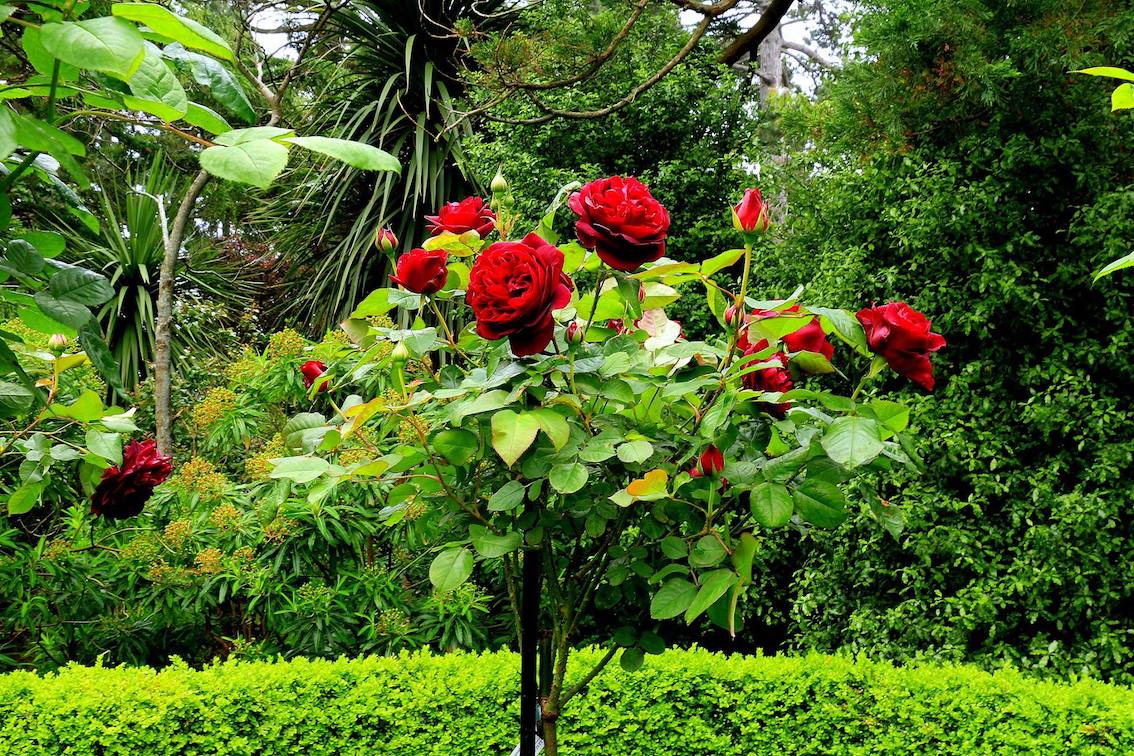 24 Jan

David Austin Roses
The magic of David Austin Munstead Wood roses
They smell divine and produce stunningly beautiful crimson flowers from June right through to late autumn. The Munstead Wood rose was bred by David Austin, who surprised rose lovers with this wonderful new creation in 2007. The Munstead Wood rose is a middle-sized shrub rose that can reach a height and width of around 110 cm. Its deep, velvety red flowers are a joy to behold. The outer petals are slightly lighter in colour than the inner ones, which makes the blooms especially fascinating and incredibly attractive. The form of the blooms, too, is intriguing; at first their shape is quite rounded, like a cup or a bowl, but over time they become somewhat flatter. Many rose lovers consider the Munstead Wood rose to be the one of the most beautifully scented of all David Austin roses, along with the Boscobel, Claire Austin und Jubilee Celebration varieties. The Munstead Wood rose also does well when grafted onto a long stem – as a standard rose, its beauty really is perfectly showcased. To ensure the Munstead Wood rose thrives as a standard rose and is able to withstand both wind and rain, you really need to attach the long stem to a solid metal garden stake.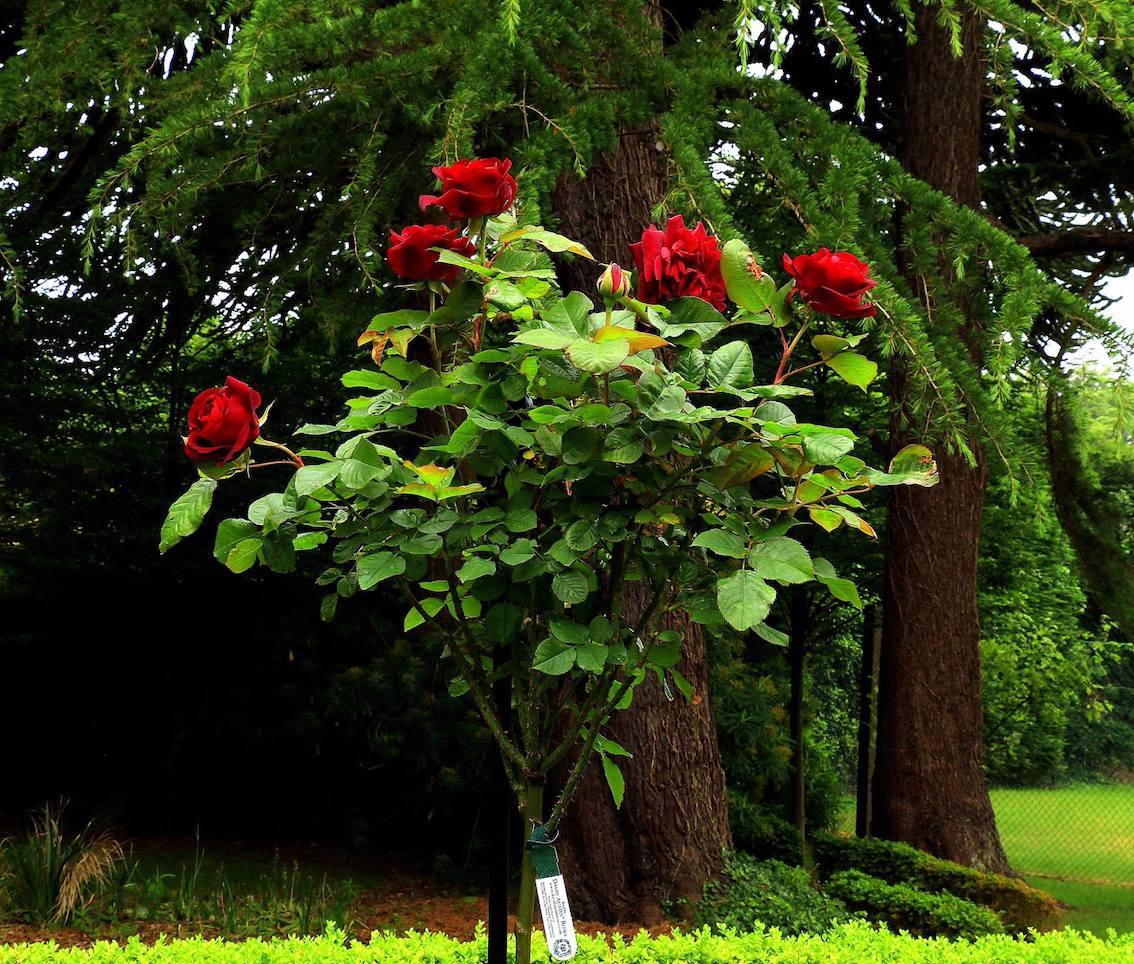 ---
The David Austin Munstead Wood: glorious as a shrub rose and a standard rose
The exquisite Munstead Wood rose can be grown as either a shrub rose or a standard rose. Its classic scent has been described by the floral-fragrance expert Robert Calkin as 'the real red-rose fragrance'. Delicate notes of blackberry, blueberry and damson round off the rose's bewitchingly floral and fruity aroma. This repeat-flowering rose variety is a feast for the eyes too, with its striking crimson-coloured blossoms, which tend to reach around nine to ten cm in diameter. One could describe the shape of the Munstead Wood rose as bushy and expansive. Its new leaves are a red-bronze colour at first, but turn mid-green over time. This spectacular English rose blooms to perfection in mixed flower beds, rose beds and flower pots.
The ideal growing conditions for the Munstead Wood rose
The easiest way to ensure this wonderful rose thrives is to plant it in a really sunny spot. Ideally, it needs full sunshine and prefers an east-, south- or west-facing position. When it comes to soil, though, it's much less fussy! Whether you're growing it as a shrub rose or a standard rose, you need to ensure you provide the Munstead Wood with some solid support. An ideal way of doing this is to use the Classic Garden Elements Jules Gravereaux Garden Stakes. These are an easy way of supporting the rose as it grows, and they have been proven to work brilliantly for Munstead Wood standard roses – as you can see from the photos. The bare-rooted rose was planted in October, with a stylish Jules Gravereaux Garden Stake as its growing support, and the following summer this gorgeous rose rewarded its owner for caring for it so well by growing well and producing a mass of opulent blossoms.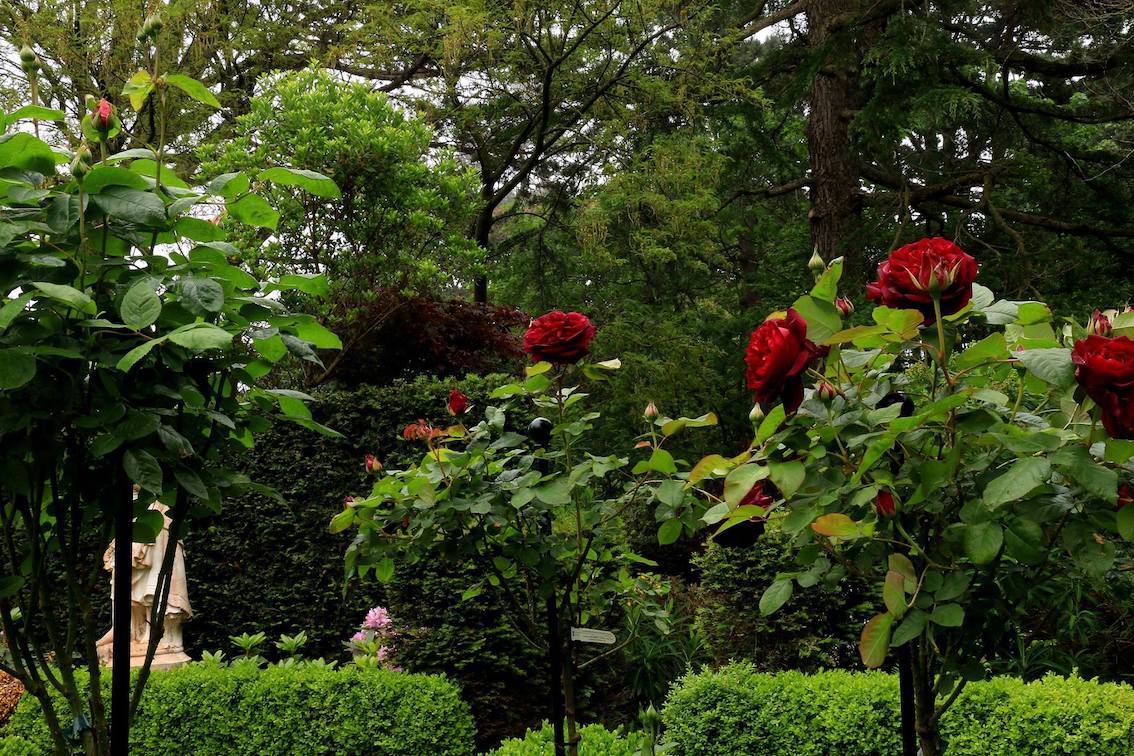 ---
Why the Jules Gravereaux Garden Stakes are the perfect choice for standard roses
The Jules Gravereaux Garden Stakes provide the perfect support to standard roses growing in any kind of soil. With one of these decorative metal garden stakes at its side, your standard rose will continue to stand tall and proud even if it's growing in sandy soil or when faced with strong winds. Each of our solid metal garden stakes comes with a galvanised ground stake with which you can anchor it securely into the ground. But our Jules Gravereaux Garden Stakes are not only strong and robust – they will also stand the test of time. Unlike wooden standard rose supports, our wrought-iron garden stakes will not rust or weather because they are both hot-dip galvanised and powder coated. Using these exclusive metal plant stakes will really make your prized roses stand out from the crowd. The Jules Gravereaux Garden Stakes come in two standard sizes: 120 and 150 cm. The icing on the stake is the gorgeous cast-iron finial that sits atop each one. The finials come in black or gold, and in two different designs: fleur-de-lis or a simple ball.
David Austin roses: adorning gardens for more than 60 years
David Austin has bred more than 240 rose varieties over the last 60 years. During the course of his career, the British rose grower, who sadly died in 2018, was awarded an OBE, the Veitch Memorial Medal and the Victoria Medal of Honour. His family have now taken over the gardening and rose-growing business and continue to run it proudly in his honour.