Victorian Rose Arbour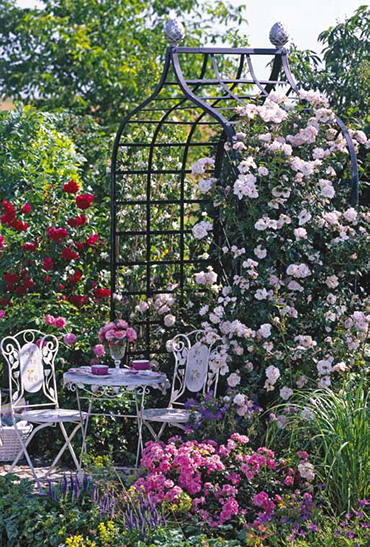 1.800,00

£

Incl. of VAT
Item No.: R6 Large Arbour
Height: 9'3'' / 282 cm
Width: 7'10'' / 240 cm
Depth: 2'7'' / 80 cm
Weight: 198 .lbs / 90 kg
Click here for a technical drawing
1.690,00

£

Incl. of VAT
Item No.: R7 Small Arbour
Height: 9'3'' / 282 cm
Width: 5'11'' / 180 cm
Depth: 2'7'' / 80 cm
Weight: 176 .lbs / 80 kg
Click here for a technical drawing
Product details Victorian Rose Arbour
The Victorian Rose Arbour is welded from 0.79" (2 cm) and 1.18" (3 cm) steel bands, hot-dip galvanized, and powder coated in black. Two pinecone finials cast in aluminium. Other colours available on request. You will need a specialist contractor (hard landscaper) to install the rose arbour in a suitable place using the anchor supplied with the product. Alternatively, it is possible to attach the arbour to a secure base, e.g. to a stone or concrete plinth. Included in the price are six anchors for the large arbour (R6) and five anchors for the small arbour (R7). Delivery takes place in larger parts with our truck. Bespoke items possible, made to your size and requirement. 10 years guarantee against rust.
Description
Neo-Gothic Garden Arbour
Romance and Nostalgia in the Rose Garden
Elegance, simplicity and stability are the hallmarks of our Victorian Rose Arbour, making it the focal point of any garden – a perfect rendezvous for lovers or a refuge from the bustle of daily life. Why not unwind under a canopy of fragrant roses and honeysuckle? Or give your favourite garden seat a flowering frame.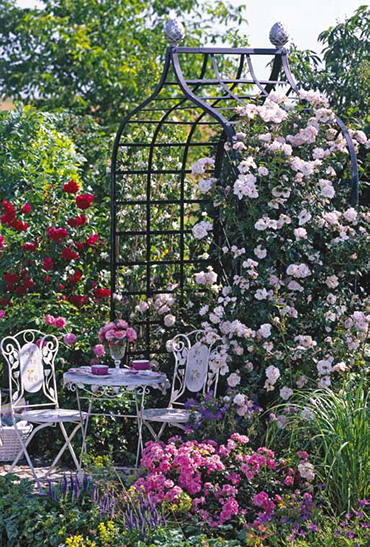 Product Search