Rose Obelisk II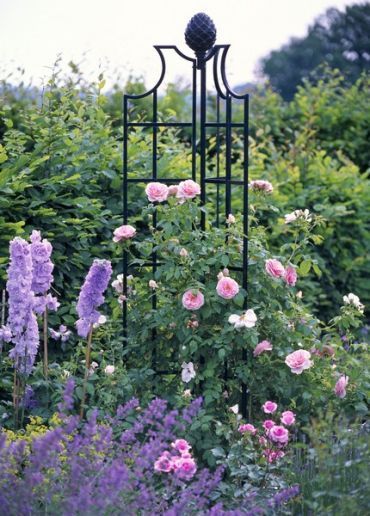 380,00

£

Incl. of VAT
Item No.: R4
Height: 6'10'' / 210 cm
securing to the ground: plus 14'' / 35 cm
Diameter: 24'' / 60 cm
Width per Panel: 12'' / 30 cm
Weight: 40 .lbs / 18 kg
Click here for a technical drawing
Product Details Rose Obelisk II
Three-wing frame made of 0.59" (1.5 cm) steel profile tubing, inner latticework of 0.59" (1.5 cm) steel band, hot-dip galvanized and powder coated in black. Pinecone finial aluminium hollow cast, powder coated in black.Three spikes provided for fixing to the ground. Recommended anchorage: directly in the soil without concrete plugs. Other colours on request. 10 years guarantee against rust.
Description
Support Frame for Shrub Roses and Clematis
This beautiful Rose Obelisk radiates a charm that recalls the Belle Époque. With its three elegant metal wings, it complements the tender blooms of historical roses and clematis. Together, frame and flower exude an air of wistful longing, while defining or accentuating a garden's structure. With a lofty show of colour, an obelisk can liven up flowerbeds and lawns, enhance the end or centre point of a vista, or provide an intriguing focus where pathways cross. This is poetry for eyes that have tired of prose. In groups of two, obelisks can be used to frame a garden seat, to flank a pathway, or to mark the point where a path begins.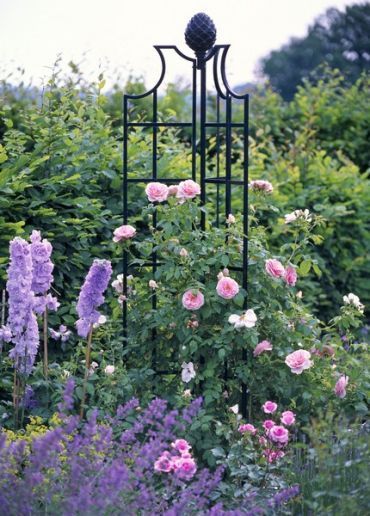 Product Search
Product Details
Item No.:

Height:

securing to the ground:

Diameter:

Width per Panel:

Weight:

Technical drawing:

Price incl. VAT
R4

6'10'' / 210 cm

plus 14'' / 35 cm

24'' / 60 cm

12'' / 30 cm

40 .lbs / 18 kg