Garden Obelisk I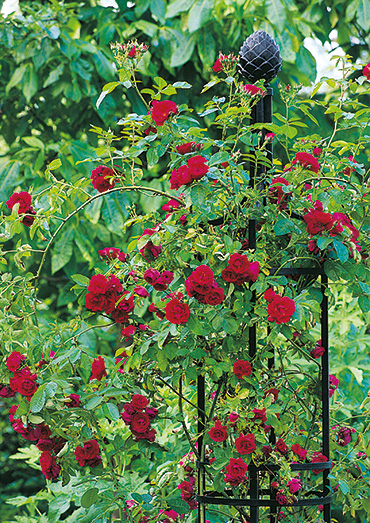 380,00

£

Incl. of VAT
Obelisk I: Garden
Item No.: R2
Height: 7'4.19''/ 224 cm
for securing to the ground: plus 8'' / 20 cm
Diameter: 16'' / 40 cm
Weight: 44 .lbs / 20 kg
Click here for a technical drawing
720,00

£

Incl. of VAT
Obelisk I: Park
Item No.: R2-S
Height: 9'10'' / 300 cm
for securing to the ground: plus 1'7'' / 50 cm
Diameter: 21.7'' / 55 cm
Weight: 77 .lbs / 35 kg
Click here for a technical drawing
Product Details Garden Obelisk I
Vertical stakes made of 0.79" (2 cm) steel profile tubing, horizontal loops of 2 cm 0.79" (2 cm) steel band. Hot-dip galvanized and powder coated in black. Pinecone finial aluminium hollow cast, powder coated in black. Recommended anchorage: directly in the soil without a concrete plug. It is delivered in two large, completely welded parts. Other colours on request. 10 years guarantee against rust.
Description
Obelisk – A Classic Support Frame for Climbing Plant
A sturdy, truly classic support frame that makes even smaller gardens seem loftier and structured. Whether as solitaires, or in pairs or groups, these distinctive obelisks create charming vistas, transforming less remarkable corners of a garden into reveries of fragrance and colour. Installing two obelisks, each on either side of a garden path, is an attractive alternative to the classic Rose Arch. Gardens need decorative elements to capture attention and provide orientation. As with any eye-catching structure of this height, it is important to choose a good strategic location.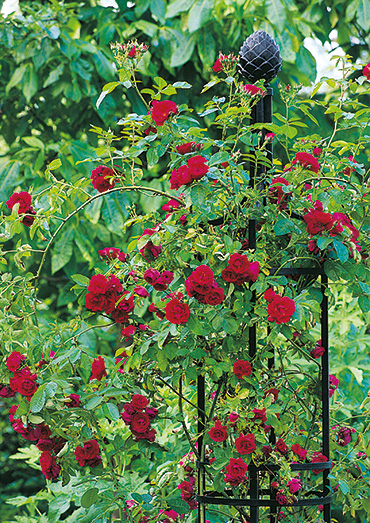 Product Search