Piemont Pergola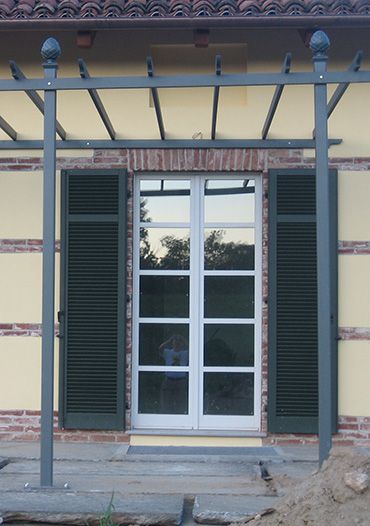 5.450,00

£

Incl. of VAT
Piemont: Basic Element
Item No.: PP-1
Length: 600 cm
Depth: 300 cm
Height: 300 cm
Weight:: 772 lbs
Poles: 4
Distance between each pole: 160 cm
Click here for a technical drawing
710,00

£

Incl. of VAT
Piemont: Follow Up Element (per meter)
Item No.: PP-2
Length: 100 cm
Depth: 300 cm
Height: 300 cm
Weight:: 166 lbs
Poles: 1
Distance between each pole: -
Technical drawing: -
Piemont Pergola product details
The Piemont Pergola is made of steel profile tubing. It is hot-dip galvanized and powder-coated in black. Other colours on request. Posts are made of 3.15" x 3.15" (8 x 8 cm) steel tubing topped with a pinecone finial cast in Aluminium. The distance between the posts is 5'3" (160 cm). The support ribs are made of 3.15" x 1.57" (8×4 cm) steel tubing. The distance between the support ribs is 16.54" (42 cm). The overhang at each end of the pergola is 12.6" (32 cm).
Description
Support frame for Grapevine, Wisteria or Ramblers
A pergola is a shielded walkway supported by pillars, which usually connects a house to part of the garden, such as a terrace or patio. Traditionally it is a lean-to-structure attached to a wall and – in contrast to an arbour – is not free-standing. From ancient times and particularly since its rediscovery in the Renaissance, it has been prized as a special feature of ornamental gardens. To the present day, it has been used both as a support for grapevine, wisteria or rambler roses and as a space divider in private gardens and public parks.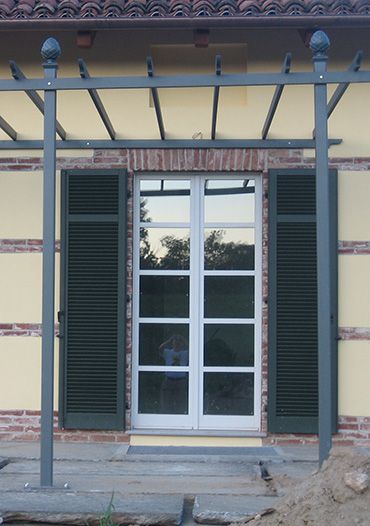 Product Search
Product Details
Piemont:

Item No.:

Length:

Depth:

Height:

Weight::

Poles:

Distance between each pole:

Technical drawing:

Price incl. VAT
Basic Element

PP-1

600 cm

300 cm

300 cm

772 lbs

4

160 cm
Follow Up Element (per meter)

PP-2

100 cm

300 cm

300 cm

166 lbs

1

-

-