St. Alban's Garden Archway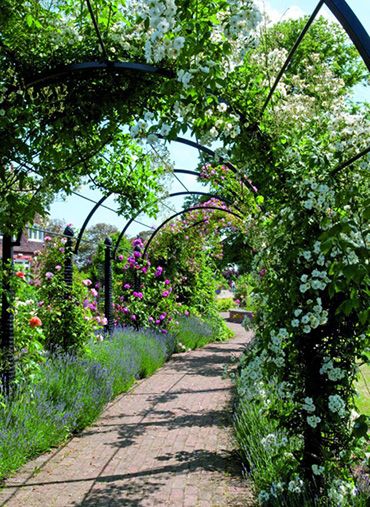 4.480,00

£

Incl. of VAT
St Albans: Basic Element
Item No.: LG-1
Length: 600 cm
Width: 250 cm
Height: 300 cm
Poles: 8
Click here for a technical drawing
1.270,00

£

Incl. of VAT
St Albans: Follow Up Element
Item No.: LG-2
Length: 200 cm
Width: 250 cm
Height: 300 cm
Poles: 2
Click here for a technical drawing
Product Details St Albans Garden Archway
The 'St. Albans' features a width of 8'2" (250 cm). Height is at 10′ (300 cm). It is made of 3.15" x 3.15" (8 x 8 cm) and 1.57" x 1.57" (4 x 4 cm) steel tubes. The roof part connections are made of round tubes with a 0.67" (1.7 cm) diametre. The steel sheets for fixing to the ground are 0.82′ x 0.82′ (25 x 25 cm) and 0.39" (1 cm) thick. All hot-dip galvanized and powder-coated in black or any other colour of your choice. Pinecone finials cast in aluminium. You will need a specialist contractor (hard landscaper) to install the 'St Albans'. Delivery takes place in larger parts with our truck. Bespoke items possible, made to your size and requirement. 10 years guarantee against rust.
Description
A Rose-Covered Walkway – The Epitome of Romanticism
An arcade in garden architecture is a walkway enclosed at both sides and covered with a roof of plants – a garden archway. While often created from hornbeam hedges, it can also be made from wooden or wrought-iron arches along which climbing plants are trained. In the Renaissance and Baroque periods, arcades were a common feature in the gardens of stately homes, the perfect place to promenade, or to meet up for an intimate rendezvous. Today we still regard the arcade as the epitome of Romanticism.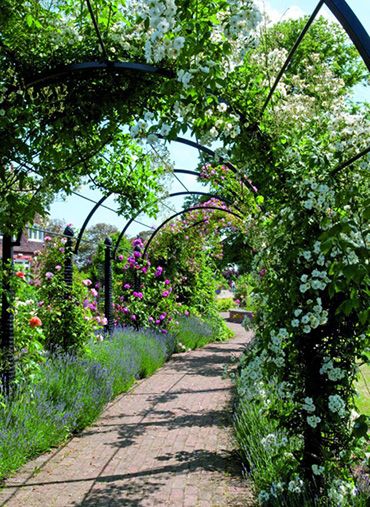 Product Search