Espalier Trellis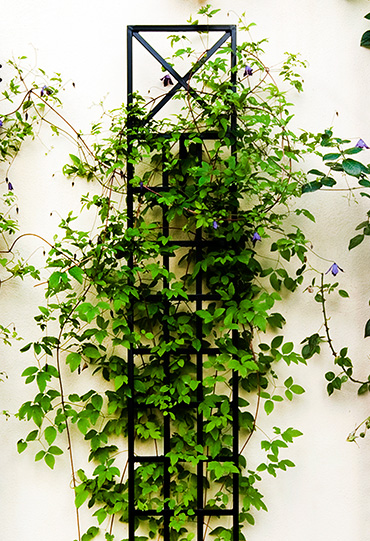 350,00

£

Incl. of VAT
Item No.: R9-2
Height: 6'7'' / 200 cm
Width: 12'' / 30 cm
Depth: 0.59'' / 1,5 cm
Weight, each: 13 .lbs / 6 kg
Delivery: 2 pieces
Click here for a technical drawing
Product Details Espalier Wall Trellis
Structure R9-2 made from 0.59" (1.5 cm) steel tubing and steel bands. Hot-dip galvanized and powder coated black. Attachment hooks provided for a recommanded wall-trellis distance of 3.94" (10 cm). Not included are wall plugs and screws. Other colours on request. 10 years guarantee against rust. Available only in packs of two.
Description
Very narrow Wall Trellis for Clematis & Sweet Peas
Fairly often there is not much space left for a climber. All the more important to provide it with an excellent climbing structure: The Espalier Trellis will suit even the more difficult situations experienced in many terraced houses.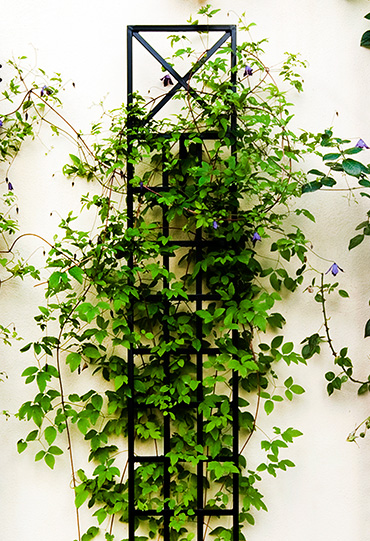 Product Search
Product Details
Item No.:

Height:

Width:

Depth:

Weight, each:

Delivery:

Technical drawing:

Price incl. VAT
R9-2

6'7'' / 200 cm

12'' / 30 cm

0.59'' / 1,5 cm

13 .lbs / 6 kg

2 pieces