Brighton Victorian Rose Arch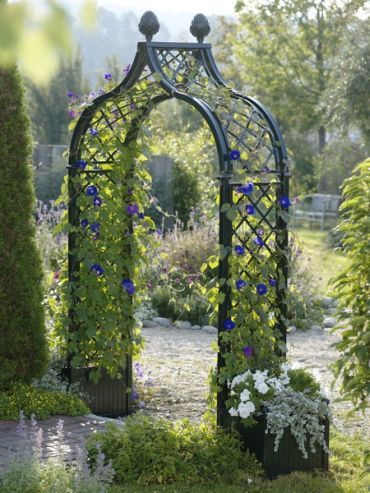 Royal Lustre for your Rose Garden
The consummate craftsmanship of the Brighton freestanding Victorian Rose Arch evokes the exquisite refinement of a fin de siècle garden. Curving gently like a medieval window arch, it is charmingly reminiscent of the Neogothic Revival – the style that became a hallmark of the Victorian age and still defines the face of Brighton today. In 2002, the Classic Garden Elements Brighton Arch had its first showing at the Royal Horticultural Society's Chelsea Flower Show. Our metal replica of the original timber structure was used exclusively by Peter Beales Roses to decorate their stand in the Great Pavilion, which was awarded a gold medal by the RHS jury. The visit to the stand by Her Majesty the Queen in the year of her Golden Jubilee was another crowning moment.
The Brighton Rose Arch series was inspired by the Arts and Crafts Movement, which emerged in the mid-nineteenth century to campaign for design reform. Critical of the shoddy standards associated with cheap, industrial mass production, the movement championed individual craftsmanship, calling for a renewed focus on structure and function. Its influence was evident at the Great Exhibition of 1851, which saw displays of skilfully crafted, lighter objects, free of excessive ornament.
Today, that spirit lives on in the clear lines of our Brighton Rose Arch – a quintessentially British blend of understated elegance and perfection in form, of tradition and modernity. The arch's double frame reinforces its clear lines and pleasing proportions, while its plain diamond lattice completes a picture of unpretentious simplicity. Some of us may feel a tinge of regret when this solid piece of craftsmanship disappears for a time under a cloak of foliage and colourful blooms. Come winter, however, the Brighton Arch will again reveal itself as the perfect eye catcher.
The Brighton freestanding Victorian Rose Arch comes in two versions:
• the classic edition, which must be anchored in concrete
• a freestanding version supported by side planters (suitable for patios and similar hard surfaces)
Whichever you choose, you will grace your garden with the rich heritage of British craftsmanship.
Victorian Rose Arch Brighton with planters – Freestanding
Victorian Rose Arch Brighton without planters – With spikes for securing to the ground (into concrete)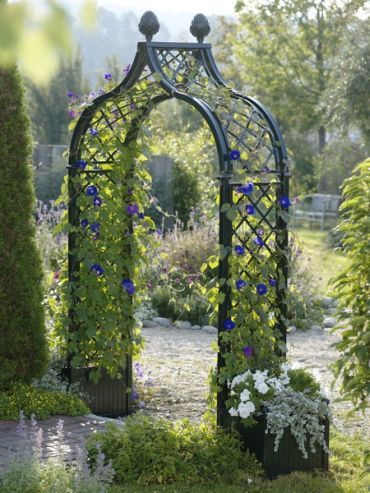 All products of this category
All Product Groups