Large Trompe-l'œil Trellis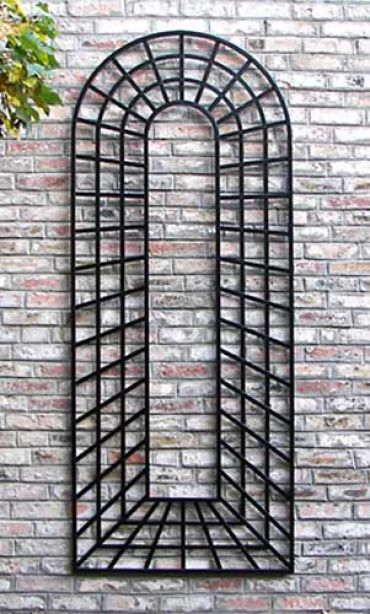 Wall Trellis creating a perspective Illusion
Trompe-l'œil is a technique which creates the optical illusion of three dimensions where in reality there is only one. It was and is often employed in murals and dates back to Greek and Roman times. Excellent examples are known from paintings in Pompeii. The art later continued in 18th century France with wooden trellis works against the wall and became an art in its own right: the French 'Treillages'. Classic Garden Elements offers a variety of those 'Treillages' style wall trellises made of steel.
Wrought iron quality distinguishes these trellises from alternative plant supports. Even without plants they lend character and class to otherwise dull, vacant walls. Filled with blossoms they become the most beautiful link between house and garden.
Structure R9-7 made from 0.79" / 2 cm steel tubing and steel bands. Hot-dip galvanized and powder coated black. Hooks provided for a recommended wall-trellis distance of 3.94" / 10 cm.
Large Trompe-l'œil Trellis
Item No.:

Height:

Width:

Depth:

Weight:

Technical drawing:

GBP:
R9-7

8'2'' / 250 cm

3'3'' / 100 cm

0,79'' / 2 cm

77 .lbs / 35 kg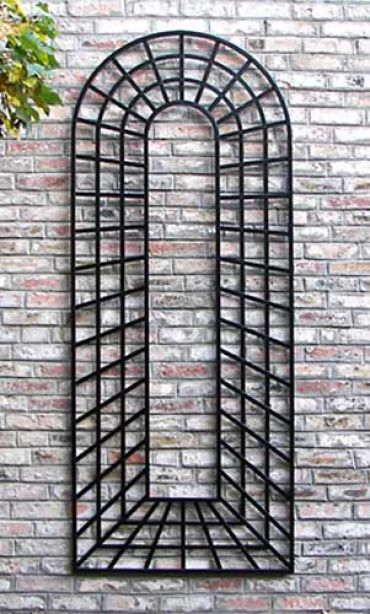 All products of this category
All Product Groups