Giverny Rose Umbrella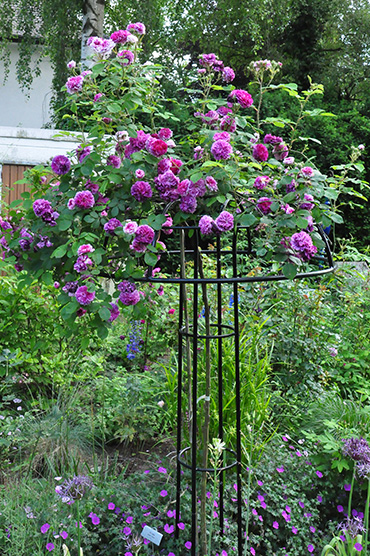 350,00

£

Incl. of VAT
Giverny: closed
Note: for freshly planted
Item No.: R8
Height: 65'' / 165 cm
securing to the ground: plus 1' 7.69'' / 50 cm
Diameter (Umbrella): 35'' / 88 cm
Weight: 28.6 .lbs / 13 kg
Click here for a technical drawing
350,00

£

Incl. of VAT
Giverny: with lateral opening
Note: for an older weeping standard
Item No.: R8-S
Height: 65'' / 165 cm
securing to the ground: plus 1' 7.69'' / 50 cm
Diameter (Umbrella): 35'' / 88 cm
Weight: 28.6 .lbs / 13 kg
Click here for a technical drawing
Product Details Rose Umbrella Giverny
The 'Giverny' is made of 0.55" (1.4 cm) steel tube, hot-dip galvanised and powder-coated in black. It is delivered in two large, completely welded parts. Other colours on request. 10 years guarantee against rust.
Description
Perfect Support for Weeping Standard Roses
In the garden at Giverny, a rose umbrella-like frame overflows with cascading rose blooms. Designed by the artist Claude Monet, this simple iron structure can transform a weeping standard rose into a beguiling impressionist painting. Weeping standards have long, hanging shoots which can easily break off in the wind. A stable support will help them to achieve their full flowering potential, whatever the weather.
Video
Giverny Rose Umbrella Product Video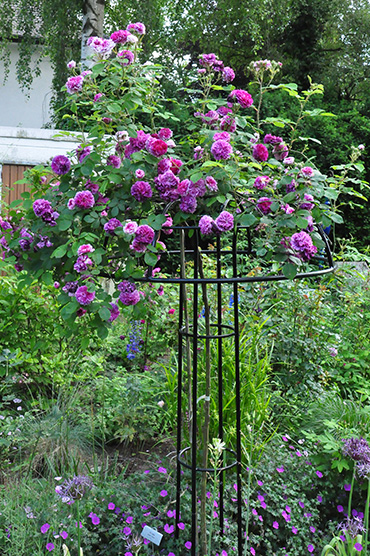 Product Search
Product Details
Giverny:

Note:

Item No.:

Height:

securing to the ground:

Diameter (Umbrella):

Weight:

Technical drawing:

Price incl. VAT
closed

for freshly planted

R8

65'' / 165 cm

plus 1' 7.69'' / 50 cm

35'' / 88 cm

28.6 .lbs / 13 kg
with lateral opening

for an older weeping standard

R8-S

65'' / 165 cm

plus 1' 7.69'' / 50 cm

35'' / 88 cm

28.6 .lbs / 13 kg