Malmaison Rose Pyramid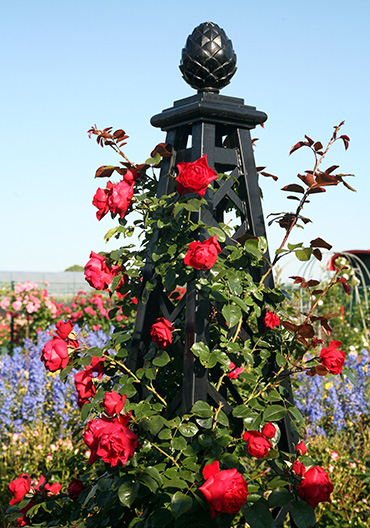 980,00

£

Incl. of VAT
Item No.: R3
Height: 7'5'' / 226 cm
securing to the ground: plus 1'7'' / 50 cm steel anchors
Size (at the base): 2'x2' / 60x60 cm
Weight: 132 lbs / 60 kg
Click here for a technical drawing
Product Details Rose Pyramid Malmaison
The "Malmaison" is made of 1.57" (4 cm) steel tubing and 0.79" (2 cm) steel-bands. Hot-dip galvanized and powder coated black. The Pinecone Finial is cast in aluminium. The "Malmaison" needs to be firmly secured to the ground using four steel anchors (provided) put in concrete. It is made in one single piece. Other colours on request. 10 years guarantee against rust.
Description
Imperial Splendour for your Rose Garden
Focal points are essential to every successful garden design. What makes them so indispensable is the way in which they structure our spatial impressions. A path that leads nowhere rarely succeeds in rousing our interest. What creates a sense of suspense is a judiciously placed bench, a pavilion, a sculpture or a striking column. Focal points such as these give a garden a coherent structure when viewed from different perspectives, transforming it into a succession of breath-taking images.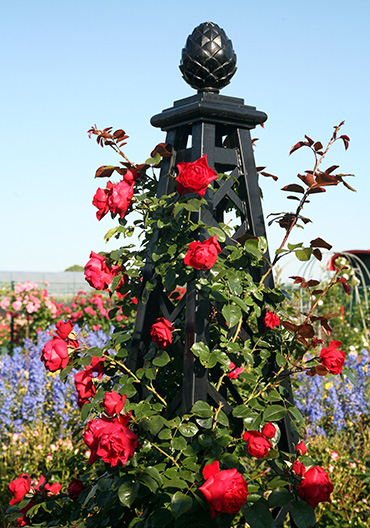 Product Search
Product Details
Item No.:

Height:

securing to the ground:

Size (at the base):

Weight:

Technical drawing:

Price incl. VAT
R3

7'5'' / 226 cm

plus 1'7'' / 50 cm steel anchors

2'x2' / 60x60 cm

132 lbs / 60 kg