Special Offer
Order any rose arches, obelisks or any other of our trellises over £300 today and receive a FREE £50 Peter Beales Roses Gift Voucher!*
Act now, this special offer ends 30th September 2018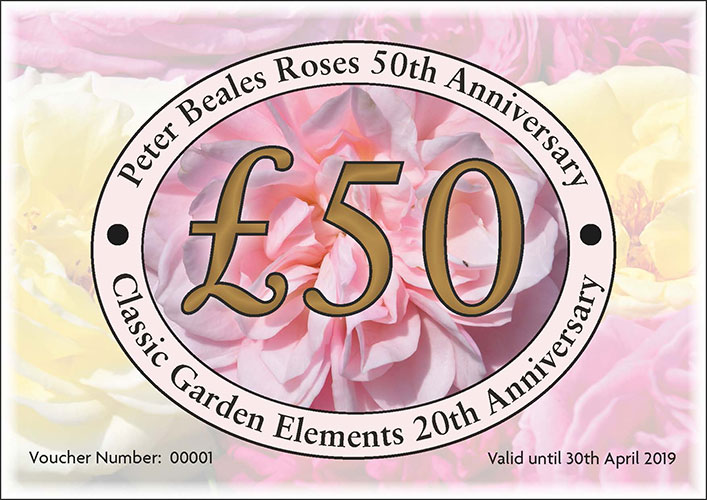 = £50 Gift Voucher for FREE =
To celebrate our 20th anniversary and Peter Beales Roses' 50th anniversary, we are delighted to offer our customers this unique offer. The £50 Peter Beales Roses Gift Voucher* will be added free of any charge to any order over £300 we receive from UK clients.
*Terms and conditions apply. This special offer ends 30th September 2018. The Voucher itself is valid until 30th April 2019.
At Classic Garden Elements we manufacture high quality rose arches, obelisks, trellises, umbrellas and rose arbours. Unique design meets with exceptional solidity of both material and workmanship.
Made for very special gardens & parks. Bespoke items and most colour offered. Peter Beales Roses are our official UK agents since16 years. Our very happy cooperation started in 2002. Many of our structures can be found within the beautiful rose gardens of Peter Beales Roses in Attleborough, Norfolk, as well as being heavily featured within Peter Beales Roses' Gold Medal winning displays at the RHS Chelsea Flower Show in recent years.
Terms & Conditions for that FREE £50 Peter Beales Roses Gift Voucher
This special offer ends 30th September 2018. The voucher (received for free for orders higher than £300) may be used for the purchase or part purchase of roses or garden centre products from Peter Beales Roses or Peter Beales Garden Centre, either via mail order or by presentation at the nursery. The voucher is valid until 30th April 2019. It cannot be exchanged for cash, either in part or in full, or replaced if lost or damaged. For further information please contact Peter Beales Roses, London Road, Attleborough, Norfolk NR17 1AY. Tel.: 01953 454 707. Email: info@peterbealesroses.com